Portfolio News | shopastro Raises over US$10 Million in Series A Financing Led by GL Ventures, with Additional Funding from Blue Lake Capital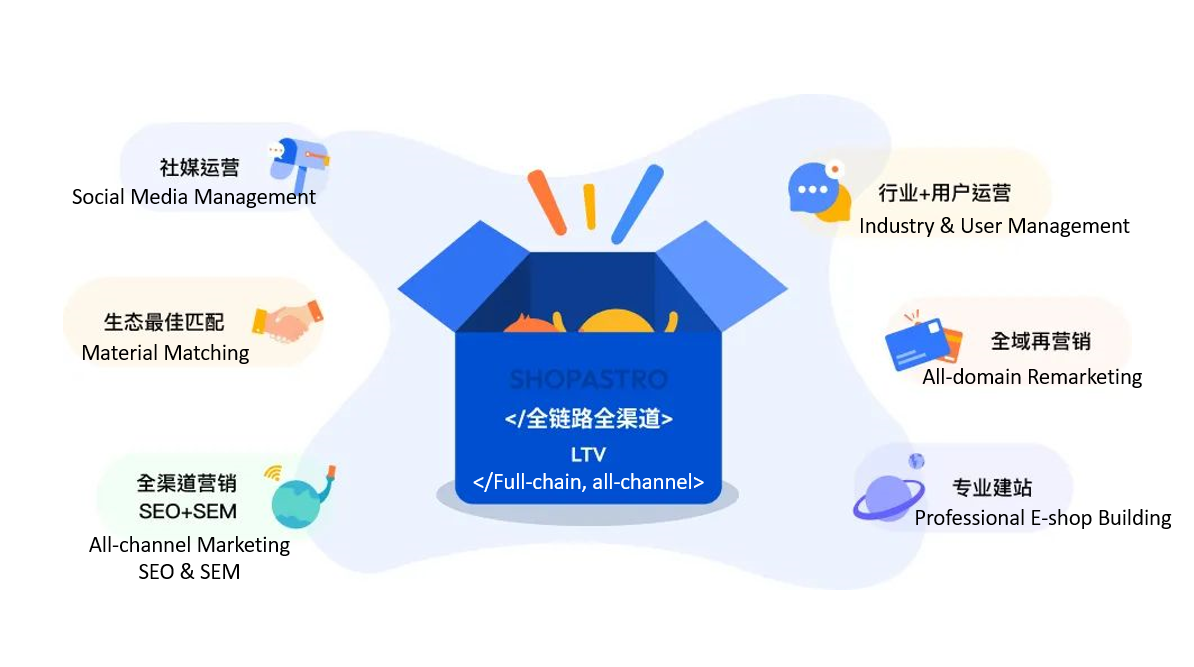 Chen Haohui
Partner at Blue Lake Capital
"Having frequently invested in cross-border e-commerce firms in recent years, Blue Lake Capital has seen rapid growth in the cross-border e-commerce sector, especially for stand-alone e-shops. Cross-border e-commerce is the way for Chinese companies to transform themselves from 'manufacturers' to 'brands' and global value chains. There is enormous space for growth for Chinese sellers using cross-border stand-alone e-shops. In Europe and the US, the GMV (gross merchandise value) of stand-alone e-shops accounts for about 20% of the e-commerce market. Despite stand-alone e-shops being a major force in e-commerce in Europe and the US, Chinese sellers possess only 2-3% of all stand-alone e-shops in the two markets, leaving room for further market penetration. With more players coming into the game, competition becoming increasingly fierce, and advertising costs continuously rising, delicacy management and attention to detail have become the key to success. Having sensed this opportunity, shopastro is now transferring its professional e-shop building, advertising, and marketing capabilities into comprehensive solutions for stand-alone e-shop management for cross-border sellers."
shopastro, a full-chain service provider for Chinese brands operating in overseas markets, has recently received over $10 million in series A financing. The leading investors were GL Ventures and a major USD fund, while its angel investors, Blue Lake Capital and Shenjin Capital, also joined in the round.
The funds raised will be used for talent acquisition, improvements to operations and services teams, and national market development. The company plans to continuously improve its Baijing intelligent marketing tool by accumulating data, building better models, providing more diverse and intelligent marketing strategies, and covering more links in the value chain.
Over the past few years, cross-border e-commerce has been booming and the infrastructure construction has progressively improved. With Chinese supply chains growing mature, companies hoping to go global are shifting from a low-price strategy to brand-building. However, difficulties exist in overseas markets not only in consumer education, but also in advertising and traffic acquisition.
On one hand, confused positioning in terms of target users, product categories, and media channels often leads to "vain attempts" at advertising and unsatisfactory conversion rates. On the other hand, with so many service packages to choose from, it is a challenge for brands to decide on the optimum solutions, and they may become frustrated from repeatedly taking wrong paths regarding costs and advertising practices.
Therefore, this marketing need provides a great opportunity for SaaS providers specializing in building stand-alone e-shops. Established in 2021, shopastro provides one-stop, full-chain solutions for brands seeking to expand their business overseas, with stand-alone e-shop building at the core of each service package. Meanwhile, with big data and AI technologies, it helps sellers to refine their operations and increase traffic conversion rates. Headquartered in Hangzhou, with branches in Yiwu, Shenzhen and Xiamen, shopastro has now provided services to over 100 enterprise clients.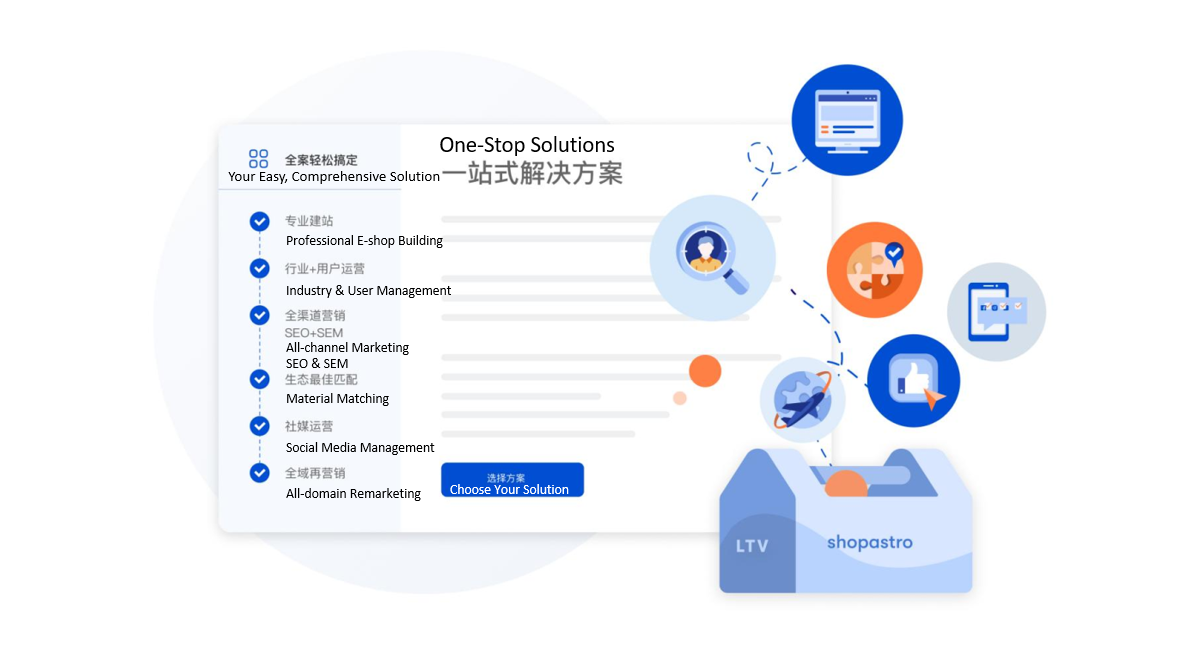 Specifically, unlike many of the homogeneous products on the market, shopastro's service products are superior in two aspects: First, they cover a complete electronic transaction system. According to Liu Qingfu, founder and CEO of the company, shopastro's transaction system covers multiple eco-systems including logistics, payment and ERP, which means an open design since the initial stage of the platform building. With various standard APIs, the system is accessible to service providers from different sectors involved in the cross-border business. Second, they include Baijing, an intelligent marketing SaaS, which, based on AI algorithms and big data, can generate high-conversion materials and match them with suitable market regions, media channels, and target groups according to each seller's category and positioning. "Take children's wear brands for example. Children's wear has high repeat purchase rates, and thus the key in this sector is to educate customers. And based on our data and algorithms, we have stratified all our users so that we can choose different traffic and marketing tactics aimed at different strata," said Liu Qingfu. Meanwhile, all shopastro data can form closed loops on Google, Facebook and TikTok. In Liu Qingfu's opinion,the key to going global for a brand lies in the growth of its customer LTV (lifetime value). Marketing is a labor-intensive practice, but the Baijing intelligent system is equipped to handle it.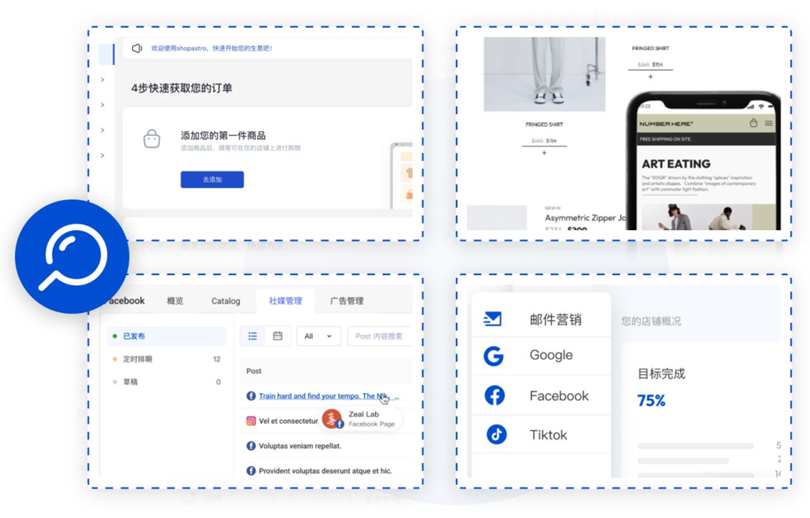 "In the current stage, traffic acquisition and advertising in overseas markets is still labor-intensive, and with high employee turnover, the labor costs are pretty high. Moreover, the data gained from manual operations usually doesn't accumulate. Therefore, advertising based on AI algorithms and big data can help sellers accumulate data and close the loop. This type of advertising is more accurate in terms of matching materials with categories and platforms." Regarding future development, Liu Qingfu observes that more and more traditional sellers and factories are transforming themselves into branded sellers, and many Chinese brands involved with new forms of consumption are going global, which means their service providers must be good investments with long-term value. Going global requires facilitation from multiple ecosystems, and the stand-alone e-shop is just one of the many channels. At the end of the day, the key is to educate overseas consumers to increase customer LTV.
In terms of personnel, shopastro's founding team consists of ex-members of management teams from Alibaba, ByteDance, and Baidu. Its core members came from Alibaba International, AliExpress, ByteDance, Baidu, Ant Group and more, including P8 and P9 members of Alibaba's product, operations, design, and tech departments. Many of shopastro's team members have over 10 years of product development, operations, and commercialization experience in the fields cross-border e-commerce, payment, and SaaS. The lead of the shopastro project at GL Ventures (the leading investor in this round of fundraising) told us that "the one-stop, full-chain services shopastro provides to Chinese companies going global combines stand-alone e-shop building with marketing while solving sellers' main problems during the process, such as traffic acquisition, marketing and customer retention. They are different from other homogeneous products and services available on the market. shopastro is highly capable of independent R&D and serving its clients throughout the user life cycle. It knows what sellers need and knows overseas markets well. We expect shopastro to meet Chinese sellers' specific demands in their expansion to overseas markets and become an excellent local service provider for Chinese brands going global."
Blue Lake Capital, likewise, has noticed the historic opportunity behind the surging demands for stand-alone e-shop building in overseas markets. They believe that shopastro can transfer their professional capabilities in e-shop building, advertising, and marketing into their service products and serve cross-border sellers with stand-alone e-shop management solutions. Having been well-received by sellers upon launch, shopastro's products have proved to meet the market demands. Blue Lake Capital is optimistic about the long-term prospect of shopastro's professional team in the cross-border field. As a research-driven venture capital fund of the new generation, Blue Lake Capital pays attention to technological innovators contributing to China's digital transformation and upgrading. The company has extensively deployed its investments in the SaaS and cloud software field. Its portfolio includes JST, Lingxin, Leyan Technologies, Helios and Going-link.