ZKNOW Has Raised 70 Million Yuan in First Financing Round Led by Blue Lake Capital
Ray Hu,Founder & Managing Partner of Blue Lake Capital,remarked:"ZKNOW's Yanqianyun has become our new player in the SaaS industry. IT innovation has stayed focused on monitoring tools and data analysis, but few have set foot in IT service management (ITSM). It sets a higher standard for the team to have rich experience in operation and maintenance and competence in developing management software, especially PaaS solutions. The team behind Yanqianyun happens to have it all. As the enterprise applications increase and IT operation and maintenance are complicated, we believe Yanqianyun will become the ServiceNow of China."
ZKNOW has completed raising 70 million yuan in its debut round. Matrix Partners China and Blue Lake Capital have co-led the investment, followed by Baidu Venture and An's Information. Yiren Capital was the exclusive financial advisor. The funding is for product R&D and market expansion.
Founded in May 2021, ZKNOW was spined off from HAND Enterprise Solutions, which was established in 2002, and listed on the ChiNext board in 2011. With 20 years of experience in development, HAND now provides IT applications for product R&D, consulting, and technical support. The company started with ERP implementation and has become a solution provider. It has grown to be a comprehensive digital service provider. Their rich experience has enabled HAND to satisfy customer needs and offer excellent solutions in particular sectors by incubating several SaaS companies. ZKNOW is one of them.
Huang Jianhua, Chairman of ZKNOW and CTO of HAND Enterprise Solutions, attributed the birth of ZKNOW to two opportunities. First, HAND has served over 6,000 customers and completed more than 20,000 projects in its two decades of engagement with enterprise IT service. Such accumulated experience had come together to meet the needs of IT operation and maintenance during the digital transformation, including software not implemented by HAND. Second, enterprise software and hardware needed more diversity in type and quantity as user applications and system maintenance became increasingly complex. The software helped enterprise management liaison with customers and suppliers but presented challenges to digital transformation. The upgraded digital operation also required enterprise management and service solutions. This is where ZKNOW came in.
Yanqianyun, ZKNOW's flagship product, works as a leading service platform for enterprise digital transformation. Specifically, it supports three areas with operational AI solutions: IT service management (ITSM), enterprise service management (ESM), and customer service management (CSM).
Since 2019, based on its 16-year experience in service management in HAND, Yanqianyun has transformed itself into providing platform-level service in operations and maintenance. It provides enterprises with IT lifecycle management and internal knowledgebase integration, improving IT service and efficiency.
With the outbreak of COVID-19 in 2020, the demands for remote service, self-service, and other enterprise services have soared. To provide more digitally intelligent services, Yanqianyun launched Yanxiaoqian, a virtual assistant available 24-7 for online service, which has helped solve recurring problems and reduce labor costs.
With the normalization of the pandemic in 2021, enterprises became more motivated to accelerate digital transformation and attach more value to a high-quality experience for both employees and customers. Therefore, Yanqianyun gradually expanded its services by including back-office ITSM, such as human resources, legal affairs, administration, customer success, etc. This provided employees and customers with a unified one-stop service portal, achieving more efficient inter-department collaboration through automated and intelligent processes. Meanwhile, it also links with instant messaging applications like DingTalk, Feishu, WeChat Work, and others to make daily communication and collaboration easier and improve employee and customer experience.
In 2022, Yanqianyun further perfected its multi-channel service, including online customer service, call center, email, instant messaging, etc., and launched customer success solutions for SaaS enterprises.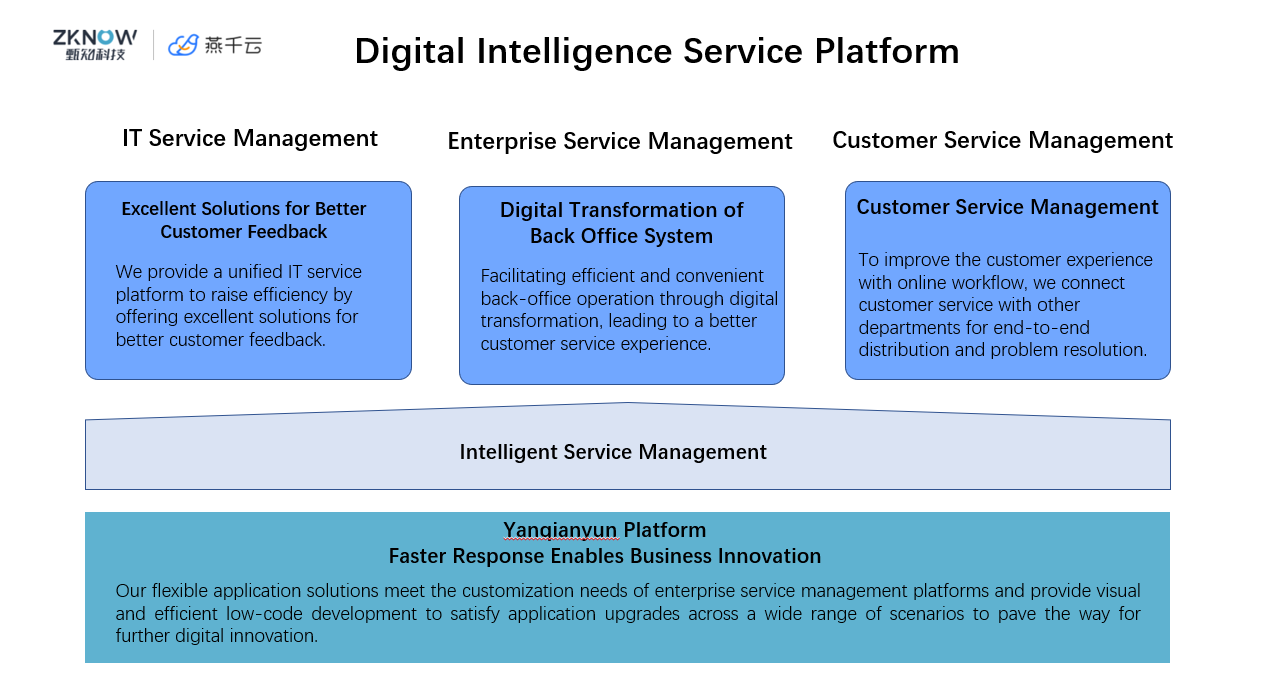 As Huang Jianhua introduced, when customers use the enterprise application, it involves coordinating various internal systems and departments. So, across different scenarios, it all comes down to digital services management, whether ITSM, CSM, or ESM. The design of Yanqianyun, according to Huang Jianhua, is based on ITIL (Information Technology Infrastructure Library) industry's best practices and concepts. It serves as an enterprise digital service center, bridging business service with IT solutions and employee and customer experience, and offers a comprehensive and professional out-of-the-box digital service package. Such achievement owes credit to the cooperation of innumerous HAND customers over many years, which has made it easier to understand the real needs and obstacles of enterprise digital transformation and how to meet the demands of management, technology, and product design. "We will pay attention to reporting, access control, workflow, multilingual functionality, and transnational collaboration," said Huang Jianhua.
Yanqianyun's platform relies on HAND's business background in terms of product architecture. Such an advantage enables Yanqianyun to provide SaaS and PaaS services to customers. Plenty of SaaS companies build their own PaaS application at a certain point in their business development to avoid becoming an outsourced service provider. Still, ZKNOW can skip years of business development by relying on accumulated experience.
Another advantage is that ZKNOW is connected with many high-value customers through HAND, among which are ZKNOW's hundreds of customers and various leading companies in multiple industries, such as Chang'an Ford, Siemens, AVIC Lithium Battery, Ganso, MINISO, etc.
For example, Anew Global Consulting provides professional services regarding EHS (Environment, Health, and Safety) to improve supplier performance and reduce operational risks. Anew has developed its own database of EHS laws and regulations, complete with problem tracking and research systems, but its cluttered collaboration tools drag work efficiency down. Yanqianyun provides Anew with low-code workflow management that applies non-standard ITIL solutions. It helps build the EHS platform and connects with PKULaw, which imports and automatically sets up a database to obtain real-time customer feedback and improve enterprise service for investigation management. Additionally, the report center can visualize multi-dimensional data, facilitating data analysis.
MINISO found shortcomings in its service platform for employees, complaint channels, problem tracking, and feedback efficiency. Based on the original IT operation and maintenance, MINISO's IT team took the lead in building the ITSM. Through Yanqianyun's service platform, an intelligent service portal replaced the original call center and transformed online reporting and processing for all issues. All teams, including headquarters' desktop operations, SAP management, and store service teams, use the same platform to communicate and manage data. Every problem in the business system is processed online, where service data is also analyzed and addressed. MINISO has boosted operations and maintenance efficiency by applying the enterprise management service platform in over 90 countries and regions. It provides strong support for MINISO's continued business development.
Though HAND shares its customer resources with ZKNOW, as Huang Jianhua pointed out, ZKNOW highlights the brand and channels it's developed on its own. After this financing round, ZKNOW will continue product R&D and market expansion, hopefully speeding up its development and commercialization.