Ray Hu of Blue Lake Capital: Firmly Long the Chinese SaaS Industry
Ray Hu, founder and managing partner at Blue Lake Capital, was recently invited to the "Dark Horse SRDI Industry Convention" hosted by Dark Horse and delivered a speech titled, "Consensus and Anti-consensus for SaaS Entrepreneurship ."
In the speech, Hu gave his thoughts on the outlook of the Chinese SaaS industry and suggested innovations for SaaS products and its entrepreneurial process.
SaaS, based on the industry's growth rate and market potential, is likely to become the next big thing in the coming years.
With the maturity of public cloud infrastructure and the upgrade of demands for software in Chinese enterprises, applicationized, product-centric, and intelligent SaaS products are likely to overtake global competitors.
Product value should match its customer positioning. Products for KA clients are positioned for cost reduction and efficiency improvement, while products for SMB clients are positioned for additional revenue and improvement in client acquisition efficiency.
The following are excerpts from the speech:
We at Blue Lake Capital manage both CNY and USD funds, and we pay great attention to the digital transformation of the Chinese economy. The core part of our business is enterprise software. Over the past three or four years, we have heavily deployed our investments in the enterprise software sector, covering nearly 40 companies.
During the process, we as investors feel lucky to learn while making investments and growing together with many outstanding SaaS companies as China's digitalization continuously deepens.
Under certain circumstances, when we look at the growth of these companies as a board of directors, we consider different perspectives as we notice the development of these emerging firms.
Today, I'd like to share what we have seen and experienced during this process.
When we talk about SaaS, we are first challenged with the market scalability of SaaS start-ups, which is the concern of most entrepreneurs in the initial stages. When people compare SaaS with the thriving consumer internet industry of the past ten years, they often worry that either the market isn't big enough, the growth of companies isn't easy enough, or action isn't fast enough. Entrepreneurs to investors, including even our LPs, are concerned that SaaS start-ups may not reach an impressive size even with a long time to develop.
From a macroscopic perspective, we're not too worried because China is among the top countries in the world in terms of GDP growth rate. If we break down the figure to look at the growth rate of each industry, we'll see that digitalization, information technology, and software-related sectors are all growing at 2-digit speeds. Such high growth speeds are very rare, even compared with global rates.
For anyone who'd like to start a business, finding a rapidly growing environment is essential. Only high growth leads to significant opportunities and only when there are enough opportunities can start-ups seize upon one and enter the market. Information technology and software industries are undoubtedly rapidly growing environments that provide great market opportunities.
We are often asked that if a Chinese software company succeeds, what kind of scale can be achieved? And how much can its market value be on the secondary market? To answer these questions, we have consulted a large amount of data from third-party research institutions. According to a research report from JP Morgan, the market scale of the SaaS industry is forecasted to exceed ¥260 billion by 2025, and that of the software industry will be even larger.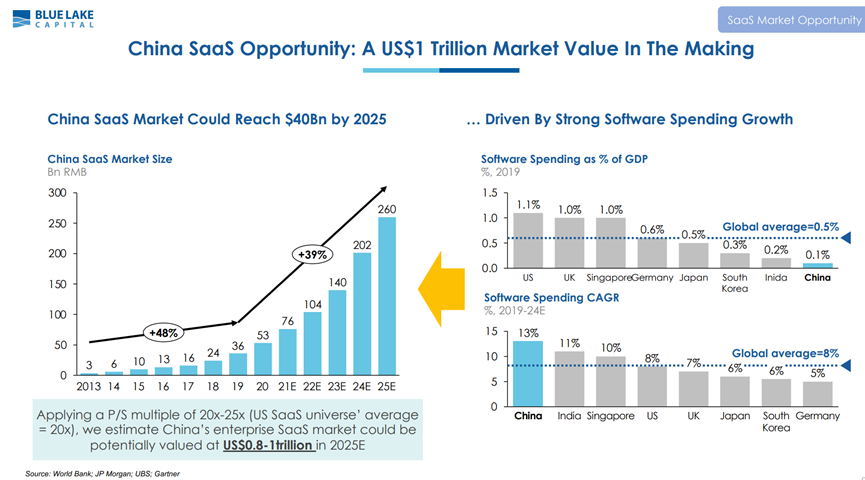 Suppose the P/S ratio of a software-related company is 20-25x, which is equivalent to a market value of $1 trillion on the secondary market. It means that if an average company has a ¥100-billion market value, at least 50 companies of a similar size will emerge. Suppose the average market value of a company is only ¥50 billion. In that case, over 100 companies will arise in the next few years with the boom of the Chinese software market, each with the opportunity of becoming relatively large companies in capital markets (in Mainland China, Hong Kong, and the US). We are very optimistic about both the size and the growth rate of this industry.
Lately, we've heard a lot of feedback saying that a significant drop came in the secondary market, making investors worried about the software industry not receiving enough attention and potentially leading to a bleak prospect for starting a software business.
We've given this a lot of thought. First of all, the question is a little weird because, in essence, the drop reflects short-term fluctuations in the secondary market but not the fundamentals of the software market. To a degree, the instability of the secondary market provides an excellent opportunity to eliminate companies with relatively poor production capacity from the industry. Companies with unhealthy businesses will have difficulty in raising funds in the market. On the contrary, those with excellent products and high-quality businesses will be able to withstand the fluctuation.
The other side of the coin is that we've seen very positive signs in the Chinese software market even in the last two or three quarters. In Q1 of this year, the production capacities of China's top integrators barely met the unprecedentedly high demands of middle-to-large enterprises for IT-supported and systematized solutions. This means the digitalization of the Chinese economy is prospering. Whether for entrepreneurs or investors, it is a good time to get involved.
Why do we say there are opportunities for the SaaS industry this year? And why are opportunities happening now?
One important reason is the maturity of public cloud infrastructure. The second reason is that Chinese enterprise software users use ERP on their computers at work but consumer applications on their phones, which offer hugely different experiences. Also, the upgrading and iterating of companies' businesses are getting faster while traditional, locally-delivered, customized software is having difficulty catching up with the demands generated from the development of these businesses.
An increasing number of entrepreneurs are asking where the opportunities are. The demands of enterprises for IT products have been fundamentally changed. We've noticed some obvious trends: apart from application development  and product-centric approaches, improving artificial intelligence is essential but difficult to achieve in traditional, locally-delivered software products. Even if you look from a global perspective, Chinese entrepreneurs today have the opportunity to overtake their competitors because in terms of AI algorithms or human resources, China is leading the world when you make horizontal comparisons.
The timing for our software products is perfect for integrating intelligence with information. The product power thus produced is highly likely to exceed that of European SaaS products of the previous generation. We've seen increasingly more cases of the practical application of this integration in software products.
Next up, let me share with you our thoughts on product value.
First, how do we weigh up the value of a software product? Which target is better, KA clients or SMBs? It's not simply an either/or question. There have been cases of success for both KA and SMB clients. The type of clients you choose is not the key to success. But the product positioning and the value it creates for a client have to match the client's positioning.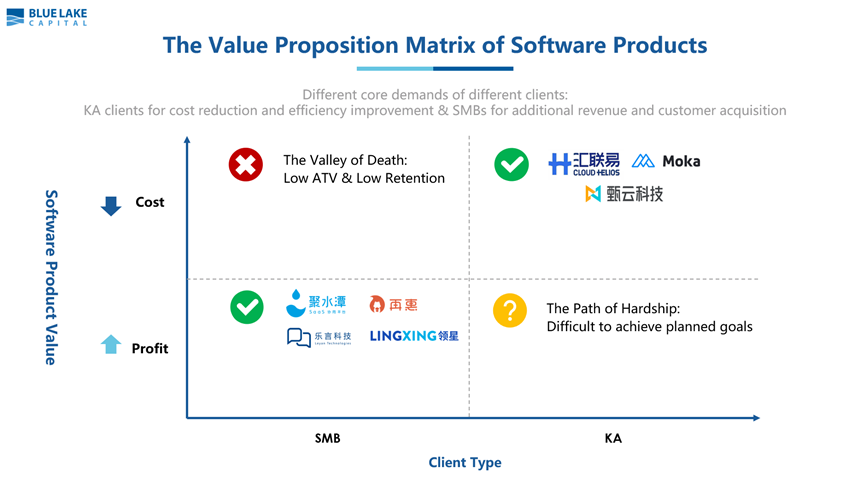 Usually, products for KA clients are positioned to reduce costs and increase efficiency. KA clients are usually more complicated in their organizational structures and attach more importance to the transparency of business operations, efficiency improvement, and controlling costs. Software products can generally meet clients' management demands. However, it would be unprovable if we told a large enterprise that our software product could increase their revenue. Too many factors influence a large company's sales, so it isn't realistic to expect revenue to increase with a mere SaaS product.
Contrary to the above, the organizational structures of small to medium enterprises are relatively simple and owners of SMEs know how to save money. If we told them our software products could help them save money, they would probably be unwilling to spend an additional ¥100,000-200,000 per year to save a little money. They care more about generating extra income and how our software products can help them increase their revenue and improve the efficiency of client acquisition. For example, among our portfolio, JST specializes in order processing and inventory management. Zaihui focuses on precision marketing for catering businesses. Leyan Technologies deals with intelligent customer service. Lingxing is dedicated to PI analyses of the cross-border e-commerce industry. All of them base their businesses on their respective value propositions. When it comes to small to medium enterprises, your growth curve will be impressive if you can find the right target clients for your products and show the value created by the products.
At this moment, SaaS is a highly feasible field with a huge market for both investors and entrepreneurs. It provides an opportunity rarely seen in other verticals. From Blue Lake's perspective, this is the best entrepreneurial opportunity in 15 or even 20 years.
From an entrepreneur's perspective, running a business is a long-term game. It is necessary to consider whether a company can succeed and become an asset and whether the products can match client positioning, accumulate WoM, and gain higher customer satisfaction. If the answers are yes, success will naturally follow.