Blue Lake Capital Concentrates on Manufacturing SaaS: Customer Satisfaction and Product Soul Matter Most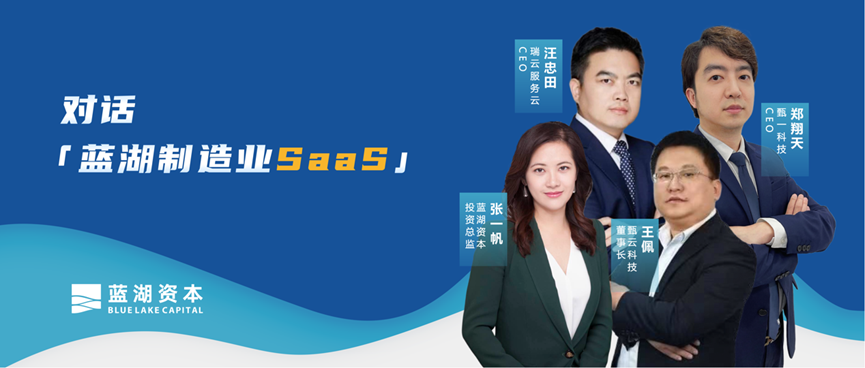 The end of the year of the ox saw the Blue Lake Capital Investor Conference of 2022. Upon invitation, three entrepreneurs specializing in manufacturing SaaS—Wang Pei, Chairman of Zhenyun Technology; Wang Zhongtian, CEO of FS Cloud; and Zheng Xiangtian, CEO of Zone Science and Technology Co., Ltd.—were present to share their experiences in delivering brilliant SaaS products focusing on the integration of manufacturing and software in procurement, after-sales, and collaboration.
Together with Zhang Yifan, the Investment Director of Blue Lake Capital who has years of involvement in SaaS, they had a talk about three hot topics among SaaS practitioners.
What are excellent entrepreneurs doing differently to achieve better at customer satisfaction?
Will SaaS products end up being homogenized? And what contributes to competitive products amidst the prevailing copycat culture?
How can SaaS entrepreneurs who are targeting large enterprises shatter the stereotypes about standardized and/or personalized products?

The answers all come back to customer satisfaction.
Zhang Yifan: SaaS is such a hot vertical as more and more investors have realized the inherent advantage in its business model: high renewal rate. Indeed, this situation depends on companies' dedication to customer satisfaction. During our usual conversations with CEOs, they will claim that they have a great emphasis on customer satisfaction. However, due diligence reveals that their actions actually vary greatly. There is a gap between many CEOs' statements, the actual implementation of frontline employees, and the corporate culture. The process may require specific mechanisms and methods. So, can you share your experience and strategies to improve customer satisfaction?
Wang Pei: Here's a story for you. We once received job applications from many employees from an SaaS company. When interviewing them, we would ask why they left, because this company had just finished financing and was in a great vertical market. They left that company as a result of its low customer satisfaction. They all replied, "Our current project has too low customer satisfaction to be launched, and we failed to settle it. It is too stressful and hopeless." Upon deeper inquiry into the reason, it turned out that the company's R&D personnel were assigned to new projects that were of interest to the boss, leaving no one to solve product issues. As a result, many other projects were affected, leading to a vicious cycle. Customers would be naturally less satisfied, and employees would feel hopeless. So we can see that no matter how you emphasize customer satisfaction, if you follow the wrong approach to take care of it, the outcome won't be positive.
So customer satisfaction can be a highly complex issue or a simple one, which requires an eye only on two core points: First, provide adequate service. To serve enterprises in terms of SaaS, well-qualified consultants need to straighten out customer demands to facilitate the progress of projects as planned. Second, ensure product stability to enable rapid iterations to satisfy customers. Zhenyun has now signed contracts with 200+ customers, and this figure will reach 400+ next year. Failure to stabilize the logic and mechanism will certainly affect customer satisfaction. This is how we understand customer satisfaction. We may be all well aware of the core point, but the difference lies in whether we persist or not.
Wang Zhongtian: It is pretty challenging to score high in customer satisfaction. We should first make it a corporate culture. Employees need to be committed to customer satisfaction, to smooth the process from customer engagement to successful delivery, then to the continuous and stable operation of the system delivered. Things will be streamlined if such a culture is in place. Otherwise, there is inconsistency between the sales team, the consultants, and the customers. Everyone focuses on their own concerns, leading them to fail to realize the actual goal. In the case of signing contracts, for example, customers may expand their needs. If there is no such culture, the sales team will overpromise. We often find that our customers signed contracts with others at a meager price, who promised that they could solve anything. However, the customers would finally come to us for solutions. When signing contracts, our sales staff will inform the customers what we can or can't solve. And the contracts will be reviewed by a consultant. In this way, we can ensure all the orders signed are in line with our product's future development path without upsetting the pace of the R&D department.
Moreover, new requirements may arise regarding the delivery and customer operations during the process, so we need to harmonize with R&D staff. At the weekly project meeting, we will judge the customer's status and new project requirements to determine whether it is a need or just a want. And we'll schedule proper development pace to fulfill customers' needs, and keep iterating on our product to satisfy their new needs.
Zheng Xiangtian: Customer satisfaction is a complex concept, requiring specific systems and methods throughout all sales stages.
Firstly, overpromising in the pre-sales stage is like a loose cannon. Suppose what you promise runs against the direction of future iterations of your products. In that case, customer satisfaction will not go up no matter how hard you try. This is especially true in the case of SaaS companies because the project can't be made up of customized methods.
Secondly, two situations may be involved during sales: One is that we proactively satisfy customers, and the other is that we passively fulfill their requirements. For example, in the former case, we helped a supplier's factory with connections some time ago. We found that many workers in the factory were elderly with poor cultural education and poor eyesight, and they even felt uneasy about using an app with a lightweight design. However, we managed to turn it into voice control, enabling planning to be finished by voice guidance. We had this idea when upgrading products before, but we did not know the applicable scenarios. If our project manager and sales staff did not care about customer satisfaction and didn't give us feedback about this, we would be leaving the older workers to use the small PBA. If that happened, the customer will definitely be dissatisfied.
Thirdly, to secure sound and stable product quality in the after-sales stage, the company needs a mechanism for analyzing and fulfilling customer feedback. After-sales service in SaaS companies is a tough job, subject to the risk of product instability caused by every iteration and connections with some customers' internal systems and APIs. Suppose you don't have a solid technical team to support after-sales iteration or a mechanism to respond to customer feedback. In that case, you will be overwhelmed by complaints from your customers.
What constitutes the product soul? How to make a product distinctive?
Zhang Yifan: High customer satisfaction will contribute to a high renewal rate. However, it is a complex process. We observe a phenomenon among 2B software products: players on the same track share similar content on their business plans, especially in the features. Does that mean that 2B software products will end up being homogenized? Obviously not. According to our experience, the first echelon of each vertical track will generally take shape after four to five years of total competition. The leading vendors can significantly outperform competitors in software products. So how can we characterize our products and build up comparative advantages?
Zheng Xiangtian: You can't work on products without reference to what the world requires. It is necessary to observe other players on the same track. For example, E2open, which was listed in the US last year, and SAP's HANA under Ariba are born out of market exploration.
More importantly, we have to be clear about our products in response to specific scenarios of our target customers. Here's a case. We had a project helping OEM with customer-supplied materials, and we won the customer because we can help manage them. If we can't support that, we can't differentiate ourselves from other competitors because we all have general features to manage the process, BOM, material, work order, and inventory. So, our products have high value and are competitive because we solve customer problems in specific scenarios. This is the most fundamental thing.
Wang Zhongtian: It is impossible to see a real difference in just a few functions. It's like an order system designed by a college student as their capstone project. That kind of system allows order placing and payment; so seemingly, it has all of the features available. However, this two-month design is just a program that can run. It is ten times more difficult to turn a program into a project, and a hundred times more challenging to turn a project into a good product. This is because good software requires superior work in three aspects:
The first is the process. Software should adapt to a company's operations—whether that's spare parts, service, or settlement—and doing that requires synergy. There is a problem that procedures vary from company to company. It is not easy to manage all the processes. There must be a top-down systematic mechanism.
The second is data, that is, how your data help enterprises with management and decision-making. For example, users can see workers' performance by looking at their utilization rate.
Third, interactive experience. Software is increasingly focused on the interactive experience. Many internet professionals can deliver concise software, but that software can't handle enterprises' affairs. For example, customers want the software to show all of the customer information when the customer service staff receives a phone call, which requires a deep dig into the actual operating scenario.
As a result, it involves a very difficult process to turn a program into a project and then into a software product. That is why SaaS requires enormous investments.
Wang Pei: It's fascinating to me. Speaking of consumer products, you may all realize a phenomenon in online shopping. If one store is launching a new feature, that feature will soon be found in another store. Strictly speaking, this is also the case in the 2B business model. We've learned that in creating SaaS products targeting large enterprises, you must build up the product's soul. With a soul, others will have a hard time copying your products.
We all know that 2B SaaS products must be designed based on best practices of to be standardized while still unique. An investor once asked me why Zhenyun could handle 200+ projects a year given the same number of staff as peers who could handle only 20 or so. Then I said the truth is simple. We all design products based on a set of best practices for that use case, but many of our peers are based on business processes because this allows them to get a set of products quickly. It comes with a probability that if you are lucky to meet customers with similar business processes, your products will be applicable and can be delivered promptly. However, this luck is often not there. For example, manufacturing involves numerous sub-sectors—like equipment, heavy machine, electronic, and chip manufacturing—each requiring different business processes. If you meet customers with different processes and product designs, you may have to change the underlying logic of your products to make them deliverable.
In terms of Zhenyun's enterprise procurement, considering the incredibly diverse industry demands, we choose to design products based on the best practices of those categories. For example, most businesses will have a similar procurement process for a bottle of mineral water, regardless of their industry. In this regard, breaking products down into categories will make your products applicable to all customers, to a certain extent, without considering their sector. In this way, your competitors may copy your interface, but they won't be able to touch your product DNA. Such DNA is the barrier formed by our team based on decades of experience in this field.
Of course, a company's competitive advantage is attributable to many different things, such as products, marketing methods, customer acquisition methods, and service capabilities. The more aspects you are strong in, the more competitive you will be.
Breaking stereotype: How to standardize large-scale management software products
Zhang Yifan: Our three guests today all specialize in software products targeting large enterprises. People maintain a strong stereotype about SaaS for large enterprises, believing that large Chinese enterprises have too many unique use cases which can only be satisfied by customization. Is this the case in real life? As you're all working on standardized products, can you share with us your experience in this regard? Also, is the customization case diminishing with our investment in research and development over the years?
Wang Pei: We design a product based on the category, so strictly speaking, we won't be much bothered by special personalized needs as long as the enterprises—whether central enterprises or state-owned enterprise—use our product to purchase this category. This is because our products are designed based on the best practices of nearly 300 categories. And for any category we've never met before, we'll add its best practices into our design. The personalized needs, and even those beyond our product boundary, don't constitute our pain point. Our product has very fast building capability as aPaaS platform, so we can quickly tailor to customers' unique needs.
Wang Zhongtian: Large enterprises tend to have more complex needs, so I think we should first learn to optimize SaaS by focusing on one niche demand, where standardization can be process-driven.
Secondly, your software must also be management-based. Your communication with the customers is a two-way process; the customers are also observing you. The result may be that you convince the customer, or that the customer convinces you. In the latter case, if your software isn't designed based on best management practices, you might easily promise the customer asks for. Therefore, the software must be practice-based to show the practices of other excellent enterprises. Domestically, we have served Oppo, Vivo, and Xiaomi with the management mode. In this case, customers will trust you and drop unreasonable demands.
Thirdly, an aPaaS platform is still desirable. With an unchanging core, various forms and processes of enterprises can be configured using aPaaS platform to meet their needs.
Zheng Xiangtian: First of all, customer needs vary to a certain degree in the pre-sales stage, so we need to take orders within our product capacity while making customers realize that the SaaS service model can gradually meet their needs. Regarding internal product operation, besides the aPaaS platform for effective personalized development, we should make employees aware of how the company's products work. As the team grows, many employees have no idea how to effectively use the company's products even after internal training. They may not even know that a combination of the product features can fulfill particular customer needs but regard such needs as personalized needs instead. Therefore, the reason why the customer needs turn into personalized needs is that they are beyond the product boundary in the pre-sales stage, and employees don't know much about the product.
The ideas about integration and personalization differ among people. For example, if a key account has already employed ERP, CRM, etc., it wants to use your module to solve specific problems, and so you have to integrate it with existing systems. To achieve this, the customer may ask you to write something or display a system value on the interface in addition to the API connection. There is no way to avoid this. In this case, better tools are needed from aPaaS and for companies' technical staff and industry research staff to satisfy customers. Nevertheless, in the face of personalized needs, we should estimate the product boundary and consider whether our future product iterations can cover such needs.


Born out of the IT consulting company HAND Enterprise Solutions Co., Ltd. (stock code: 300170), Zhenyun Technology is a domestic digital procurement management platform provider. Aiming to revolutionize the digital procurement of enterprises, it provides medium and large enterprises with digital solutions to the procurement of productive and non-productive materials, making enterprise procurement management intelligent, improving supply efficiency, and reducing risks and costs in the process.

Through SaaS, Zone Science and Technology Co., Ltd. engages core manufacturing enterprises in supply chain production collaboration to form a collaborative industry networks.

FS Cloud is a SaaS application for after-sales and field services management dedicated to providing one-stop intelligent service management solutions for medium and large enterprises. By building intelligent service management platforms, it helps enterprises to digitalize their services and drive their service efficiency, customer exper