China's Largest E-commerce SaaS ERP Provider Jushuitan Seeks Listing in HKEX with a CAGR of over 33%
Source: Wechat official account IPOzaozhidao    Author: Stone Jin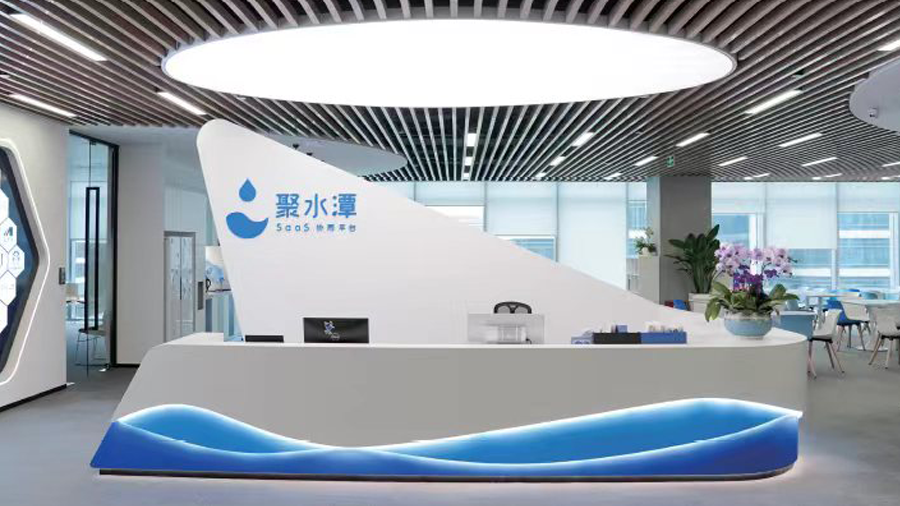 JST Group Corporation Limited (hereinafter referred to as "Jushuitan") officially submitted an IPO application to the Hong Kong Stock Exchange on 19 June 2023 for listing on the main board. CICC and J.P. Morgan are joint sponsors.
Founded in 2014, Jushuitan has now developed a comprehensive suite of cloud-based e-commerce SaaS products that help merchants upgrade their business capabilities, improve performances and develop business across platforms seamlessly while reducing the costs for deployment and operation.
As of 31 December 2022, Jushuitan has connected its merchants to over 350 e-commerce platforms and more than 700 logistics and warehouse service providers across the globe, making it one of the providers with the most extensive e-commerce platform coverage in China's e-commerce SaaS industry. Jushuitan have become the solution of choice in China's e-commerce SaaS ERP, in terms of the number of merchants served across key Chinese e-commerce platforms.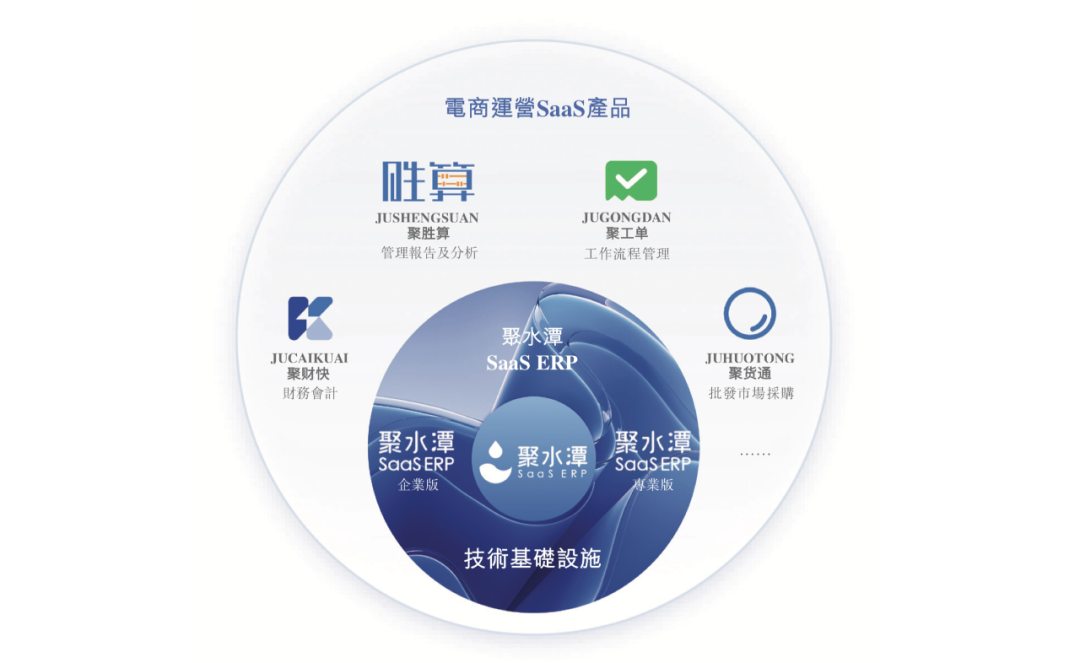 In particular, Jushuitan ERP is the company's core SaaS product, which serves and meets the key needs of merchant customers related to the processing of e-commerce orders on e-commerce platforms. Through Jushuitan ERP, merchants can integrate, synchronize and coordinate all their operational or financial data across platforms, and enjoy a seamless cross-platform business experience. The key functions currently provided by Jushuitan ERP include order management system (OMS), warehouse management system (WMS), procurement management system (PMS) and distribution management system (DMS). According to China Insights Consultancy (CIC), Jushuitan ERP has become the most popular e-commerce Saas ERP brand among Chinese merchants.
As China's most efficient e-commerce SaaS ERP for processing orders, in 2022, Jushuitan ERP processed approximately 50 million orders daily with the highest processing volume of nearly 170 million in a single day. Jushuitan ERP is one of the fastest iterating e-commerce SaaS ERP products in China in terms of the number of iterations, according to CIC. During the track record period, Jushuitan ERP maintained an average response time of less than 50 millisecond and an uptime of more than 99.5%.
On the basis of ERP, Jushuitan has further extended its products and services to other e-commerce operation SaaS products. As of 31 December 2022, it has launched four e-commerce operation SaaS products (exclusive of ERP) such that the company's SaaS tools are able to serve various needs of e-commerce participants to equip them with capabilities in financial accounting, management reporting and analytics, workflow management, wholesale market procurement, among others.In 2022, customers who purchased two or more of Jushuitan products contributed 30.6% of its total SaaS revenue for the year.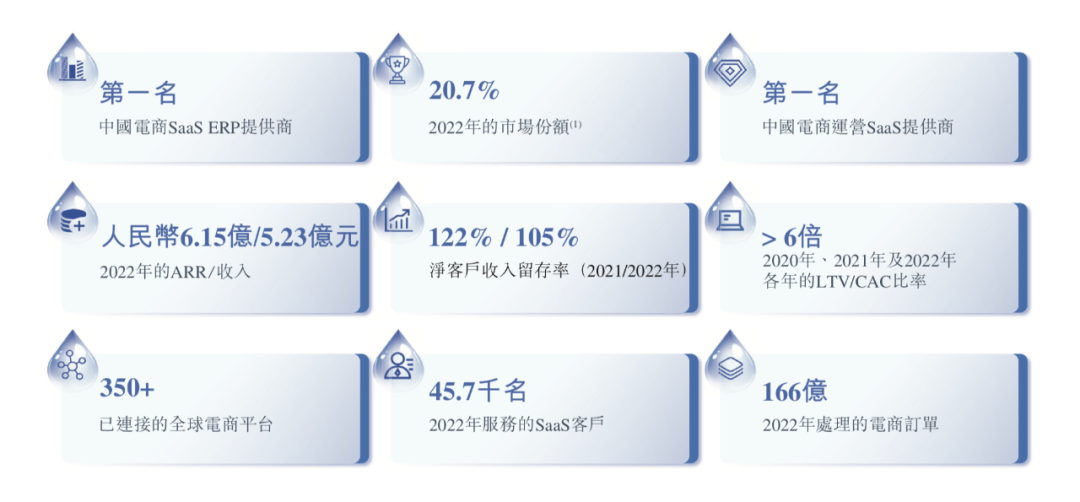 Jushuitan was China's largest e-commerce SaaS ERP provider in terms of revenue in 2022, with a market share of 20.7%, according to CIC. In China's e-commerce operation SaaS market, it also ranked first with regard to total SaaS revenue in 2022.
From 2020 to 2022, Jushuitan served 22,600, 33,100 and 45,700 SaaS customers, respectively.
It is worth mentioning that in the two sets of data reflecting the viability of a SaaS company, Jusuitan achieved a relatively impressive result – from 2020 to 2022, the LTV/CAC ratio of Jushuitan was over 6 times, which measures the relationship between customer lifetime value and customer acquisition cost; in 2021 and 2022, the net customer revenue retention rate was 122% and 105%, respectively.
In terms of financial data, the revenue of Jushuitan from 2020 to 2022 reached 294 million, 433 million and 523 million, respectively, with a CAGR of 33.4%. Its gross profit margin for the same period was 46.2%, 50.5% and 52.3%, respectively, also showing a year-on-year rising trend.
Merchants in China's e-commerce market are increasingly willing to pay for digital solutions. According to CIC, Chinese e-commerce merchants' IT spending reached a total of RMB116.0 billion in 2022, which is expected to further grow to RMB231.2 billion by 2027; the penetration rate of e-commerce SaaS ERP among these merchants was at a relatively low level of 1.3% in 2022 and is expected to grow steadily.
Since its inception, Jushuitan has acquired investments from renowned financial institutions including Ameba Capital, Welight Capital, Vision Plus Capital, Blue Lake Capital, Sequoia Capital China, Goldman Sachs and CICC Capital.
In its prospectus, Jushuitan indicated that the net IPO proceeds will be primarily used to enhance its R&D capabilities to enrich its product offerings; strengthen its sales and marketing capabilities; make strategic investments with the aims of developing the product offerings, expanding its customer base and reinforcing its technological capabilities; and for general corporate purposes.