Moka CEO Li Guoxin: "One out of 10 Recruiters in Dotcom Companies are Using Moka"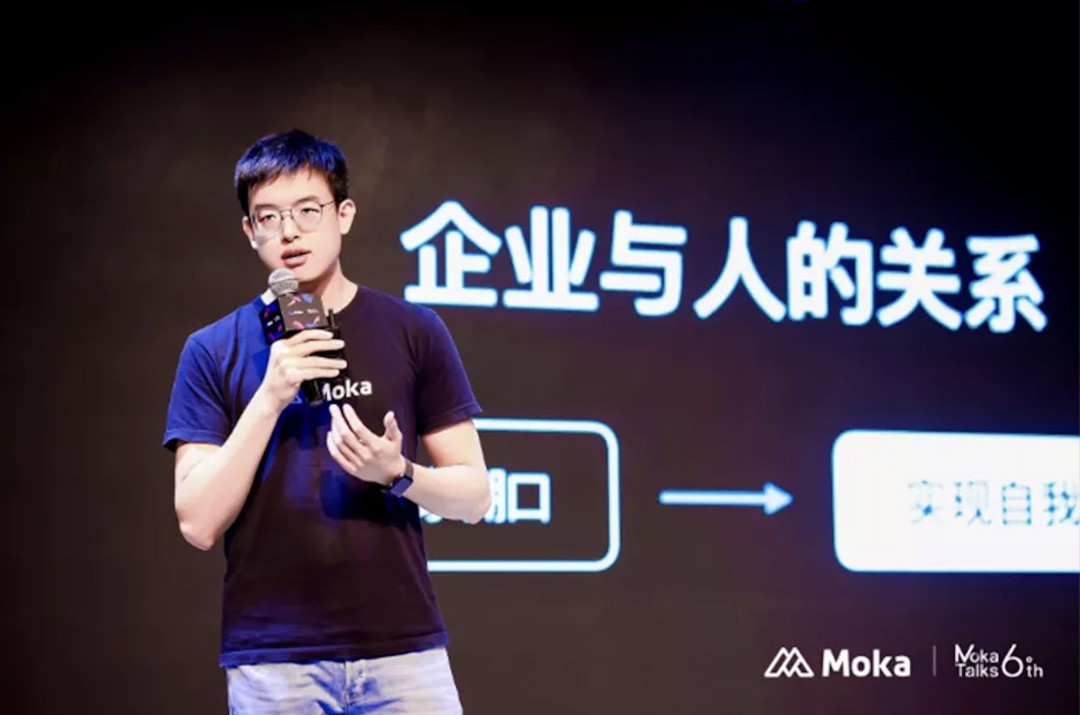 From September 15th to 29th 2021, Moka's signature event "Moka Talks 6 – Nothing But Innovation" was held in Shanghai, Shenzhen, Hangzhou, Beijing, Guangzhou, and Chengdu. Over the course of the event, almost a thousand top HR managers from across the country shared their views and insights.
Li Guoxin, CEO of Moka, addressed the audience and expressed his commitment to developing an application system that users are genuinely happy with. His statement explains why Moka's NPS score (an index that measures the willingness of customers to recommend a company's products or services to others) is 8, the highest among all players, compared to the industry's average of -20. Ray Hu, founder and managing director of Blue Lake Capital, in his interview with Tencent News, said that Moka was "a company whose corporate culture is truly product-driven".
As of to date, Moka has gained the biggest market share in China's ATS market, with a product renewal rate constantly hovering above 115%. One out of 10 HR professionals in dotcom companies is using Moka's products.
Below is the transcript of Moka CEO Li Guoxin's speech.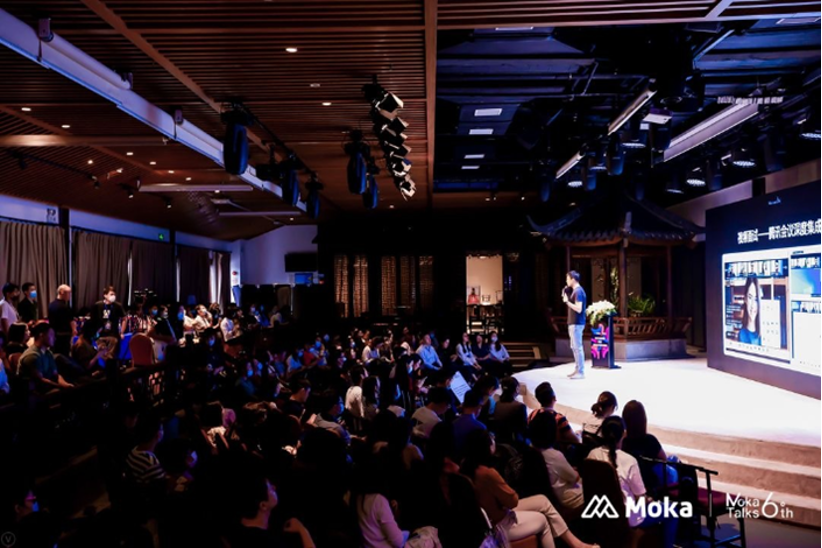 Thank you very much for taking the time to be here.
Moka was founded in September 2015. Today, I would like to take this opportunity to walk you through Moka's six-year journey and its path ahead.
Face Problems Head On and Figure Out Solutions
I came back to China in 2015. As I was browsing the official websites of internet companies, I couldn't help but notice that the career pages were often shabby, with static information about job openings that required candidates to submit their CVs via email.
Such poor experience undermined a candidate's impression of the company, as he/she could not receive timely feedback.
We realized that this was an issue, and I thought, if a candidate wasn't happy about it, how about the HR person?
According to our surveys, many recruiters felt that a big part of their time was spent on trivial and repetitive tasks. They used tools that offered basic ATS functions, but they also expressed their dissatisfaction with those problematic systems. Indeed, as we found out later, in those systems, key insights that should've been highlighted were buried among other information and repeated actions were often required.
One common problem we identified was that existing products were designed just to meet the needs of decision makers. The needs of end users, who also happened to be heavy users, were neglected and their pain points remained unaddressed.
Starting from 2015, we decided to develop an ATS that users are genuinely happy with. We hoped to build a product that would help recruiters and deliver better work experience.
Meanwhile, we aimed to offer candidates a better experience as they applied for jobs in companies that used Moka products, and we hoped that all users along the hiring process, including the line manager and interviewer, could see the value our system had to offer.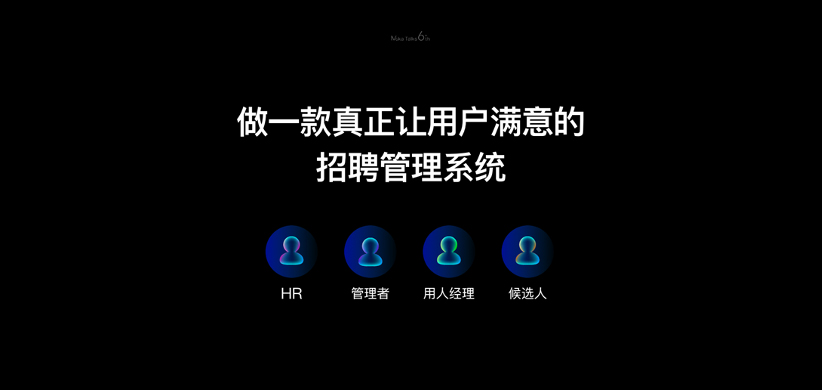 What have we achieved in the past 6 years?
You might be wondering, what have we achieved in the past six years?
To begin with, our product has gone through over 3500 iterations. When we started out, we had just enough capacity to serve startups of a few dozen employees but later expanded to cover enterprises of different sizes and sectors. Use cases also expanded, from general recruiting to campus recruiting, employee referrals, and recruitment for physical stores.
In 2019, we have built an R&D team to develop a new product–Moka People, which underwent over two years of development and was launched at the end of 2020.
This marks an important step for Moka to shift from being a service provider of one single ATS product to being an integrated HR SaaS provider.
Over the past few years, we have served over 30 co-creative enterprises. Currently, Moka is providing services to over 1300 clients spanning 25 sectors, from small startups to global 500 companies. We don't take these numbers lightly because they represent the trust our clients place in us.
Moka's NPS (net promoter score) is 8, the highest among all players, compared to the industry's average of -20. Customer endorsements have been a source of confidence and a foundation for solid and robust business growth. We achieved 100%+ growth compared to last year, which is rare in the SaaS sector given our scale.
In addition, our customers are also loyal and heavy users. That's why our product renewal rate constantly hovers above 115%.
We have the highest market share in the domestic ATS market. For every 10 HR professionals in dotcom companies, there is one using Moka's products. It wouldn't have been possible without the 6 years of hard work, the support and trust our customers place on us, and an outstanding team behind Moka.
We started out as a team of two and grew to become a company of almost 600 employees with offices across 9 cities. We are headquartered in Beijing. In order to provide better products and services, we will soon establish a second headquarters in Chengdu, which will serve as an industry hub, a service hub, and a marketing hub.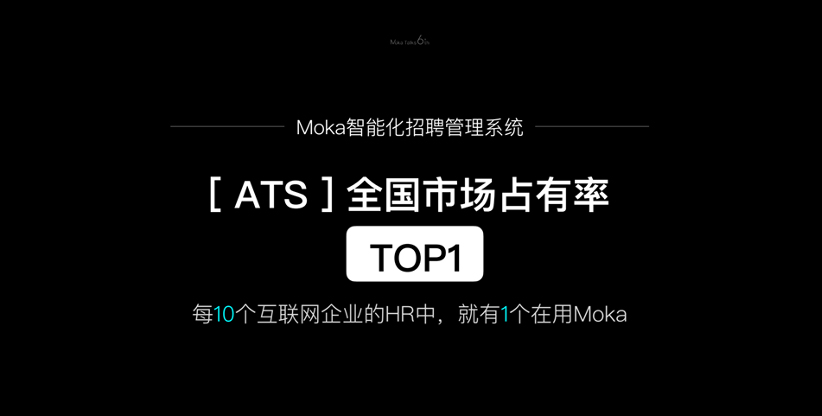 What Will Moka Offer to the World?
Talent is a company's greatest asset. A company will only grow by creating a nurturing workplace culture that meets the self-fulfillment needs of its employees. It is therefore essential to create an open, equitable and respectful work environment.
In this sense, Moka not only helps individuals at work but also gives companies a competitive edge in terms of attracting and managing talents. To help us better achieve those goals, we've recently updated Moka's mission statement as "enabling a better workplace experience for everyone; driving greater individual growth in organizations."
These two lines will serve as an important compass that guides Moka's work in the future.
We hope to zoom in on every individual in the workplace in everything we do. We firmly believe that traditional software that centers on managers and decision makers will be obsolete. What enterprises need nowadays are products designed to help everyone do a better job.
We hope that our products and services can automate trivial and repetitive day-to-day tasks for HR professionals and other users. In the meantime, we hope that with our products, companies can put the right person in the right position and give him the support he needs to grow.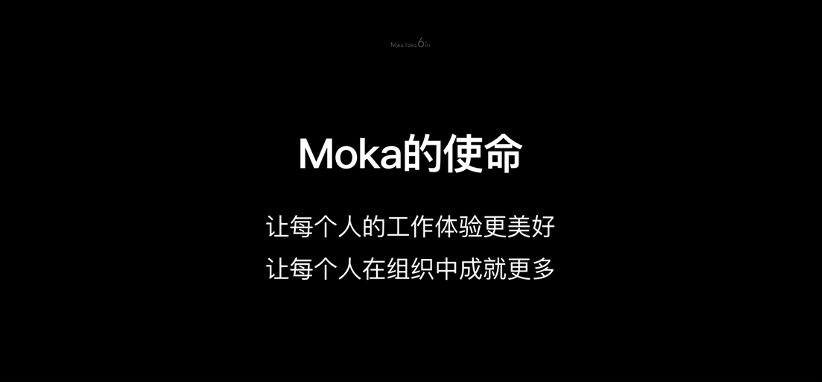 How Should Moka Go About It?
So, how should we go about it? Our principle in Moka, simply put, is "continuous innovation with a focus on pain points".
We hope to focus on addressing the pain points of our customers and tackling their problems one at a time. In Moka, there is only one definition of a job well done – being well recognized by customers and able to bring continuous incremental innovations.
One of my favorite documentaries – Jiro Dreams of Sushi, is about Sushi master Jiro Ono, who, in his 80+ year career, keeps innovating and honed his craft to ultimate perfection.
In Moka, pursuing perfection is also part of our core values that guide our innovation endeavor.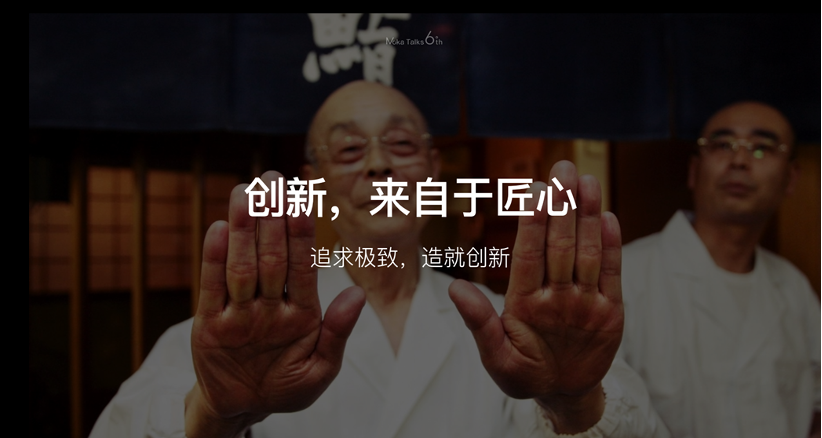 Let me give you two examples. The first one is about the candidate satisfaction feature, which was made available as early as 2016 when we first launched the product.
Back in 2016, there were hiring platforms in the market that collected candidates' post-interview reviews. But the feedback was often fraught with disinformation and personal emotions, making recruiters' lives difficult.
As time goes by, it would also undermine the employer branding. Considering the situation, we developed a candidate satisfaction feature that collected feedback straight from candidates.
Now, right after an interview, Moka products automatically send a text and an email to the candidate and request feedback on the interview process. The survey is put together by the HR person, and the candidate can choose to either reveal his/her identity or remain anonymous. All feedback is captured in Moka's system.
The HR person may view the information and, based on the analytics, pinpoint key and common issues that need to be addressed. This is a closed loop that covers the entire hiring process, from interview, feedback, to optimization. We've created a win-win situation where employers need not worry about the negative impact of the information and candidates also have improved experiences.
This module quickly became the most popular and widely used feature in the entire system.
In addition, we added the online appointment scheduling feature for campus recruitment, as we realized it could minimize repetitive and mundane tasks.
In the system, a recruiter may select a number of student candidates, who, after choosing the corresponding opening, may select the interviewer and time for the interview. When the interview is set up, the candidate receives an invitation link and goes to the interview at a time of his choosing.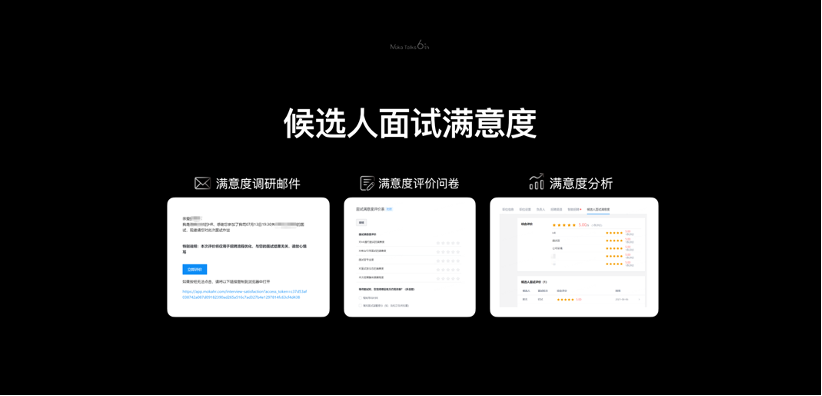 Future Facing and Continuous Innovation
I would also like to share with you three innovative solutions that Moka will soon offer.
First off, the talent pool.
Our survey shows that companies are having a hard time trying to build up their talent pools. Building a well-structured, functional talent pool requires a lot of effort and human resources, and HR personnel have not yet developed the habit of using talent pools.
That's why we launched an integrated talent pool solution, leveraging AI to address these two challenges. Talent profiles will be automatically added to the database and pushed to the HR person for screening. The system will then generate a text or a call to alert the candidate and find out whether they are interested. We call it "candidate activation".
This is a closed-loop system that covers the talent sorting and activation processes. With analytics generated by the system, the user has visibility over the how the talent pool is operated and used and implements necessary improvements.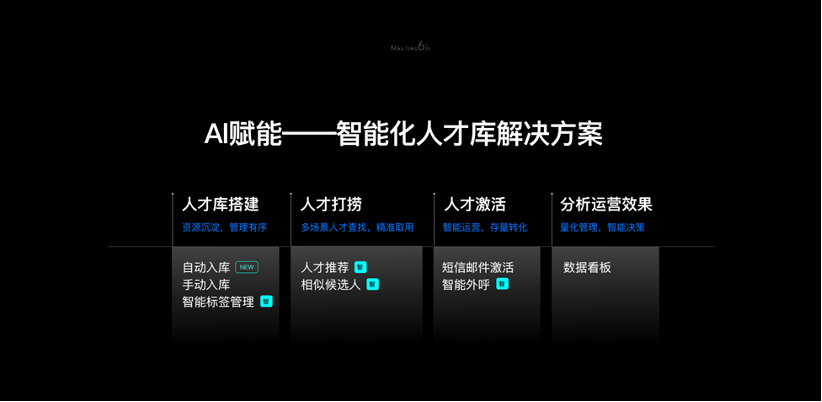 Here I would like to highlight one important new feature that is powered by AI. We call it automatic profile storage.
It is often difficult for companies with a big recruitment team to develop a consistent recruitment standard. To address this problem, Moka leverages NLP technologies to filter and automatically store candidate profiles. In the process, a standardized database of various talent categories is generated automatically.
This feature went live a few days ago. Beta tests are now open. If you are interested, please contact your CSM to participate.
Let's now look at video interviewing, which gained traction during the pandemic. We were one of the first companies that introduced the concept of contactless hiring. Since then, we have been working to optimize the online interview experience.
Early this year, we established a strategic partnership with TencentMeeting. In the first half of this year, we launched Moka x TencentMeeting, a solution for video interviewing.
As of today, 211 enterprises have used our solution to complete 430,000 online interviews.
In order to provide a better experience, we recently worked with TencentMeeting to explore deeper integration. We are going to embed candidate and interview information in the TencentMeeting video interface. That means an interviewer can talk to a candidate, browse his/her CV, and input assessment all in one page. The updated version will go live in a few months.
Last but not least, I would like to touch on our new product – Moka People.
Moka People is a core HR product that hosts the lifecycle of an employee, from onboarding, to transfer and departure. By integrating Moka People and Moka ATS, we can finally offer the ultimate application and onboarding experience to all parties involved.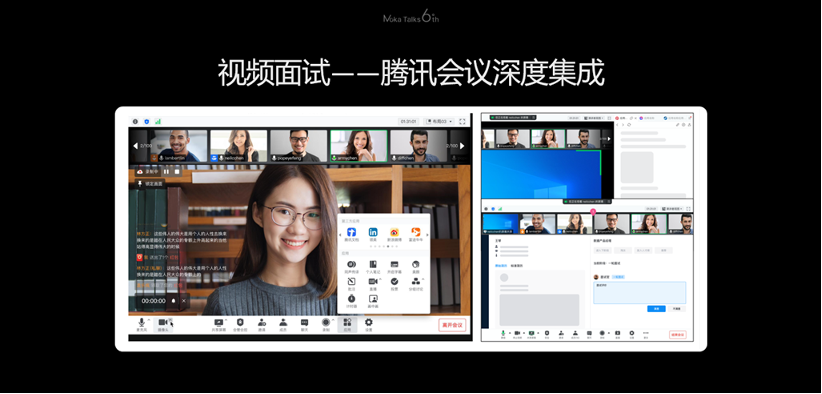 First, the HR person can create an offer and fill out the compensation information by pulling a standard compensation package from the company's Moka People.
When the onboarding process is started, Moka People will automatically capture all information in the offer, including salary and compensation, job description and reporting line, etc. There's no need for the HR person to input information in two separate systems – one for hiring, one for compensation. Work efficiency is boosted, and data errors are minimized.
Now, let's look at the candidate. In this demo, we show you the complete hiring life cycle from receiving an offer to onboarding.
The new hire will have a seamless and streamlined onboarding experience. As a result, he or she will develop a strong sense of belonging and feel the company's attentiveness for its new hires.
These three innovative solutions, launched or soon to be launched, are only the tip of the iceberg. Our innovation journey continues. Enabling a better workplace experience for everyone and driving greater individual growth in the organization is Moka's mission, and it will always be our guide in everything we do.
Thank you very much for your attention.