One Contract Cloud is a professional contract management system developed by Shanghai Zhenling Technology Co., Ltd. By helping enterprises build a contract management ecosystem that covers contract drafting and performance life cycles, One Contract Cloud helps boost contract performance efficiency and risk management at a lower management cost.
Developed by Suzhou Ruiyun Smart Service Information Technology Co., Ltd, FS Cloud is a SaaS application for after-sales and field services. The FS Cloud omni-channel smart service management platform is an industry-leading solution based on insights from the decade-long practices of over 200 industry leading companies.
Core modules include online customer service, field service, spare part management, billing and settlement, equipment life cycle management, and service marketing. FS Cloud is there for companies that set out to digitalize their services. With smart and predictive services powered by AI, IOT, and AR, FS Cloud is well positioned to drive service efficiency, customer experience and customer value for its customers.
Shunzao Technology is part of Xiaomi's ecosystem. Founded in July 2019, Shunzao sells innovative cleaning appliances worldwide, including vacuum cleaners and smart sweepers. Its products can be used at home, in cars, and in office spaces.
Shunzao's products have won multiple international awards, including the Red Dot Award, the iF Design Award, the International Design Excellence Award, the Good Design Award, and the Contemporary Good Design Award.
Recently, product sales have soar across many major Chinese e-commerce platforms, such as Alibaba, JD, Suning, Xiaomi Youpin, and TikTok. Offline distributors have also reported notable growth in sales of Shunzao's products across 20 countries and regions including Germany and Japan.
Shanghai Fuzhi Information Technology Co., Ltd ("Shanghai Fuzhi"or "Raise3D") is an innovative 3D printing company that provides professional FDM 3D printers and printing solutions to customers worldwide. Raise3D's R&D and sales centers are located in Shanghai, and its manufacturing facility is in Nantong City, Jiangsu. The company also runs a North American subsidiary in Los Angeles, and distribution & sales centers in the UK, France, Germany, Italy, South Korea, Japan, Australia, and Brazil.
Founded in 2020, Tanma SCRM was one of the first enterprise Wechat service providers. It is a WeCom-based SCRM that provides integrated sales solutions to customers. Tanma's products include Tanma CRM, their marketing toolkit, and telemarketing phones, which can all be used for customer resource management, sales process management, WeCom group chat operation, and the consolidation of Wechat data.
On November 15, 2021, ThinkingData announced the completion of its Series C round, raising 376 million yuan primarily from Sequoia, followed by Blue Lake Capital and GSR Capital. Early this year in March, ThinkingData raised 100 million yuan in Series B, led by Blue Lake Capital.
ThinkingData is a leading big data analytics service provider in China. It was founded in July 2015, at a former factory turned incubator at 1058 Kaixuan Road, Shanghai. The core product of ThinkingData, Thinking Analytics, is an integrated solution that has everything covered from data acquisition, to storage and modeling, real time calculation, and analysis and presentation.
Five years on, ThinkingData has signed on over 500 gaming companies, including Funplus, Cheetah Mobile, CMGE, Hero, Habby, Papergames, Leiting, Dianhun, Xmfunny, Hortor Games, 3k.com, Chillyroom, and Boke. Over 3000 games use ThinkingData's services, including wildly popular games such as Archer Legend, The Marvelous Snail, Rolling Pictures of Jiangnan Landscape, Ulala: Idle Advanture, Shining Nikki, Swords of Legends, Idioms Challenge, Light of Thel, and Figure Story.
Since its inception, ThinkingData has been on a solid growth trajectory and has assumed a leading position in big data analytics in the gaming industry. It is the first company that addresses the specific needs of games that look to expand overseas. The capital raised in this round will fund new product R&D, service upgrades, overseas expansion, team building, and a brand new data infrastructure for games around the world.
Starting from 2022, ThinkingData will officially launch its global initiative. In an effort to help Chinese gaming companies navigate the challenges and complexities that come with going global. ThingkingData's TA system will offer brand new and refined features just for those games. In addition, ThinkingData will put together its own team outside of China, using our analytics experience in China to serve gaming companies overseas.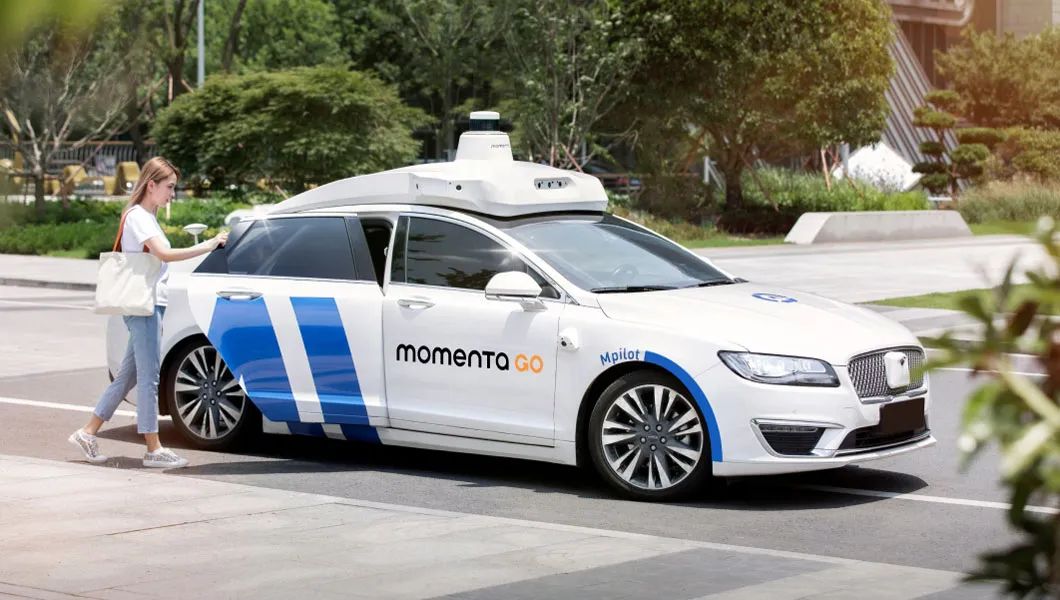 The autonomous driving company Momenta recently announced the completion of a Series C+ round, raising over 500 million USD. As of today, Momenta has raised over 1 billion USD in its Series C round, with major investments by SAIC Motor, General Motors, Toyota, Bosch, Temasek, and Yunfeng Capital. Other investors include Mercedes-Benz, IDG Capital, GGV Capital, Shunwei Capital, Tencent, and Cathay Capital.
Momenta CEO Cao Xudong said, "Autonomous driving is something fun and meaningful. We are committed to creating better AI and building a better life. It's such an honor for Momenta's products and R&D capabilities to be recognized by customers and investors around the world. I look forward to all of us working together to enable the mass adoption of autonomous driving."
Momenta CFO Zhang Peng said, "Looking at the Series C round, we are well-capitalized. Many top-notch car makers and tier-one suppliers have become our investors, making our investor mix different from our competitors. We are proud to be recognized by top-notch car makers. This means more to us than the funds we've raised. And I believe, with appreciation of our technologies, comes orders and research projects. I'm sure we will also jointly develop autonomous driving products. That will be yet another vote of confidence that sets us apart from our peers."
As one of the world's leading autonomous driving companies, Momenta is dedicated to reshaping the future of mobility with best-in-class AI technologies. In an effort to develop solutions with different levels of autonomy, Moment pioneered the data-driven "flywheel insights", and a two-pronged approach that combines the mass production of both its autonomous driving solution Mpilot and its driverless solution MSD. This approach will enable the mass adoption of autonomous driving and make the future of mobility safe, convenient, and efficient.
Soon after Momenta was founded, Blue Lake Capital became one of the early investors leading the first round of fund-raising. As of today, Momenta has established a partnership with and received strategic investment from world leading carmakers, including SAIC Motor, General Motors and Mercedes-Benz. Going forward, Momenta is going to work closely with its industry partners to accelerate the advent of intelligent mobility, develop and deploy leading autonomous driving technologies that work for driving environments around the world.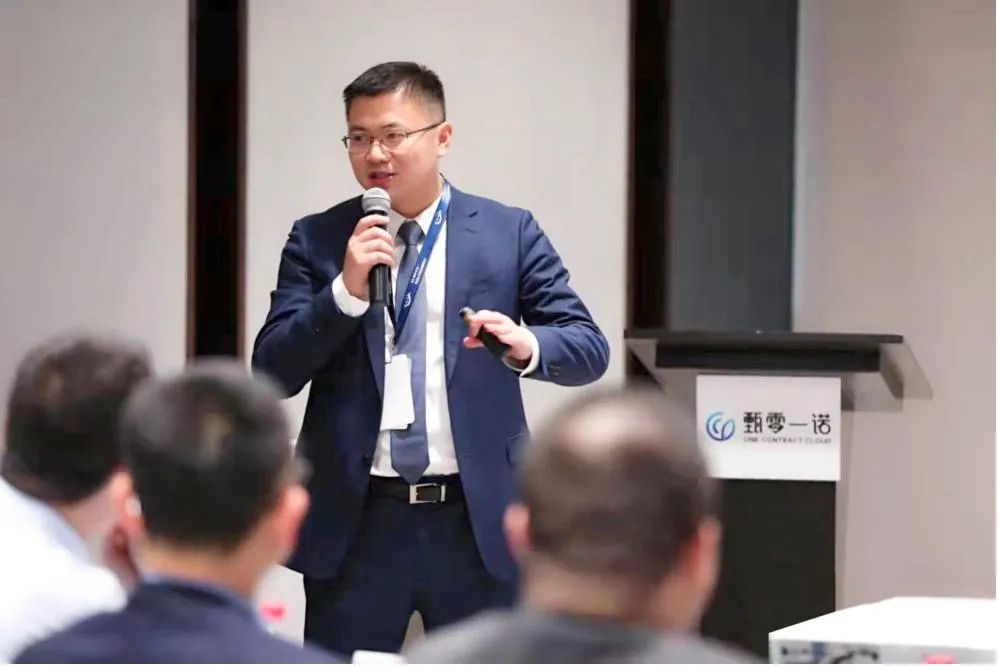 Shanghai Zhenling Technology Co., Ltd., a SaaS solution provider for contract management, has officially announced the completion of an angel round raising nearly 30 million yuan. This round was led by Blue Lake Capital and co-invested by Plum Ventures with Yiren Capital acting as sole financial advisor. With the funds raised in this round, the company will boost its product R&D and dive into various new contract performance scenarios to improve its contract management value.
In the new digital economy, big companies are stepping up their digitalization efforts in a bid to reshape their core competitiveness, and contracting is a good starting point for digital transformation since contracts, as a record of business activities, cut across every aspect of a company's operation.
Collaboration in traditional contracting is weak—contract performance tend to be uncontrollable, and risk management is a frequent challenge. With the introduction of laws and regulations on electronic contracts and constant advances in AI—such as big data and cloud computing technologies—SaaS solutions for smart contract life cycle management have started to gain traction and become an attractive sector for investors.
Zhenling Technology's core team includes members who previously worked in Hande Information, one of China's top IT consulting firms. With its strong R&D capabilities and rich experience in enterprise-level digital transformation, Zhenling Technology has become one of the early players in the field of smart contract management. The team started by developing its proprietary solution, now known as "Yinuo Smart Contract Cloud Platform" (One Contract), a smart digital contract management system that allows enterprises to manage business, financial, and legal contracts – all in one place.
Unlike most products that focus on contract drafting and signing, One Contract focuses more on contract performance. In the enterprise operation environment, contract details are recognized by LOBs and Finance as the most accurate operational information and the basis for doing business and financial management. However, the text and content of hard copy contracts have not always been easily accessible. As a result, traditional contract management is inefficient because it is not possible to make timely performance plans, implement effective performance monitoring, or issue warnings when needed.
One Contract automatically extracts milestones from a contract, develops a performance plan accordingly, and notifies relevant personnel across LOBs and legal teams when a task is due. In addition, One Contract can execute scenario-specific compliance oversight to remind, warn, and even discipline the personnel involved.
Xie Weihu, CEO of Zhenling Technology, said,
"Contract signing should be worry-free, and so should contract fulfillment. And that's where we can make a difference.
Over the years, Chinese companies, especially large ones, have been hard at work trying to digitalize their business. Improvement is being seen across the board, in finance, supply chain, marketing, etc., with contracts containing all relevant key data and information. However, business risks may be buried under those data and information.
We come in and try to help our customers digitalize their data and uncover risks, and by doing so, their legal affairs—even apart from business and finance—will be taken to the next level. We are deeply committed to this endeavor and we look forward to creating greater value for our customers."
The nearly 30mn yuan funding, largely from Blue Lake Capital, is a testament to the company's unique insight and competitive edge in contract performance.
Ray Hu, founder, and managing partner of Blue Lake Capital, said,
"We see a future for sophisticated SaaS products in China. Customer demands for contract life cycle management are well defined. That means that as long as a startup focuses on product functionalities, it may significantly differentiate its solutions from OA and e-signature companies and provide distinct value for customers.
Meanwhile, contract management can easily extend to cover various functions, such as legal, finance, and LOBs. There are a great deal of product opportunities if one dives deep. One Contract Cloud has been developed and refined over the years by a team with shrewd business sense. We are excited about its future developments."
Zhenling Technology serves nearly a hundred industry-leading companies including Tencent, Hello Inc., Tal Education, and Siemens Healthineers, providing them tremendous value by boosting drafting efficiency and controlling performance risks. Zhenling has also gained extensive domain experience as it offers vertical-specific solutions for sectors such as healthcare, the internet, and manufacturing.
Going forward, product innovation and upgrade remain to be the focus of Zhenling Technology. The company will keep improving contract drafting efficiency with an emphasis on performance compliance. It is committed to providing better contract management services to help companies with their innovative efforts, supplier and customer management, branding, and reputation.
Moka, a leading Chinese provider of software-as-a-service (SaaS) human resources services, announced the completion of a US$100 million Series C financing. The round was led by Tiger Global Management, LLC. Existing shareholders, including Blue Lake Capital, GL Ventures, GSR Ventures and GGV Capital, also participated, with Taihecap acting as the sole financial advisor.
After completion of the financing, Moka plans to continue expanding into the HR sector by furthering the development of comprehensive SaaS-based HR solutions and continuing its commitment to product innovation and enhancement while stepping up efforts in recruiting and training talented professionals.
"We are seeing a subtle change in the relationship between employers and their employees as an increasing number of employees are working to realize their own value while focusing more on the work experience as well as on how to derive a sense of achievement from their work. In the HR software sector, a field that is seen as being closest to 'people', traditional HR software products that were exclusively designed for decision makers to manage employees are not what companies really need," said Moka CEO and co-founder Li Guoxing.
"As a result, we decided to design products not only for HR professionals or decision makers, but also for other roles across the organization, including employees, interviewers, candidates and executives, by shifting our focus to each individual involved in the process. We plan to create the next generation of complete SaaS-based HR solutions for all employees across the organization by using our innovative technologies and expertise to deliver a better work experience to each employee and allow them achieve more as a member of the organization. This is also our mission at Moka," Li added.
At the same time, in order to recruit quality talent and deepen efforts in research and development of new technologies and offerings, Moka have established a second headquarters in the Tianfu New Area, Sichuan province. Moka has also entered into a strategic collaboration with the area's government agencies to build product, service and marketing facilities there, with the goal of promoting the development of the SaaS-based HR sector by facilitating industrial transformation through our professional services," added Mr. Li, the CEO. "Moka looks forward to working in concert with more industry partners to develop the next-generation of complete SaaS-based HR solutions that are smarter and easier to use, with the aim of empowering recruitment strategies among employers and helping improve the overall social efficiency."
The Chinese market for SaaS-based HR services has experienced rapid growth over the past few years, and foresees a bright future by leveraging the growing number of opportunities brought about by the changes in industry policies, market conditions and the management model adopted by key industry players. In particular, the awareness of the importance of using information systems has been raised among Chinese firms while their ability to pay for it has also been strengthened.
Over the past six years, the average purchase price of products has increased fivefold, a testament to their willingness to pay for premium solutions; at the same time, rather than choose on-premise products, organizations are increasingly looking for more agile SaaS-based solutions that can deliver a better user experience. This has opened up new opportunities for the SaaS-based HR services market.
As the lead investor of the previous round, Ray Hu, the founder and managing partner of Blue Lake Capital, said he was pleased to make a large percentage of additional investment in this round. We are very proud that Moka has grown to be one of the top HR SaaS brands in China after our investment. This validates our initial view that the next generation of enterprise management software will be a comprehensive product-focused competition, and that Moka has been designed and developed with customer satisfaction in mind from the very beginning. The best practices of talent acquisition management exported by Moka are spreading from the Internet industry to other industries, and are driving a new paradigm of "people-centric" management in Chinese enterprises.
Currently, Moka, one of the fastest-growing Chinese suppliers of SaaS-based HR solutions, provides customers with the Moka Intelligent Applicant Tracking System and Moka People (Human Capital Management System):
The Moka Intelligent Applicant Tracking System, launched at the end of 2016, provides organizations with more efficient and accurate recruitment management services in tandem with an improved user experience. The system enables unified management of the recruitment process as well as the establishment of and access to a talent pool while ensuring the supply of complete data. In addition, the product has become the industry's first recruitment solution to be designed for multiple scenarios, including recruitments that take place both before and after the prospective hiree has graduated, by way of introductions through social networks and in-company recommendations, as well as to fill the manpower need in retail chain stores, helping employers find just the right employee at the right time.
Moka People was launched at the end of 2020 based on three identified needs: creating the ultimate user experience, building a close connection among recruitment staff and looking at expectations of what the product should deliver from the perspective of top management. The solution has been widely applied in several of the most common business scenarios across multiple organizations, including personnel, time off, salary and performance management as well as analysis of staff data. With wide application across business scenarios, the solution provides management with data insights and science-based assistance. Most notably, a synergistic connection has been built between Moka Intelligent Applicant Tracking System and Moka People, creating a complete SaaS-based HR solution that has been delivered to nearly 100 corporate customers.
Thanks to its cutting-edge innovation alongside an ultimate product and service experience, Moka has led the industry in terms of Net Promoter Score (NPS) while maintaining a customer renewal rate that far exceeds the industry average. Built on these advantages, Moka has become the largest provider of recruitment management systems in China in terms of market share, with a growth rate surpassing 100 per cent.
To date, Moka has expanded its business into over 25 sectors, among them, online, chain retail, biomedicine, intelligent manufacturing, finance and real estate, providing over 1,500 corporate customers with paid subscription services. The firm's most well-known customers include Tencent, Xiaomi, Qihoo 360, McDonald's, ANTA Group, Genki Forest, Intco Medical Technology, Dian Diagnostics Group, Contemporary Amperex Technology, Arm China, Panasonic, China Pacific Insurance and Vanke.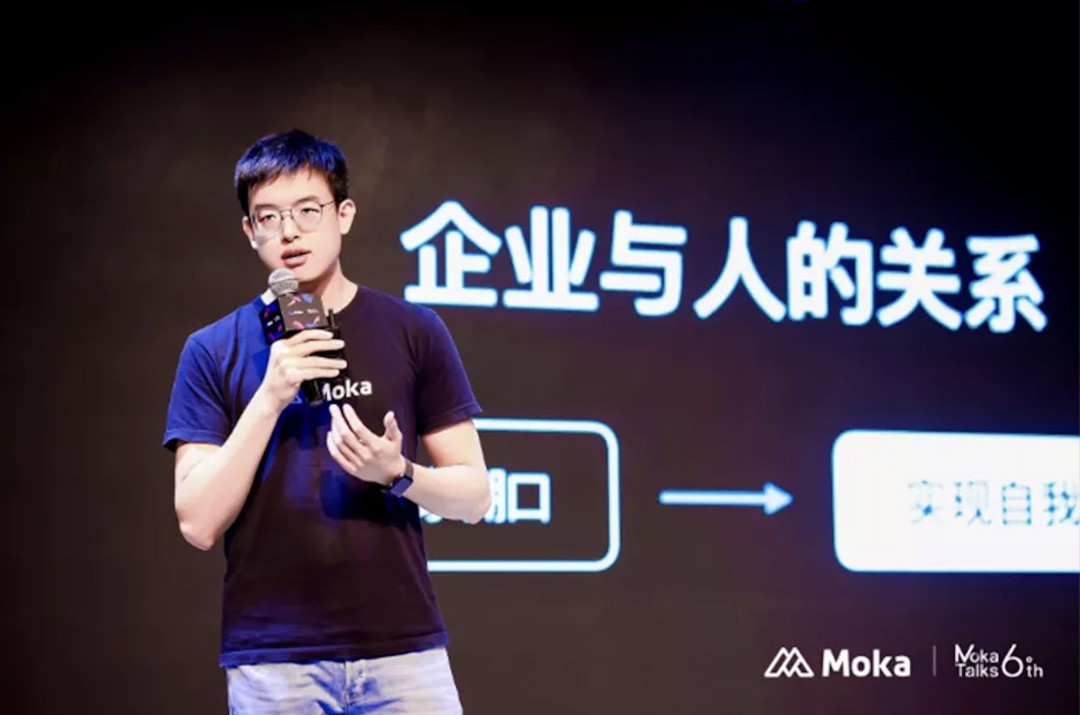 From September 15th to 29th 2021, Moka's signature event "Moka Talks 6 – Nothing But Innovation" was held in Shanghai, Shenzhen, Hangzhou, Beijing, Guangzhou, and Chengdu. Over the course of the event, almost a thousand top HR managers from across the country shared their views and insights.
Li Guoxin, CEO of Moka, addressed the audience and expressed his commitment to developing an application system that users are genuinely happy with. His statement explains why Moka's NPS score (an index that measures the willingness of customers to recommend a company's products or services to others) is 8, the highest among all players, compared to the industry's average of -20. Ray Hu, founder and managing director of Blue Lake Capital, in his interview with Tencent News, said that Moka was "a company whose corporate culture is truly product-driven".
As of to date, Moka has gained the biggest market share in China's ATS market, with a product renewal rate constantly hovering above 115%. One out of 10 HR professionals in dotcom companies is using Moka's products.
Below is the transcript of Moka CEO Li Guoxin's speech.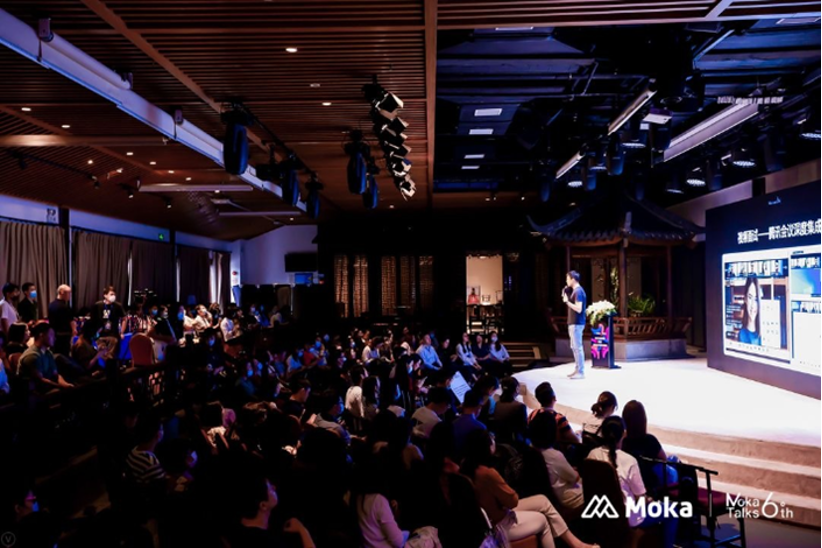 Thank you very much for taking the time to be here.
Moka was founded in September 2015. Today, I would like to take this opportunity to walk you through Moka's six-year journey and its path ahead.
Face Problems Head On and Figure Out Solutions
I came back to China in 2015. As I was browsing the official websites of internet companies, I couldn't help but notice that the career pages were often shabby, with static information about job openings that required candidates to submit their CVs via email.
Such poor experience undermined a candidate's impression of the company, as he/she could not receive timely feedback.
We realized that this was an issue, and I thought, if a candidate wasn't happy about it, how about the HR person?
According to our surveys, many recruiters felt that a big part of their time was spent on trivial and repetitive tasks. They used tools that offered basic ATS functions, but they also expressed their dissatisfaction with those problematic systems. Indeed, as we found out later, in those systems, key insights that should've been highlighted were buried among other information and repeated actions were often required.
One common problem we identified was that existing products were designed just to meet the needs of decision makers. The needs of end users, who also happened to be heavy users, were neglected and their pain points remained unaddressed.
Starting from 2015, we decided to develop an ATS that users are genuinely happy with. We hoped to build a product that would help recruiters and deliver better work experience.
Meanwhile, we aimed to offer candidates a better experience as they applied for jobs in companies that used Moka products, and we hoped that all users along the hiring process, including the line manager and interviewer, could see the value our system had to offer.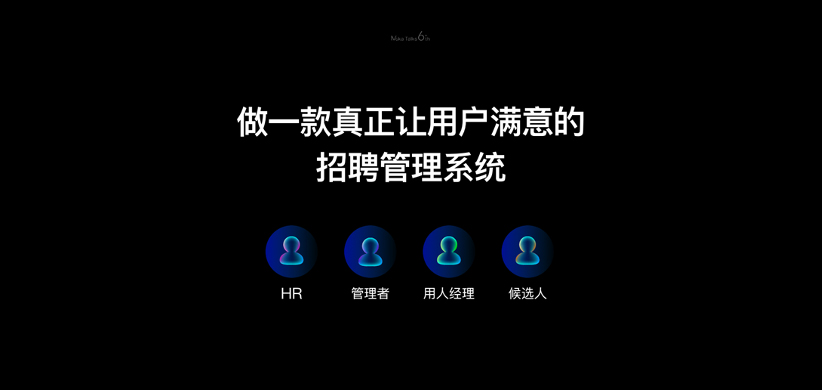 What have we achieved in the past 6 years?
You might be wondering, what have we achieved in the past six years?
To begin with, our product has gone through over 3500 iterations. When we started out, we had just enough capacity to serve startups of a few dozen employees but later expanded to cover enterprises of different sizes and sectors. Use cases also expanded, from general recruiting to campus recruiting, employee referrals, and recruitment for physical stores.
In 2019, we have built an R&D team to develop a new product–Moka People, which underwent over two years of development and was launched at the end of 2020.
This marks an important step for Moka to shift from being a service provider of one single ATS product to being an integrated HR SaaS provider.
Over the past few years, we have served over 30 co-creative enterprises. Currently, Moka is providing services to over 1300 clients spanning 25 sectors, from small startups to global 500 companies. We don't take these numbers lightly because they represent the trust our clients place in us.
Moka's NPS (net promoter score) is 8, the highest among all players, compared to the industry's average of -20. Customer endorsements have been a source of confidence and a foundation for solid and robust business growth. We achieved 100%+ growth compared to last year, which is rare in the SaaS sector given our scale.
In addition, our customers are also loyal and heavy users. That's why our product renewal rate constantly hovers above 115%.
We have the highest market share in the domestic ATS market. For every 10 HR professionals in dotcom companies, there is one using Moka's products. It wouldn't have been possible without the 6 years of hard work, the support and trust our customers place on us, and an outstanding team behind Moka.
We started out as a team of two and grew to become a company of almost 600 employees with offices across 9 cities. We are headquartered in Beijing. In order to provide better products and services, we will soon establish a second headquarters in Chengdu, which will serve as an industry hub, a service hub, and a marketing hub.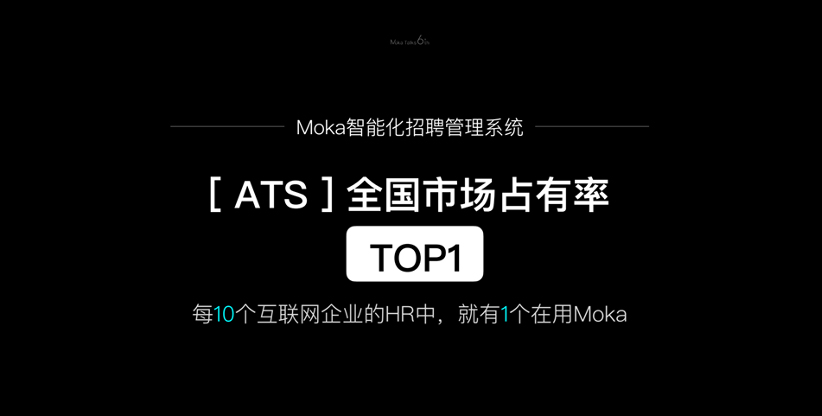 What Will Moka Offer to the World?
Talent is a company's greatest asset. A company will only grow by creating a nurturing workplace culture that meets the self-fulfillment needs of its employees. It is therefore essential to create an open, equitable and respectful work environment.
In this sense, Moka not only helps individuals at work but also gives companies a competitive edge in terms of attracting and managing talents. To help us better achieve those goals, we've recently updated Moka's mission statement as "enabling a better workplace experience for everyone; driving greater individual growth in organizations."
These two lines will serve as an important compass that guides Moka's work in the future.
We hope to zoom in on every individual in the workplace in everything we do. We firmly believe that traditional software that centers on managers and decision makers will be obsolete. What enterprises need nowadays are products designed to help everyone do a better job.
We hope that our products and services can automate trivial and repetitive day-to-day tasks for HR professionals and other users. In the meantime, we hope that with our products, companies can put the right person in the right position and give him the support he needs to grow.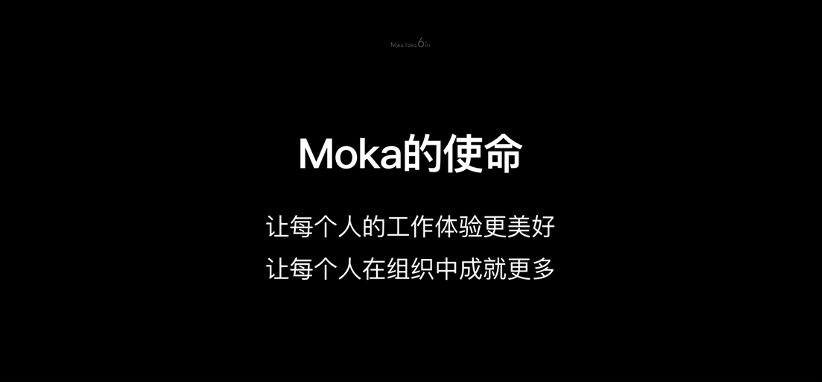 How Should Moka Go About It?
So, how should we go about it? Our principle in Moka, simply put, is "continuous innovation with a focus on pain points".
We hope to focus on addressing the pain points of our customers and tackling their problems one at a time. In Moka, there is only one definition of a job well done – being well recognized by customers and able to bring continuous incremental innovations.
One of my favorite documentaries – Jiro Dreams of Sushi, is about Sushi master Jiro Ono, who, in his 80+ year career, keeps innovating and honed his craft to ultimate perfection.
In Moka, pursuing perfection is also part of our core values that guide our innovation endeavor.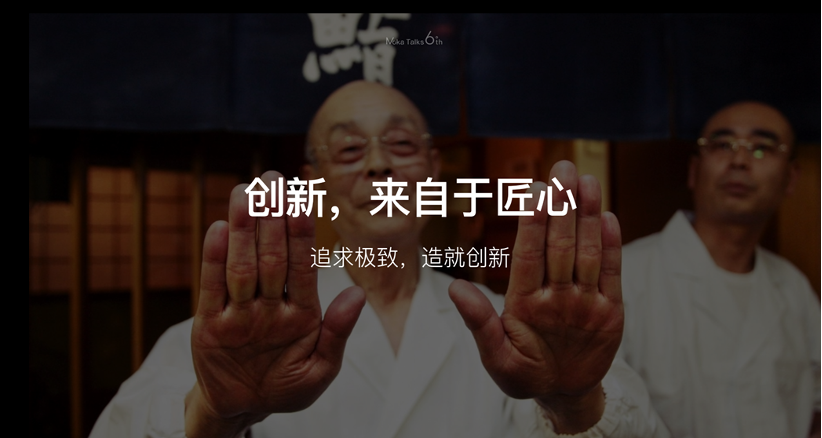 Let me give you two examples. The first one is about the candidate satisfaction feature, which was made available as early as 2016 when we first launched the product.
Back in 2016, there were hiring platforms in the market that collected candidates' post-interview reviews. But the feedback was often fraught with disinformation and personal emotions, making recruiters' lives difficult.
As time goes by, it would also undermine the employer branding. Considering the situation, we developed a candidate satisfaction feature that collected feedback straight from candidates.
Now, right after an interview, Moka products automatically send a text and an email to the candidate and request feedback on the interview process. The survey is put together by the HR person, and the candidate can choose to either reveal his/her identity or remain anonymous. All feedback is captured in Moka's system.
The HR person may view the information and, based on the analytics, pinpoint key and common issues that need to be addressed. This is a closed loop that covers the entire hiring process, from interview, feedback, to optimization. We've created a win-win situation where employers need not worry about the negative impact of the information and candidates also have improved experiences.
This module quickly became the most popular and widely used feature in the entire system.
In addition, we added the online appointment scheduling feature for campus recruitment, as we realized it could minimize repetitive and mundane tasks.
In the system, a recruiter may select a number of student candidates, who, after choosing the corresponding opening, may select the interviewer and time for the interview. When the interview is set up, the candidate receives an invitation link and goes to the interview at a time of his choosing.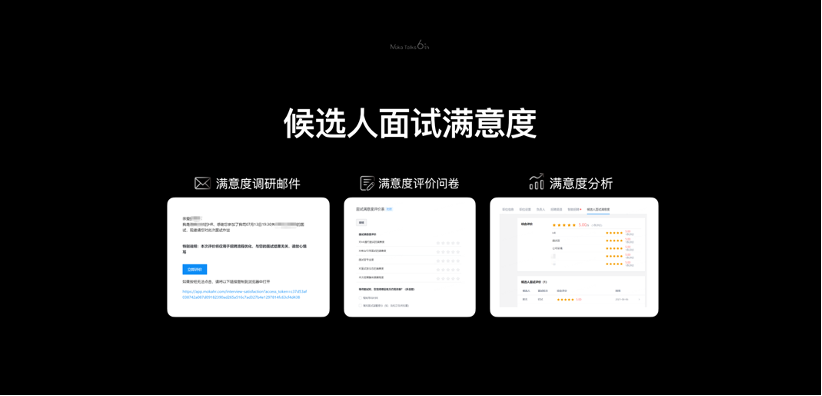 Future Facing and Continuous Innovation
I would also like to share with you three innovative solutions that Moka will soon offer.
First off, the talent pool.
Our survey shows that companies are having a hard time trying to build up their talent pools. Building a well-structured, functional talent pool requires a lot of effort and human resources, and HR personnel have not yet developed the habit of using talent pools.
That's why we launched an integrated talent pool solution, leveraging AI to address these two challenges. Talent profiles will be automatically added to the database and pushed to the HR person for screening. The system will then generate a text or a call to alert the candidate and find out whether they are interested. We call it "candidate activation".
This is a closed-loop system that covers the talent sorting and activation processes. With analytics generated by the system, the user has visibility over the how the talent pool is operated and used and implements necessary improvements.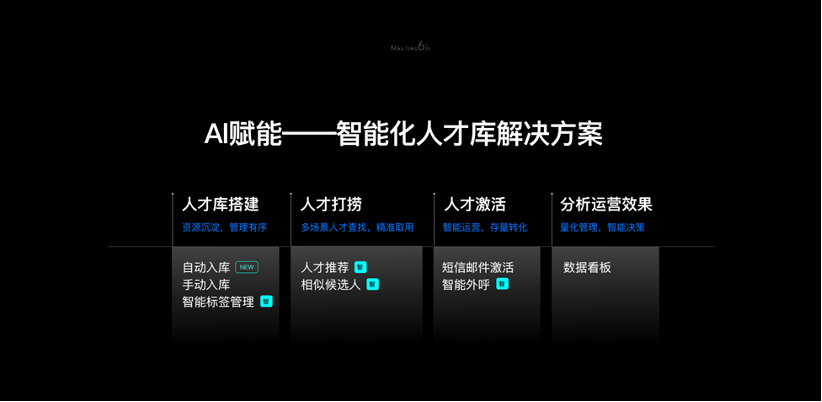 Here I would like to highlight one important new feature that is powered by AI. We call it automatic profile storage.
It is often difficult for companies with a big recruitment team to develop a consistent recruitment standard. To address this problem, Moka leverages NLP technologies to filter and automatically store candidate profiles. In the process, a standardized database of various talent categories is generated automatically.
This feature went live a few days ago. Beta tests are now open. If you are interested, please contact your CSM to participate.
Let's now look at video interviewing, which gained traction during the pandemic. We were one of the first companies that introduced the concept of contactless hiring. Since then, we have been working to optimize the online interview experience.
Early this year, we established a strategic partnership with TencentMeeting. In the first half of this year, we launched Moka x TencentMeeting, a solution for video interviewing.
As of today, 211 enterprises have used our solution to complete 430,000 online interviews.
In order to provide a better experience, we recently worked with TencentMeeting to explore deeper integration. We are going to embed candidate and interview information in the TencentMeeting video interface. That means an interviewer can talk to a candidate, browse his/her CV, and input assessment all in one page. The updated version will go live in a few months.
Last but not least, I would like to touch on our new product – Moka People.
Moka People is a core HR product that hosts the lifecycle of an employee, from onboarding, to transfer and departure. By integrating Moka People and Moka ATS, we can finally offer the ultimate application and onboarding experience to all parties involved.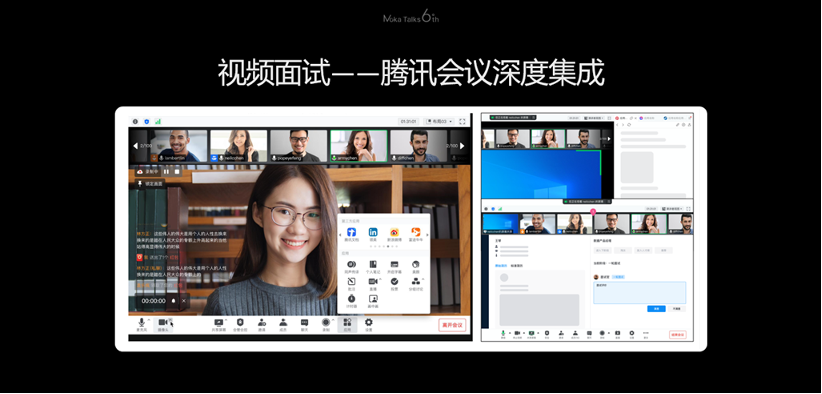 First, the HR person can create an offer and fill out the compensation information by pulling a standard compensation package from the company's Moka People.
When the onboarding process is started, Moka People will automatically capture all information in the offer, including salary and compensation, job description and reporting line, etc. There's no need for the HR person to input information in two separate systems – one for hiring, one for compensation. Work efficiency is boosted, and data errors are minimized.
Now, let's look at the candidate. In this demo, we show you the complete hiring life cycle from receiving an offer to onboarding.
The new hire will have a seamless and streamlined onboarding experience. As a result, he or she will develop a strong sense of belonging and feel the company's attentiveness for its new hires.
These three innovative solutions, launched or soon to be launched, are only the tip of the iceberg. Our innovation journey continues. Enabling a better workplace experience for everyone and driving greater individual growth in the organization is Moka's mission, and it will always be our guide in everything we do.
Thank you very much for your attention.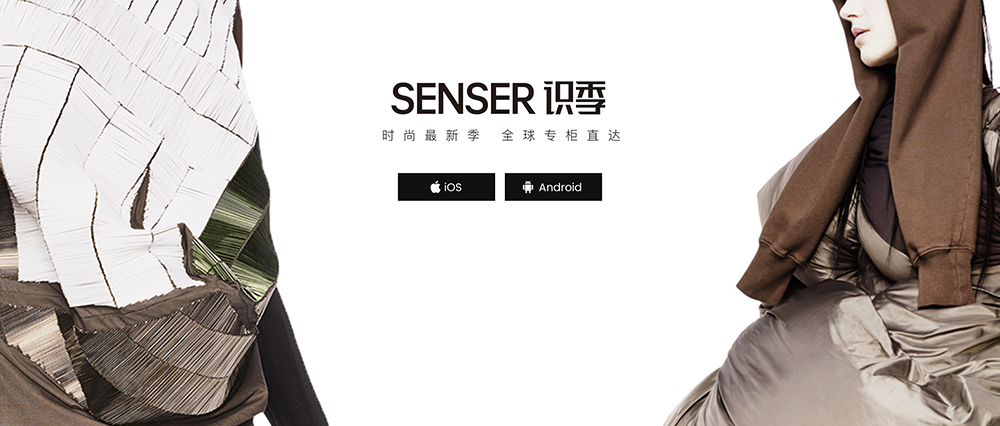 Senser, an e-commerce app for fashion and luxury products, raised $40 million in a Series B round from Trustbridge Partners, with Lighthouse Capital as the sole financial advisor for the deal. Most of the funds raised in this round will be used for brand building, user expansion, and investment in technologies.
Senser was founded in 2017, with investment from Blue Lake Capital, Vision Plus Capital, Spade Capital, and Fosun RZ Capital (who participated in angel round and pre-A round).
In its first year, Senser started to build an integrated supply chain for fashion and luxury items across Europe, including sending a team of over 10 people to Italy for offline business development. It took Senser a year to build its initial network.
In the first three years, Senser focused on B2B market, sourcing luxury and fashion items for buyers and retailers. In early 2021, Senser made its foray into B2C market by launching the Senser mobile app. As of today, the app has registered a 60%+ compound MoM GMV growth rate and sold to over 400,000 users with an average transaction value of over 5000 RMB.
The Senser app is integrated with the inventory management system of shopping malls across Europe. New arrivals in those malls will be immediately available on the app as well. As the team told 36Kr, over 70% of the app offerings were new arrivals, sold for 30-40% less than those at a branded store in China. That's because of the bargaining power Senser gains by sourcing in bulk from shopping malls. Sensor now offers over 600,000 products from more than 3,000 brands, sourced from nearly 1,000 shopping malls across 50 countries and regions including France, Italy and Germany.
Building a supply chain is Senser's forte, but even so, it hasn't been an easy feat to pull off. The founder Seamon Shi said, there were several challenges Senser had to tackle. For one thing, Senser was dealing with an enclosed sector. Putting together a supply chain that covers all European luxury shopping malls requires a deep understanding of the products and how they travel throughout the entire system.
There are many things in this business that are counterintuitive. For example, the most sought-after items are also the least available, and one needs a prior and extensive purchase history to get their hands on a much-coveted item. The team has to know the nuts and bolts of every collection of every brand.
Another challenge was the weak infrastructure. When Senser set out in 2017, Europe was twelve years behind China in terms of internet infrastructure. So the team had to build the entire supply chain almost from scratch, from the SaaS system to the non-standard item models,the digital linkages for electronic duty refund, and shipping routes where international cargo can be efficiently sent to Hong Kong and eventually mainland China. It took the team four years to build a complete infrastructure that was good enough for China's e-commerce retailers.
Senser has hammered out a cost-effective and efficient logistics solution. First, to offer a 100% duty refund (versus 50% if a customer claims on their own), the company established digital linkages with European tax authorities, customs offices and international logistics providers. Senser also built small warehouses in Europe where individual orders from various malls can be stored, packed and shipped in bulk to Hong Kong. The China Certification and Inspection Group (CCIC), Senser's strategic partner, inspect each item, and each qualified item is packed by Senser for customs clearance. On average it takes 10-14 days for a purchase to be delivered to a customer.
According to Mckinsey, China has a nearly 800-billion-Yuan luxury market, accounting for a third of the world's total. Luxury retail platforms such as Farfetch and Net-A-Porter have also stepped up their investment in China in recent years. Senser's statistics show that before COVID, 70% of China's luxury spending happened offline outside of China, but over 20% of post-pandemic luxury spending happened online and the number keeps growing.
Senser's founder Seamon Shi has over 20 years of experience in online and cross-border retail. He was President of Mei.com and previously held senior positions at LVMH and Nike. The team consists of members that previously worked in tech giants such as Alibaba, Tencent, Amazon, Meituan, and luxury groups such as Gucci and LVMH.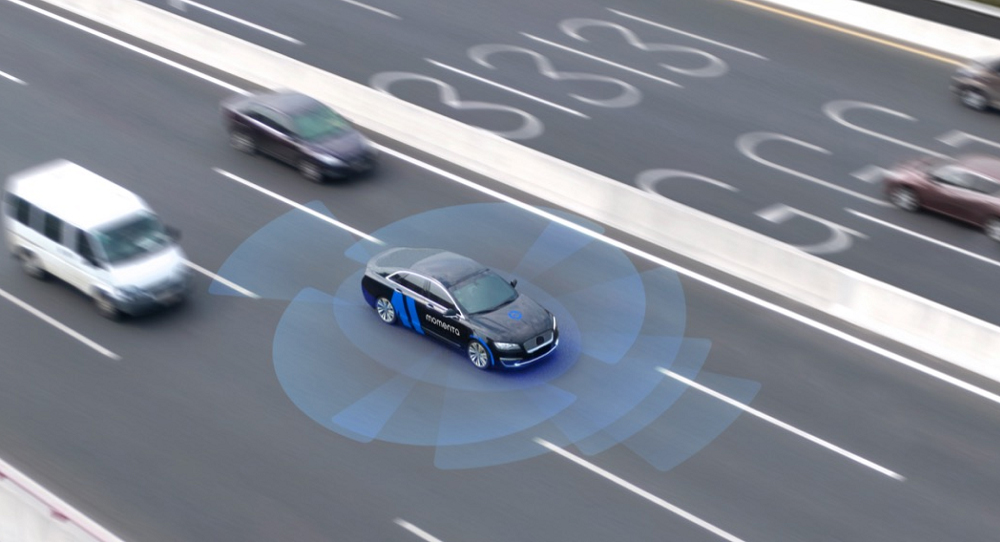 Within the same week, Momenta, a Blue Lake Capital portfolio company, has announced that it has received significant funding both from General Motors and SAIC Motor.
Momenta is dedicated to reshaping the future of mobility with best-in-class AI technologies. In order to offer solutions that are at least 10 times safer than human drivers, Momenta has pioneered the iterative "flywheel insights", a three-pronged approach that combines large amount of data, data-driven algorithms and closed-looped automation. This shall accelerate the mass production of its autonomous driving solution Mpilot, and driverless solution MSD, thus enabling a more effective, rapid and massive deployment of driverless technologies.
On September 23rd, General Motors announced that it would invest $300 million in Momenta to accelerate the development of next-generation self-driving technologies for future GM vehicles in China. Julian Blissett, executive vice president of General Motors and president of GM China, said "Customers in China are embracing electrification and advanced self-driving technology faster than anywhere else in the world, and the agreement between GM and Momenta will accelerate our deployment of next-generation solutions tailor-made for our consumers in China.".
On September 16th, Momenta further announced that it had received additional funding from SAIC Motor, which became Momenta's biggest institutional investor in the March Series C round. Both parties will further deepen their strategic cooperation in core technologies of intelligent driving, jointly develop full-stack intelligent driving algorithms, accelerate the application L4 autonomous driving in China, and drive the worldwide commercialization of intelligent driving technologies.
Blue Lake Capital, since it became the lead investor of Momenta in the first financing round, has been stepping up its research and investment in autonomous driving. The Blue Lake Capital team aligns itself with Momenta's mission "Better AI, Better Life".
China's new generation of enterprise service providers have entered a period of accelerated growth. Salespeople, as the bridge between value propositions and customer needs, have become increasingly sought-after by SaaS startups.
The growing SaaS market calls for salespeople that are capable of driving more sales, uncovering hidden opportunities, and thriving in an ever-changing market. They are expected to manage the presales and sales processes and work to the satisfaction of their customers. Companies are willing to pay a high premium for such top sales talent when they can find it.
As a champion of enterprise digitization, Blue Lake Capital is committed to scouting and investing in promising SaaS companies and providing them with the support they need to grow. From 14th of August to 4th of September, Blue Lake Capital joined forces with six top-performing portfolio companies and offered the Blue Lake SaaS Sales Bootcamp. We sifted through over 200 applicants and handpicked about 30 HiPos for the four-week bootcamp which featured super salesmen from each of the companies who offered coaching and provided "brain training" each Saturday.
This was the first time Blue Lake Capital unveiled its Sales Enablement Module, whish is a part of its post-investment management program. With the existing resources and expertise of Blue Lake Capital and its portfolio companies, The goal of this bootcamp is to find a new path for talent development which can bring much-needed fresh blood to our portfolio companies and the wider SaaS community.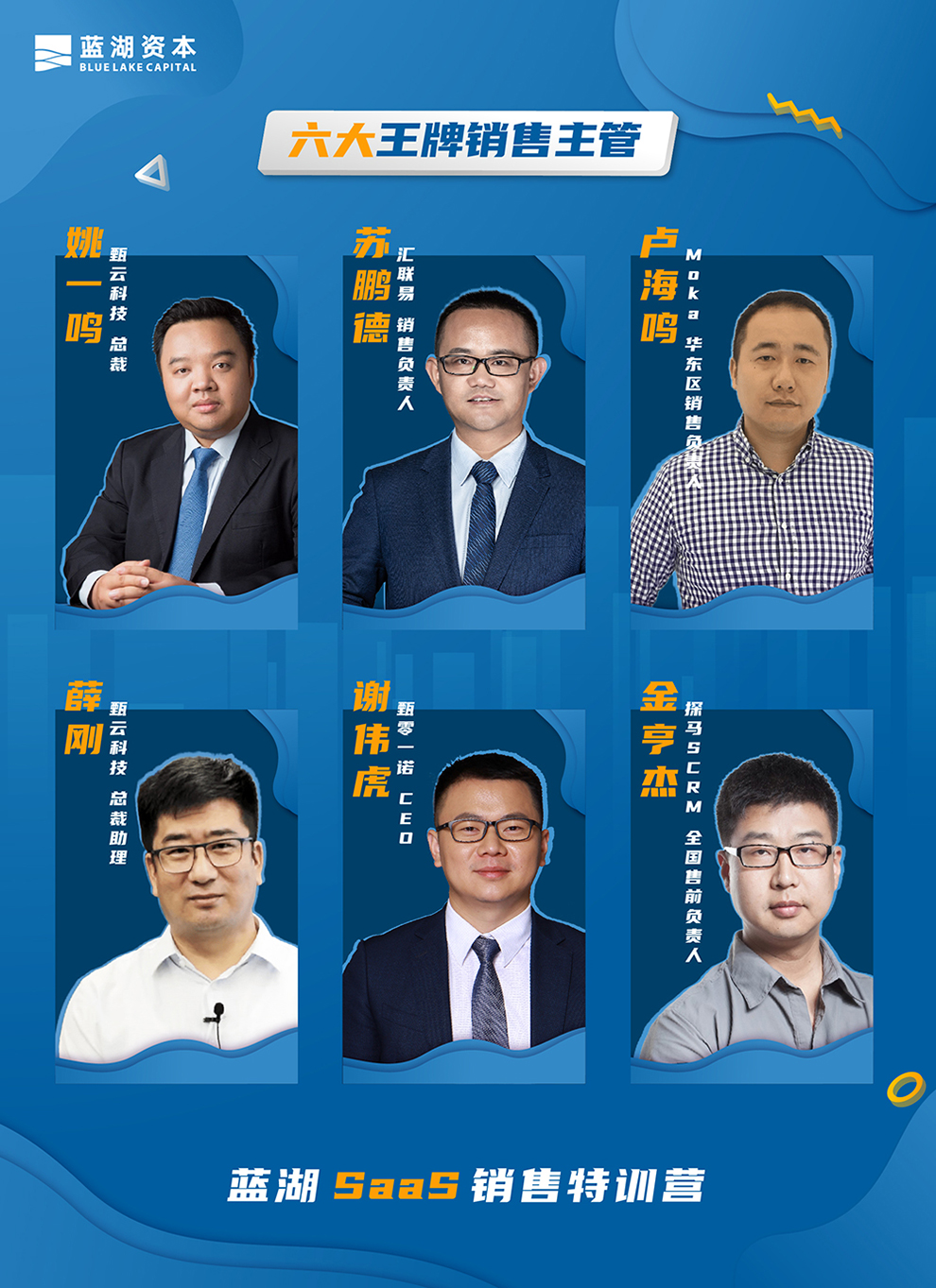 (Six Super Salesmen:Yao Yiming – President, Zhenyun Technology;Su Pengde – Head of Sales of Helios;Lu Haiming – Head of Sales for East China, Moka; Xue Gang – Executive Assistant to President, Zhenyun Technology; Xie Weihu – CEO, One Contract Cloud; Jin Hengjie – Head of Presales, Tanma SCRM)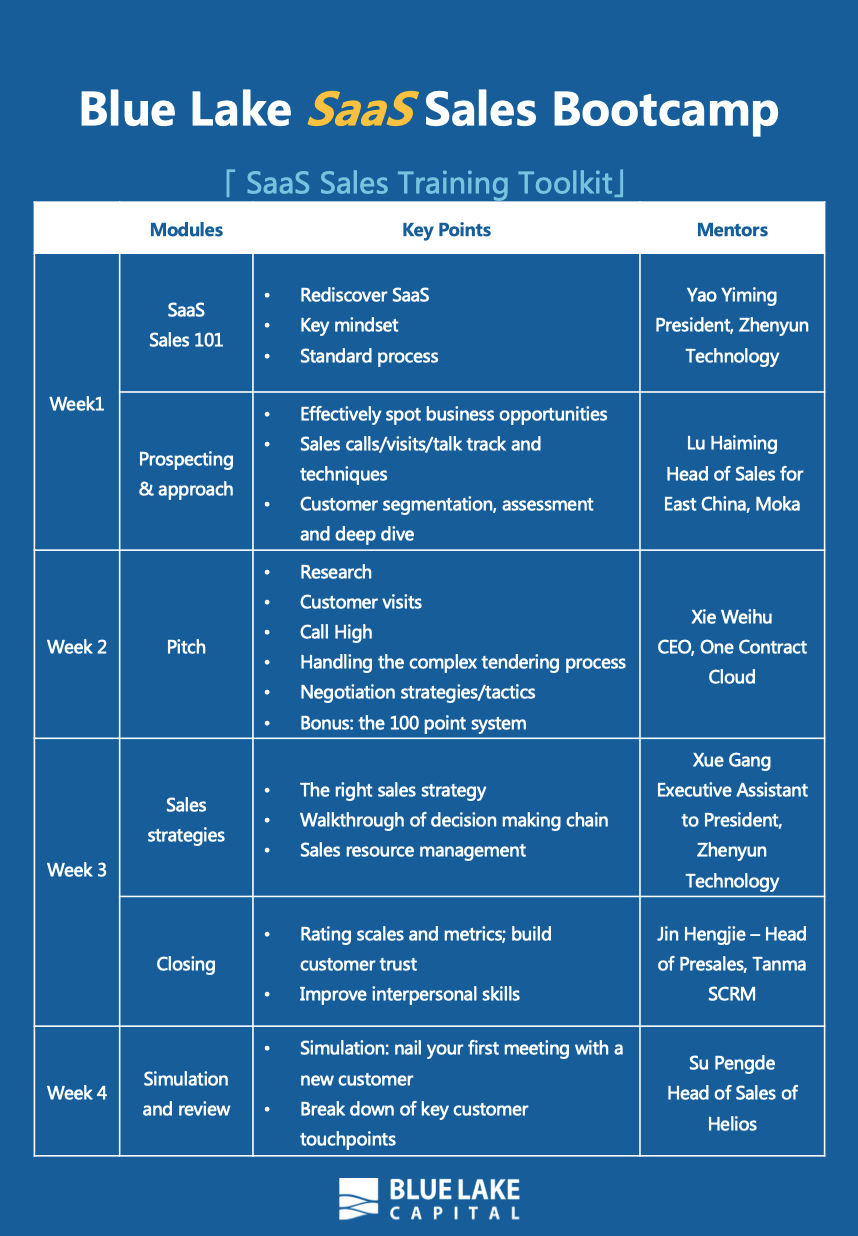 Sales is an art about people. It is also a science and skill. Drawing on the vast real-world experience of the coaches, the bootcamp was a complete sales training framework we put together and repurposed specifically for the SaaS sector.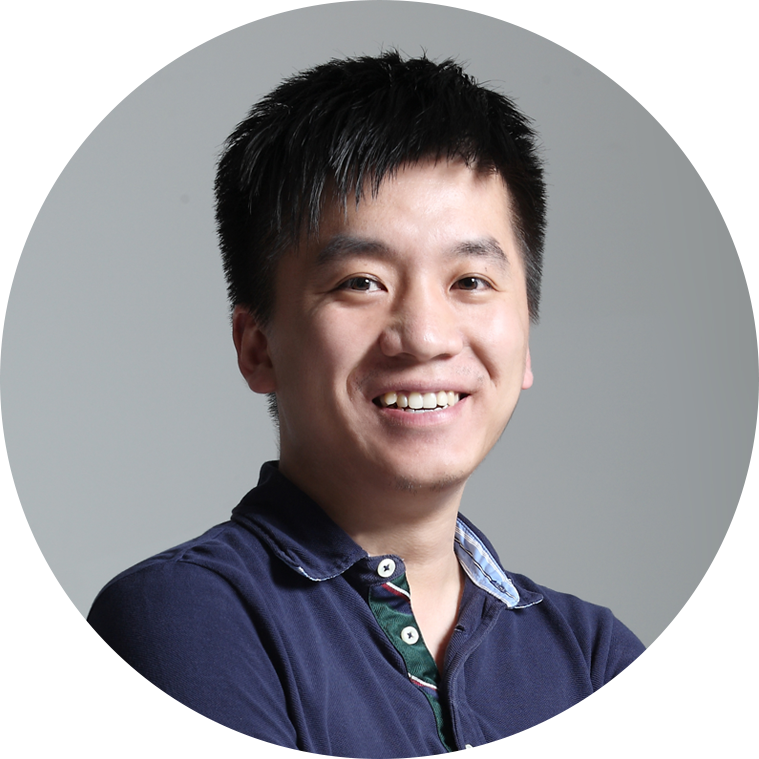 非常高兴跟大家介绍蓝湖在清洁家电领域的投资。小米生态链企业「顺造科技」于近日完成5000万美元B轮融资,本轮投资由保碧产业链基金领投,蓝湖资本跟投,小米集团、顺为资本追加投资,云沐资本担任公司独家财务顾问。
家庭清洁设备正处于产品形态变革和渗透率提升的阶段。2020年,全球销售量1.4-1.5亿台,并以10%的年复合增长率加速渗透。在这一品类里,非常有望诞生百亿级销售额的品牌。我们非常看重核心团队十余年深耕产品研发、工业设计和供应链效率优化,顺造有望推动中国的产业从制造到智造,面向全球市场打响品牌。
顺造科技成立于2019年,目前打造了手持无线吸尘器、智能扫地机器人以及智能洗地机三大清洁家电品类,通过研发各类新型结构设计,持续开发前沿专利技术,来满足场景识别、物体识别以及语音交互等多种智能化需求。当前,顺造科技已经积累数百个自有专利技术。在终端的产品工业设计上,顺造科技也先后获得德国红点设计大奖、德国iF设计大奖、美国IDEA设计奖、日本G-MARK设计奖以及当代好设计奖等国际奖项。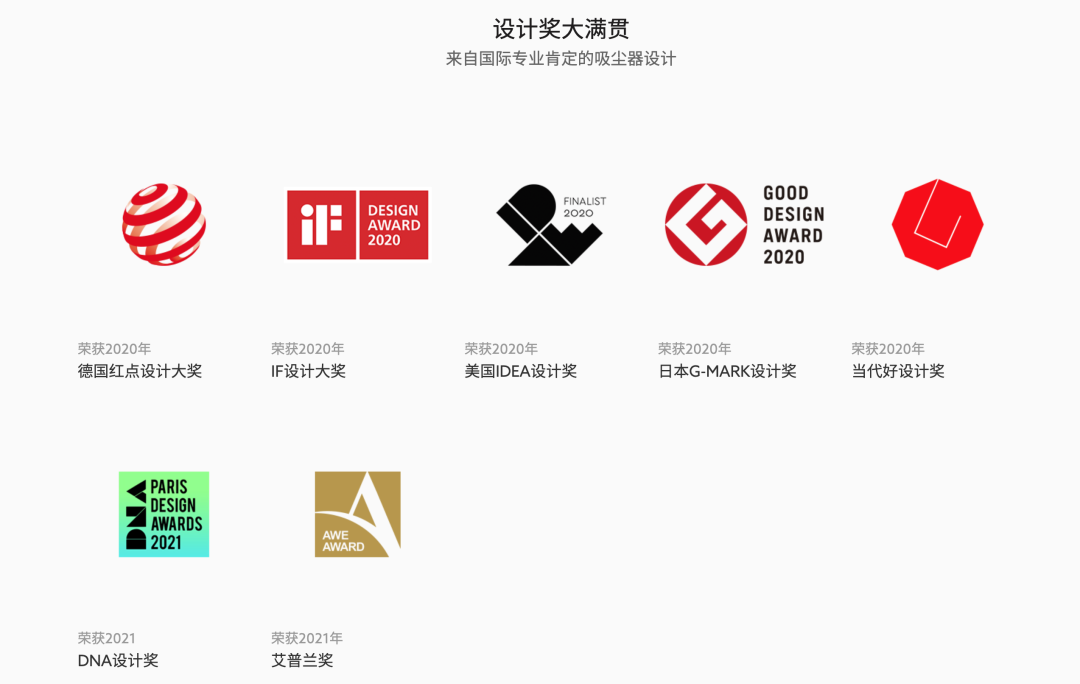 顺造科技当前两大业务线包括米家产品线以及自有品牌产品线。目前米家产品线品类持续扩充,继车载便携吸尘器以及手持吸尘器K10 Pro后,顺造科技还成为了米家扫地机器人产品与洗地机产品的合作企业,其中首款旗舰产品K10 Pro在上市首月完成了3000多万销售额。自有品牌方面,顺造科技也在持续围绕不同价格区间,进行不同梯队的产品部署,同时基于家庭清洁场景、出行清洁场景以及户外清洁场景进行品类创新拓展。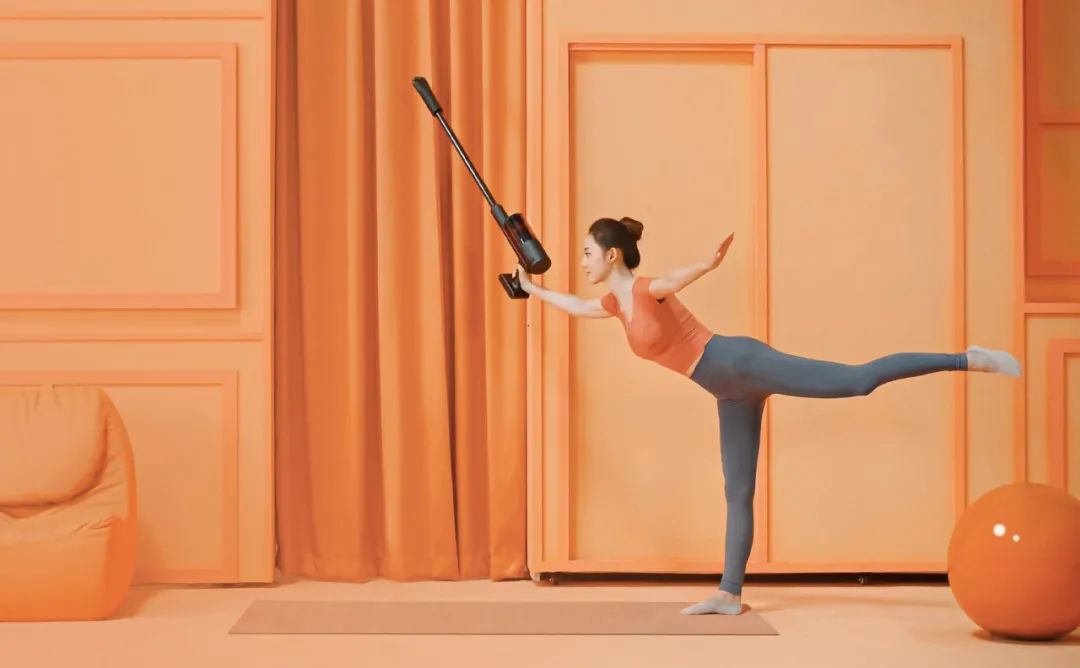 在国内市场方面,顺造科技将进行线上线下全渠道覆盖与建设,深耕各类专业渠道,同时借助本轮地产股东资源,进入前装市场,将扫地机器人、拖地机打造成如洗衣机、空调的家庭标配产品。海外市场方面,顺造科技已经在德国、俄罗斯、日本、新加坡等多个国家和地区有所布局,并将搭建自有海外团队,进行全球市场本土化建设。
依托于完善的中国供应链体系,顺造科技在两年内打通了上游供应链体系,配合自有研发能力,核心零部件把控能力,在产品功效和成本之间达到平衡。本轮融资后,顺造科技将与产业方共同打造自有智能化工厂,满足海外市场对于家用清洁产品的巨大刚需。
顺造科技创始人唐成表示:"后疫情时代会是中国产品及品牌走向世界的最好时机。顺造聚拢了一批行业人才和跨界精英,打造同时拥有产业经验以及多维度创新能力的复合团队。公司从第一天起就关注用户诉求,针对不同国家及地区的清洁场景,真正从用户出发,打造最贴心的产品。顺造也将持续迭代,打造属于世界的中国品牌。"本轮融资将主要用于新技术开拓研发、核心产品迭代创新、全球渠道建设以及黑科技全自动化工厂打造等方面。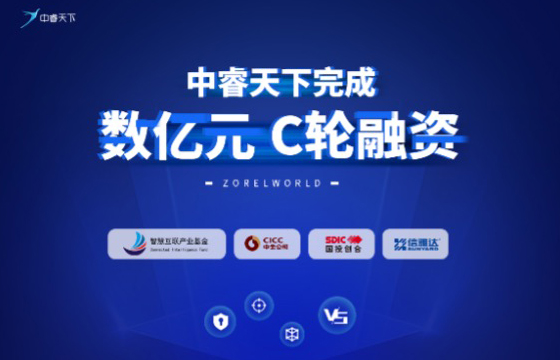 2021年9月6日,蓝湖资本投资企业中睿天下(全称"北京中睿天下信息技术有限公司")宣布完成数亿元C轮融资。本轮融资由智慧互联产业基金、中金资本、国投创合、前海股权、中原前海以及老股东信雅达旗下网信基金联合投资,密码资本担任本轮融资独家财务顾问。继获得蓝湖资本、华创资本、元起资本、信雅达旗下网信基金投资后,中睿天下再获多家国资背景产业投资机构加持。
通过本轮融资引入多家国资背景产业投资方,中睿天下将加速自身业务的优化和创新,研发新技术、开发新产品、进入新市场,从网络安全产业发展新方向的引领者,进一步成长为网络安全行业的领军企业。
北京中睿天下信息技术有限公司成立于2014年,目前公司旗下包括行业级XDR"安全智能运营一体化解决方案"在内的全系列产品已广泛应用于政府、能源、金融、国防、运营商、教育、互联网等数百家关键基础设施行业客户,公司基于攻击者视角和"实战对抗"的军事思想理念打造的创新产品,有效助力关键信息基础设施运营单位构建新一代高级安全防护体系,高效率、智能化的解决网络安全日常运营过程中的实际问题。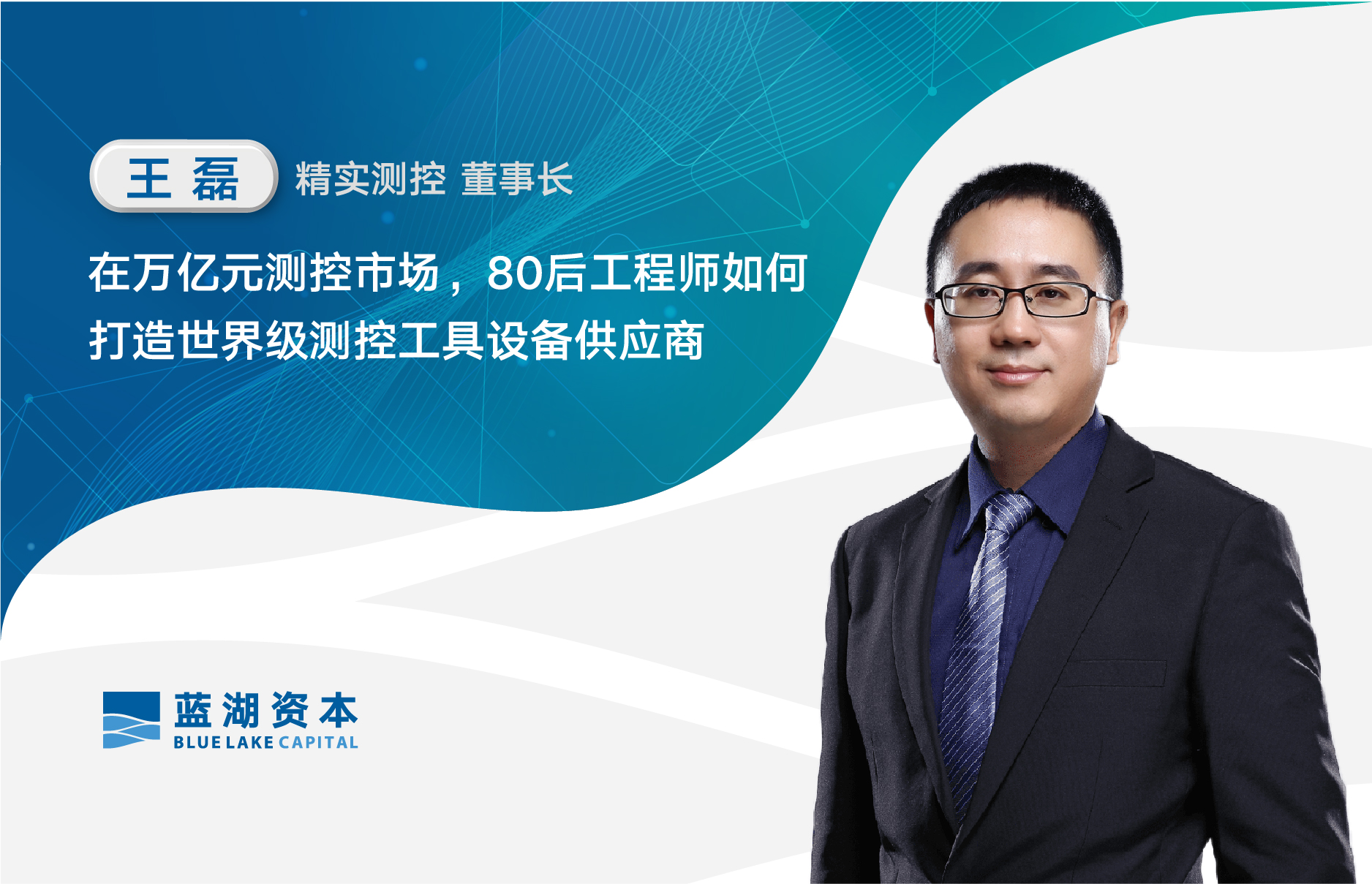 测控是研发、生产和品质管理的灵魂。在消费者重视品质的时代,越来越多的品牌厂商在过去几年里完成了产品质量从抽检到全检的转变,并开始逐年增加对自动化和测试设备的投入。
在精实测控公司创始人、董事长王磊看来,测控行业是一个不容小觑的蓝海市场,"整个生产自动化这块的设备供应商一年的全球产值大概在几千亿之间,检测装备这块的市场的想象空间就更大了。"头部消费电子品牌一年在测试仪器仪表装备的投资预算就超过了百亿规模。
精实测控成立于2011年,致力于测控技术研发与应用,以及先进测控装备的商业落地,对标美国国家仪器公司和丹麦B&K公司,主要聚焦于声学、力学、振动、电子测试技术以及自动化应用研发。
蓝湖资本合伙人魏海涛常年在在3C产业链上下游发掘投资机会。从初次结识到投资,再到几次加仓,在近4年的相处之中,魏海涛非常欣赏精实自始至终都在坚持做基础研发的投入,"兼具技术思维和商业嗅觉"。目前精实测控已拥有超过300项专利,其中50项为发明专利。其声学测试、电子测试、电机工艺自动化技术属于国内领先水平,力学与振动测试与控制技术则具备国际竞争力。
精实测控刚成立时先从白色家电领域入手,之后逐渐扩展到消费电子、新能源汽车电子等领域,目前服务的客户包括谷歌、亚马逊、格力、美的、北汽新能源等知名品牌。
工业领域的创业企业年收入从几千万增长到1个亿容易,但跨过1亿收入门槛,稳步向3亿、5亿、甚至10亿的目标迈进,则更考验团队的管理能力、战略格局和执行力。"绝大多数公司倒在了1亿收入的门槛前,而精实在短期业绩增长和长期研发投入之间做了很好的平衡,始终保持着清晰的产品思路,这是非常可贵的",合伙人魏海涛说。
技术的先进性和过去多年与国内外顶尖客户合作形成的信任基础,让精实测控发展在2018年进入到了发展的快车道,开始参与到多家公司的Design In(嵌入式设计)环节,在客户新品研发的早期就进入,这意味着更多的订单和更深的绑定。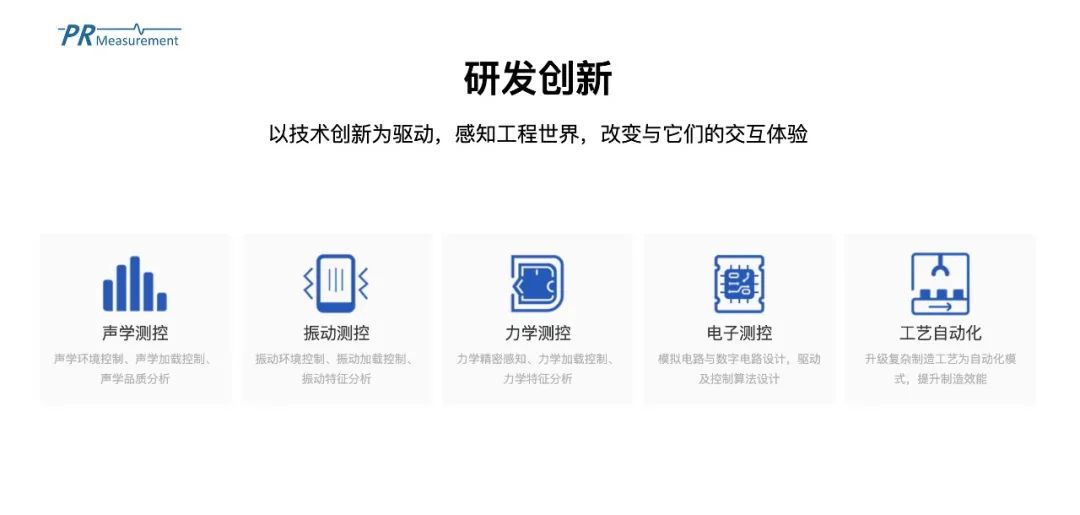 作为一家有着工程师文化的公司,精实测控如何找到用户需求,实现从技术到产品的过渡;在创业初期又是如何与大客户打交道;随着公司的发展,公司又是如何突破收入的瓶颈呢?围绕这些问题,近期蓝湖资本与精实测控董事长王磊进行了一次深度访谈。以下为访谈内容,有删减:
精实档案
成立于2011年
致力于测控技术研发与应用,以及先进测控装备的商业落地,包括装备的研发设计、生产、销售及服务
从10几人的团队到400余人的独角兽种子企业
创始团队
董事长 王磊
工程师出身,曾任美国国家仪器公司华南区销售经理
中国科学技术大学,通信工程本科与硕士
首席科学家 樊可清
35 年行业科研和工程经验
西安交通大学机械制造及自动化博士
测控是研发、生产和品质管理的灵魂
蓝湖资本:在整个工业领域的研发生产环节中,测控扮演着怎样的角色?
王磊:目前资本市场上对测控的了解更多是跟自动化绑在一起。我在美国国家仪器(National Instruments)工作的时候,我们将行业定位为测试、测量与控制,即Test、Measurement、Control。这三个词是技术词汇,而不是行业词汇。当提到测控的时候,我们往往脑海里想到的是仪器、测试设备、自动化装备,但实际上我们平时用的家用电器,它本身就是一个测控器。
所以测控的外延还是很广泛的,无论是研发过程中用到的各类集成设备,或者开发技术、验证和确认手段,亦或者是在生产环节提供测试制造装备,测控技术都发挥着重要作用。
我认为,测控是研发、生产和品质管理的灵魂。从定位角度来说,精实测控定位成测控技术研发公司,而不是一个简简单单的高端装备制造公司,反而是范围更广了。
蓝湖资本:测控作为一种技术手段,服务于各行各业,是一个很大的市场。精实在最开始是如何找到适合自身的行业切入点的?
王磊:我们是2011年成立的,当时汽车领域的测试基本上是欧美的设备供应商把持着,我们很难进入。而在消费电子领域,iPhone 4刚出来并未广泛普及。所以检测仍然是局限在很小的玩家里,并未形成一个产业。
但那时,白色家电正经历从定频转变成变频的时代,像振动、噪音和电子方面的检测技术需要全部更新,这是一个很大的机会。所以我们最终确定从白色家电领域进入,帮助格力、美的等进行振动、噪音、声学、力学的测试。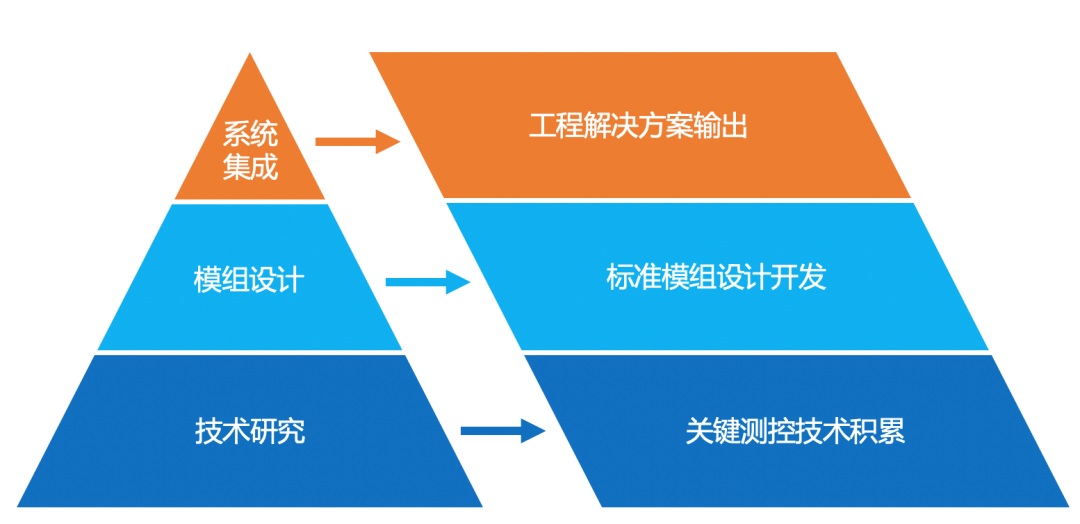 获得大客户信任,口碑收益比账面收益更重要
蓝湖资本:技术型公司常常会面临如何找到市场真正需求,跨过从技术到产品的鸿沟,在此方面,精实测控有哪些经验可以分享?
王磊:这其实是技术型公司的通病。一般来说借由技术转化产品的流程是,自身本身拥有技术,再去市场做用户调研,根据需求分析做产品的规划设计,并付诸实施交付与迭代。但如果只是表面的市场调研,估计得到的需求可能并不如你所愿。不同于消费领域的需求,工业领域的需求其实是藏在角落里的。
我们的策略是,从一开始就先在行业龙头客户中寻找可以技术落地的定制化项目,因为大客户的需求通常也代表着行业需求。在我们做项目的过程中,收敛客户需求,从中迭代出行业需求,这样规划出来的产品,在很大程度上能避免脱离市场、闭门造车。
无论做任何事情,需求分析是第一位的,其重要性甚至占到了一半,如果需求分析没有做好的话,后面很多付出都是没有结果的。
我们过去也吃过方面的亏。在16、17年跟某客户合作,我们前期投入了2、300万研发客户需要的传感器,当时客户承诺一年购买1万个左右,但最后只买了两个传感器,后来才知道他拿着我们生产的产品去压外国厂商的价格,帮他们砍下了40%的价格。过去像这样被当作实验品的事情时有发生。
这也让我们反思,如果我们一直做Tier 2(二级供应商)的话,永远会被Tier 1(一级供应商)卡脖子。
Tier 1是做系统集成,负责生产管理项目管理的工作,Tier 2是做模组模块,但是如果不做Tier 1的话,连客户需要什么模块都不知道。
因此我们吸取教训,在2018年融完资以后,将资金投入到做Tier 1上,将系统集成做大。这不仅是为了赚取财务收益和利润,更重要的是获取真正的市场需求,为研发提供需求分析和指导。

蓝湖资本:公司从一开始就选择走大客户路线,服务的客户有亚马逊、格力、美的等,甚至会参与到国际一流公司的Design In(嵌入式设计)环节,在发展过程中精实测控是如何一步步取得这些知名厂商的信任,进而扩大公司订单规模?
王磊:和大客户做生意是个循序渐进的过程,如果没有耐心和坚持,你很难成为他们的中大型供应商。
和大客户初次合作要遵循"找小"的原则。
首先是要有辨识度。不能让业务的人先把单子拿过来之后再考虑其他,而是拿订单时一定要考虑匹配你所擅长的。
其次规模并不一定要大。一定要聚集所有的力量打在这个点上,哪怕就是一个几十万的小单。
在客户端内部人员的信息是互通的,一个给你30万项目的工程师,可能过两年会给你2000万的项目。要尊重每一个给你"小单"的大客户员工。
此外要集中所有的优势力量,把前面几个小单做好,要超过客户原本的要求。
如果走大客户路线的话,前期起步千万不能太在意账上收益,而是要更在乎口碑收益。
最后,在获取订单时,配合客户的战略规划,要自上而下看问题,而不是低价竞争。可能一个项目今年不赚钱,但可以让你赢得未来5年,那么这就是潜在的优质项目,就可以考虑。

突破的关键点在于坚持和高净值的大客户长期合作,通过合作积累口碑,获得未来更多做大项目的机会。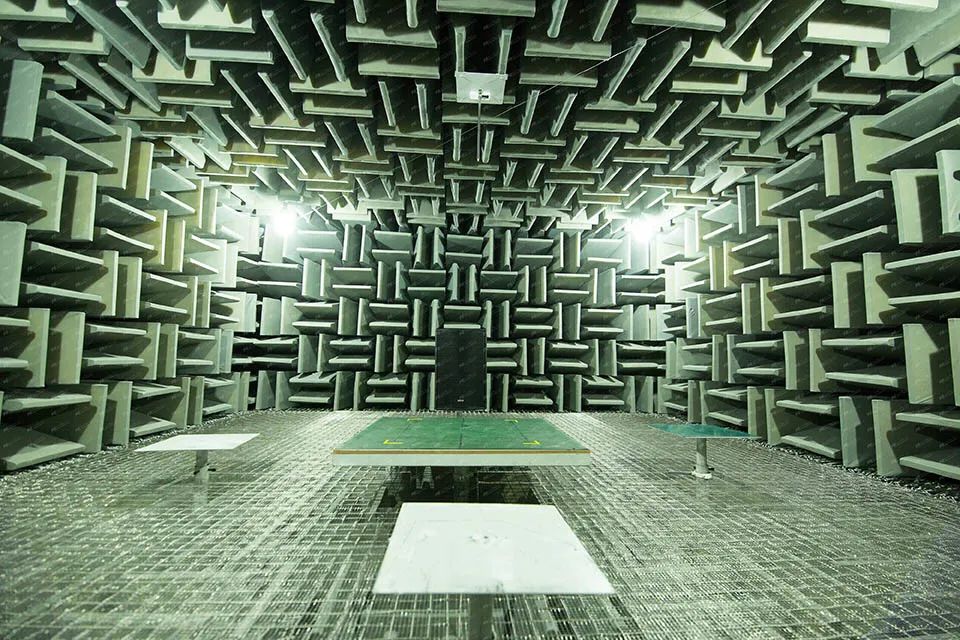 突破收入门槛的秘诀不在技术,而在组织管理
蓝湖资本:研发是一个非常重投入且持续的过程,对于技术类公司在早期如何平衡现金流和公司长期发展?
王磊:我们的路线是先做Tier 1,未来再做Tier 2。
做产品和Tier 2的话,它的增长曲线不是线性的,研发投入、迭代、市场培育用户需要一个过程,无法实现快速创新,所以一开始发展比较慢,但过了拐点后它会增长很快,但是到对于做Tier 2的创业公司而言,能不能在到达拐点之前还活着,这是一个问题。
另外也要考虑在到达拐点前需要花多长时间,会不会错过一些窗口红利期,因为如果错过窗口期,即使你表现再优秀也会打折。这其实还是非常复杂的一件事情。
对于大客户来说,他们都希望得到的服务是专属定制化的;同时对我们来说,刚开始未找到适合市场需求的产品,而做系统集成可以实现收入的快速增长,解决了我们当时生存的问题。
但是如果只是为了生存,那就会变成一家纯项目公司了。实际上我们在16 、17年逐渐发现一些测试测量项目,也逐步形成一系列的标准化和半标准化的产品系列。
做Tier 1 是一件重投入的事情,因为大客户对于你的机器的先进程度、品质控制体系、场地、服务能力都提出了非常高的要求。
所以到了2017年我觉得我们必须去融资,不然连客户审核都无法通过。如果没有资本的加持,可能我们就会错过绝佳的窗口期。
我们真正的Tier 1的拐点发生在2018年。经过了前期几次项目合作,我们在项目管理方面得到了认可,订单规模也接近上亿元。
我们现在正在把产品往系统服务上发展,过去积累多年的技术正慢慢地集中爆发。
蓝湖资本:工业领域的企业从几千万做到1亿元收入不难,但如何突破1亿元,实现更大的增长却不容易。精实测控在此过程中是如何突破发展瓶颈的?
王磊:我觉得最重要的是搭建适合的人才梯队。因为做Tier1的话,更多考验的是生产、供应链、项目管理和商务能力,并非单纯的技术能力。
创业初期,我们先是集中火力做大项目,在18年、19年引入资本后,我们做了大型自动化系统集成项目,当时人力资源扩张太快,管理的组织结构又过于扁平,来不及培养腰部中层力量,造成了管理层精力分散。
所以在18年年底时,我们暂停了大型国内自动化的项目业务,把团队组织架构改为模块化的服务方式。
但是随着后期业务扩张,我们发现每个中层和高层能力范围上1个人要管20~30个人,管理质量有所下降。
19年底我们又做了一次组织变革,把一些公共的项目合并同类项,以此降低管理难度,同时我们也充实了中层的腰部力量,从外面也引入了行业优秀人才加入。
我们之前一直秉持着前端思维,注重业务和技术工程,现在我发现后端思维对于企业发展也很关键,更加关注内控、仓储管理、生产管理、供应链管理。
在我看来,组织架构遵循着"分久必合,合久必分"的规律,对不断发展的公司来说2-3年就需要变革一次。
蓝湖资本:在你看来,精实测控公司的核心竞争力是什么?
王磊:我们的核心竞争力是我们有一群人,他们拥有用技术改造行业的愿景,历练多年,已经深刻理解了行业的需求。这些员工中有"高谈阔论"的,也有踏实干活的,这两类人在一起会产生很大的价值。
我们的使命和愿景是未来能成为一家世界级的工具设备供应商,但就我个人而言,我更加希望精实测控是一家不断能够吸收新技术、新理念,并且能够基于这些新技术、新理念创造出新的工具,从而改造整个行业的公司。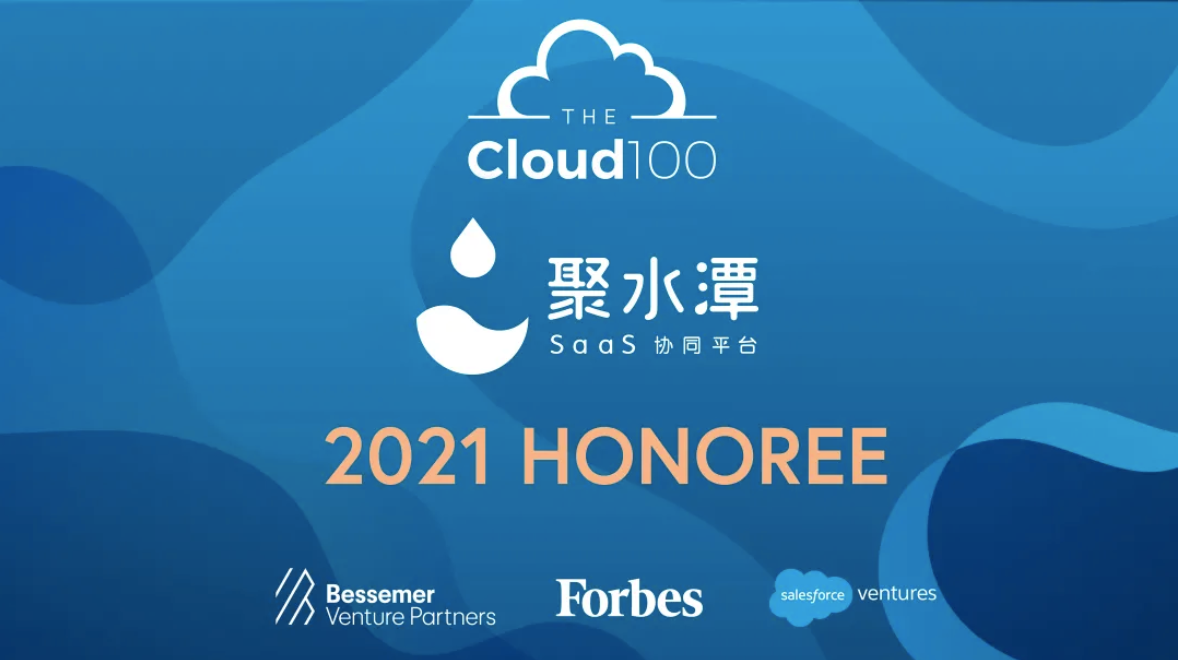 On August 10th, Forbes released its 2021 Cloud 100 List. This list, produced in collaboration with Bessemer Venture Partners and Salesforce Ventures, is the definitive ranking of the world's top private cloud companies. JST, a Blue Lake Capital portfolio company, is one of three Chinese companies to make the list.
Forbes uses four factors to evaluate hundreds of private cloud companies and identify the standouts: market leadership (35%), estimated valuation (30%), operating metrics (20%), and people and culture (15%). Dozens of public cloud CEOs helped score and rank their private peers.
Founded in 2014, JST has been committed to developing cross-platform ERP systems for numerous enterprises. Tasked with addressing customer demands and pain points, JST leverages the synergistic nature of SaaS to connect the entire e-commerce value chain from upstream to downstream. Today, the company has grown to become a SaaS ERP platform that offers a diverse range of services to merchants. As of today, JST operates over 80 outlets across China, covering 350 cities, with a team of over 2000 people providing timely and quality services to its merchants.
During the past 7 years of serving e-commerce enterprises, JST has been digging deep to diagnose the pain points of the industry and its users. Efficiency and synergy are the two guiding principles of JST when it looks at building up a comprehensive product mix and optimizing its service system. As a result, JST's products and technologies are leading the way. Its unique "tailor-made" service system has now become an industry standard. The integrated SaaS ERP solutions offered by JST has dramatically sped up the digitalization process of the entire e-commerce industry in China and contributed to the thriving SaaS sector in China.
As Luo Haidong, Founder and CEO of JST said: " B2B business is a pit that'll take a decade to fill up. As a B2B company, we have a long way to go before we become the world's biggest SaaS Synergistic Platform that pivots on e-commerce ERP. This is our vision and something that we will work tirelessly to turn into a reality." In the future, JST will continue to focus on technological innovation in order to keep upgrading its products and service capabilities. By doing so, JST can offer users ever-improving integrated solutions and service experience to lead the industry toward transformational upgrades. In the meantime, they keep optimizing their layout strategy around their core business. They will also work to build an integrated e-commerce innovation ecosystem via M&A and incubation. We believe all this will help increase their presence across the value chain and contribute to the digital and intelligent transformation of enterprises.
Tanma SCRM, a leading WeCom SCRM provider, announced on July 28th the completion of a 15 million USD Series B funding round led by SoftBank Ventures Asia and co-invested by Shunwei Capital. Tanma closed its Series A funding round just two months ago, raising 10 million USD from Blue Lake Capital, Legend Capital, and K2 Venture Capital.
Tanma SCRM uses WeCom to serve sales-driven enterprises by offering total process solutions from customer acquisition, conversion, and services to management.
Tanma has all three customer-facing scenarios (online, offline, and by phone) covered through the use of multi-channel management, search/location-based customer expansion, and their marketing toolkit—which includes community operations, fission marketing, red packets, lottery, CRM, and telemarketing calls. These tools have effectively lowered customer acquisition cost, improved lead conversion, and increased transparency of social marketing—arguably the biggest pain points of SCRM.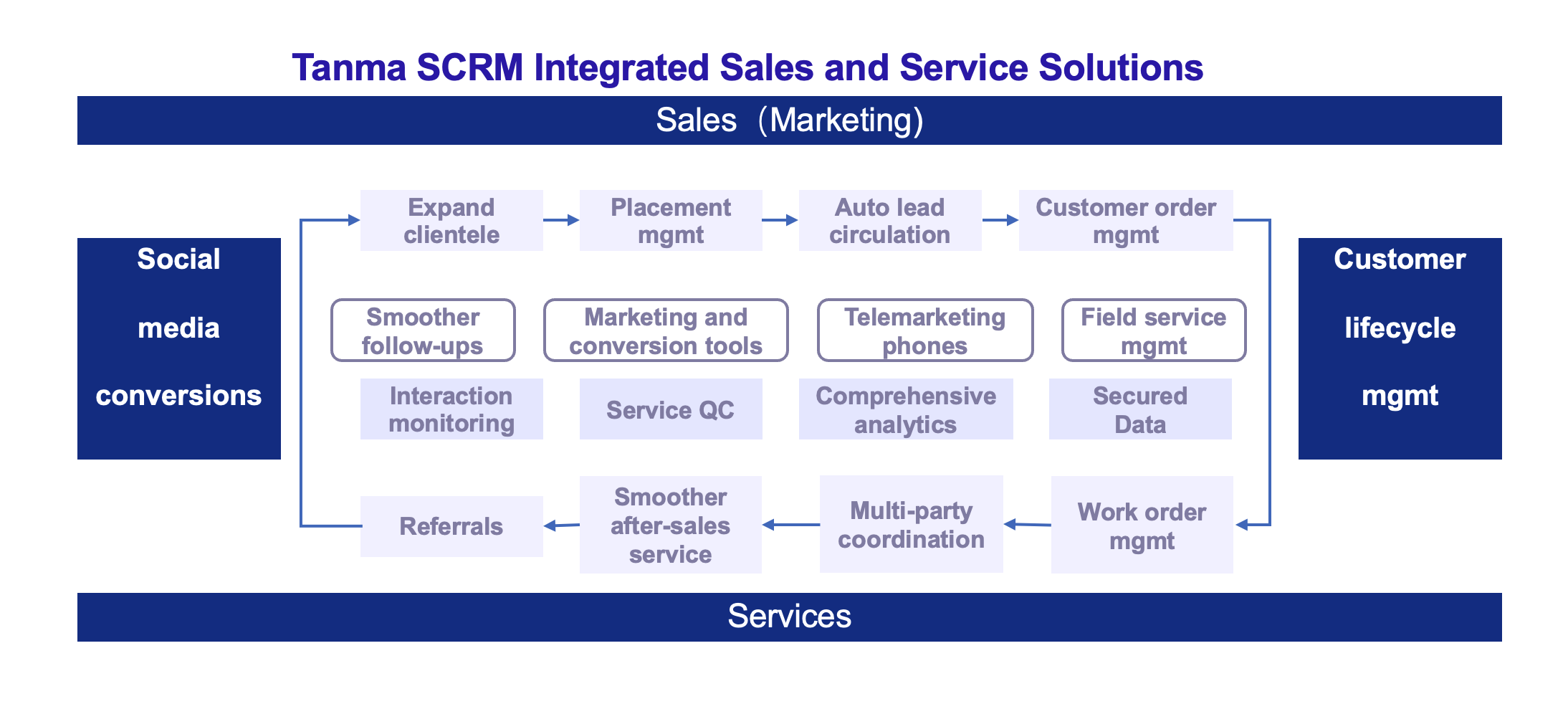 In addition, the use of Tanma's side bars, client SOP, and marketing tools make it possible for enterprises to have smoother after-sales communication and boost customer renewal rate. By supporting digital and granular sales process management and CRM processes, Tanma helps take its clients' businesses to the next level.
Tanma SCRM has served thousands of corporate clients, including Gaotu Group, Taikang Life Insurance, and Zoomlion. Its marketing solutions have been implemented across various sectors such as education and training, finance and insurance services, real estate services, big-ticket purchases, aesthetic medicine and enterprise services.
Meanwhile, as part of Tencent Cloud's Thousand Sails Plan, Tanma SCRM has received many awards such as the Most Highly Recommended SaaS Provider of the Year and 2020-2021 WeCom SCRM Leader award, making it one of the most well-recognized service providers among peers and customers.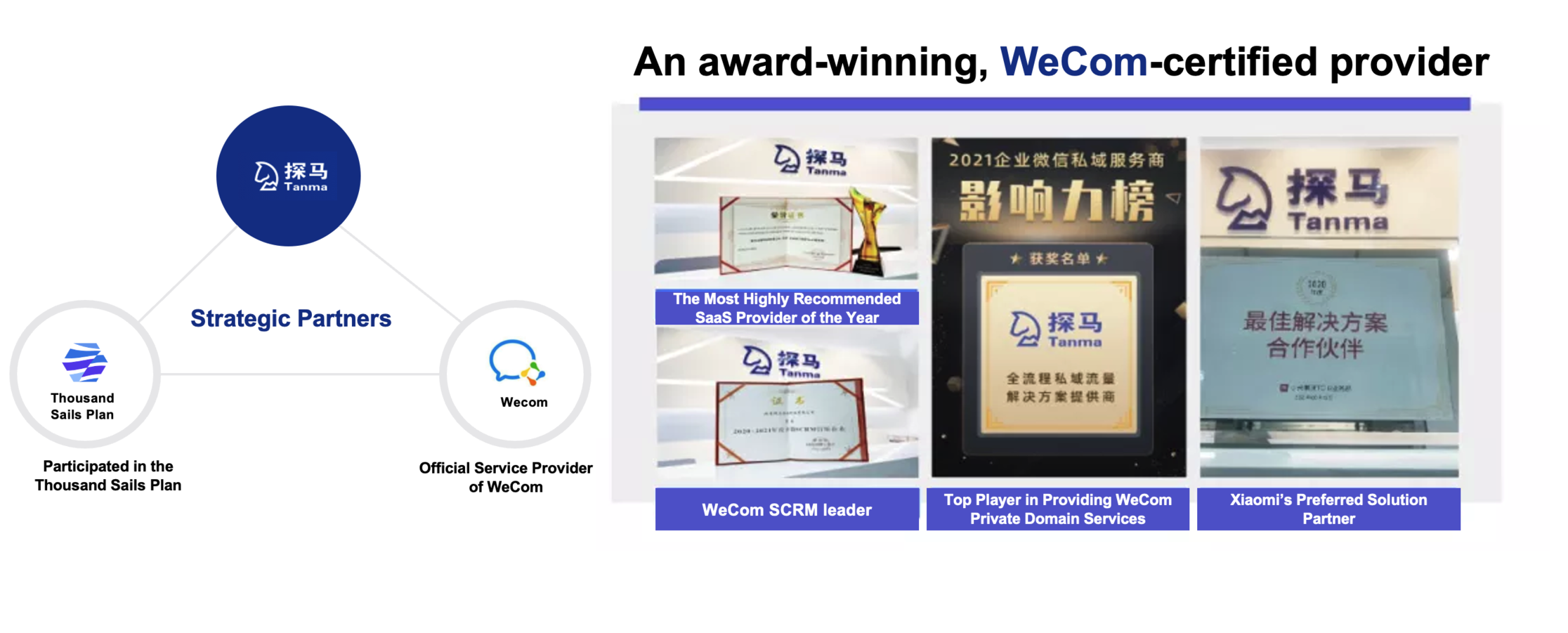 Tanma SCRM has a team of over 270 people, over 50% of which are in R&D. Many of its core team members have come from big-name companies such as Google, Tencent, Baidu, Huawei, and top universities in China and abroad. Collectively they have innovative capabilities in cutting-edge technologies and vast experience in the field of enterprise services.