"Zhenling Technology" Completed Series A Financing of RMB 53 Million with Additional Investment from Blue Lake Capital
On June 15th, Shanghai Zhenling Technology Co., Ltd., a SaaS solution provider of CVLM (Contract Value Lifecycle Management), announced the completion of a Series A financing round of 53 million RMB, the second financing within six months. The financing round was led by Yunqi Partners and followed by the old shareholder Blue Lake Capital. Yiren Capital was the exclusive financial advisor. And all funding of this round will be used mainly for product development to deepen the value management of the performance phase of the contract.
As a leading contract management solution provider in China founded in 2021, Zhenling Technolgy's core team was developed from HAND, a well-known enterprise digitalization service provider, having been equipped with digital service capability. "One Contract Cloud", a self-developed product by Zhenling Technology, through controlling major nodes of CVLM—before signing, during signing, during performance, and after performance— organically integrates the three major processes of enterprise operation: business operation, financial accounting, and contract management. One Contract Cloud can better verify enterprises' real business and financial data, implement upgrades from business finance to business finance law, help enterprises control operational risks, and improve their management systems.
Xie Weihu, CEO of Zhenling Technology, said, "Contracts are the carriers of economic activity and naturally carry all aspects of an enterprise's economic activity, especially the liquidity management of funds. From time to time, enterprises will have various troubles in the actual performance process, which greatly impacts funds. Coping with these situations faster and more efficiently is a lesson (and a headache) for every business owner. Therefore, contract management is not the goal, but rather the solution."
Considering that, Zhenling Technology has positioned its product as a "Contract Value Lifecycle Management." While other vendors focus on contract signing and provide solutions to improve the efficiency of signing contracts from offline to online, One Contract Cloud extends its service focus to contract performance. By linking enterprise business and financial systems, One Contract Cloud sees each node of contract performance as a key, drives the execution of these key nodes, provides real-time feedback on the current situation, and exerts positive and timely influence." Business owners may not have time to find out every detail, but now they can find the key points and deal with the difficulties in advance by watching the overall situation through the dynamic feedback of the contract," Xie Weihu explained.
"This is a hungry market," Xie Weihu added. "After beginning to operate independently, business opportunities have increased 2.5-3 times on average, with the number of customers signed in the first half of this year approaching the whole of last year."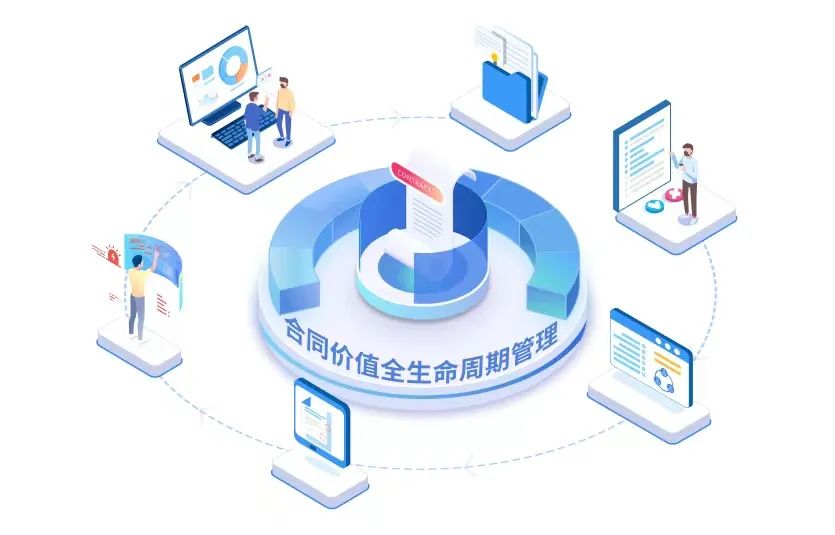 Since its establishment, Zhenling Technology has cooperated with nearly 130 large enterprises, including LVMH, Siemens, BECKMAN COULTER, Hello Inc., 360, Moka, and China Resources Capital. It has accumulated considerable experience in several industries and has been implementing productized solutions to certain professional cases, which can be rapidly promoted and applied to more enterprises in the future.
Zhang Yifan, Investment Director of Blue Lake Capital, said: "After our first round of investment, Zhenling Technology has exceeded expectations in team-building and market expansion, winning contracts from many major clients. The product has also been quite ahead of the game. We are very optimistic about the future of contract management and One Contract Cloud."
This article is reproduced with permission from 36 Kr, written by Wu Sijin and edited by Wang Yutong.