Ray Hu from Blue Lake Capital: A look at SaaS start-ups in China
Editor's Note: This article is edited based on the two-hour keynote presentation of Ray Hu in the opening seminar of Dark Horse Enterprise Services Training Camp. Ray Hu is the Founder and Managing Partner of Blue Lake Capital and served as an acceleration mentor for the Camp. Over 50 start-up founders attended the event.
Ray Hu was awarded Forbes' 2019 Best Venture Capitalist in China. He has fifteen years of investment experience in enterprise services, including Investments in Meicai, Momenta, Yiheda, Going-Link, Helios, and Moka. Under Ray Hu, Blue Lake Capital has been an early-stage investor in at least one-third of the top-notch SaaS companies in China with an ARR of over 100 million RMB.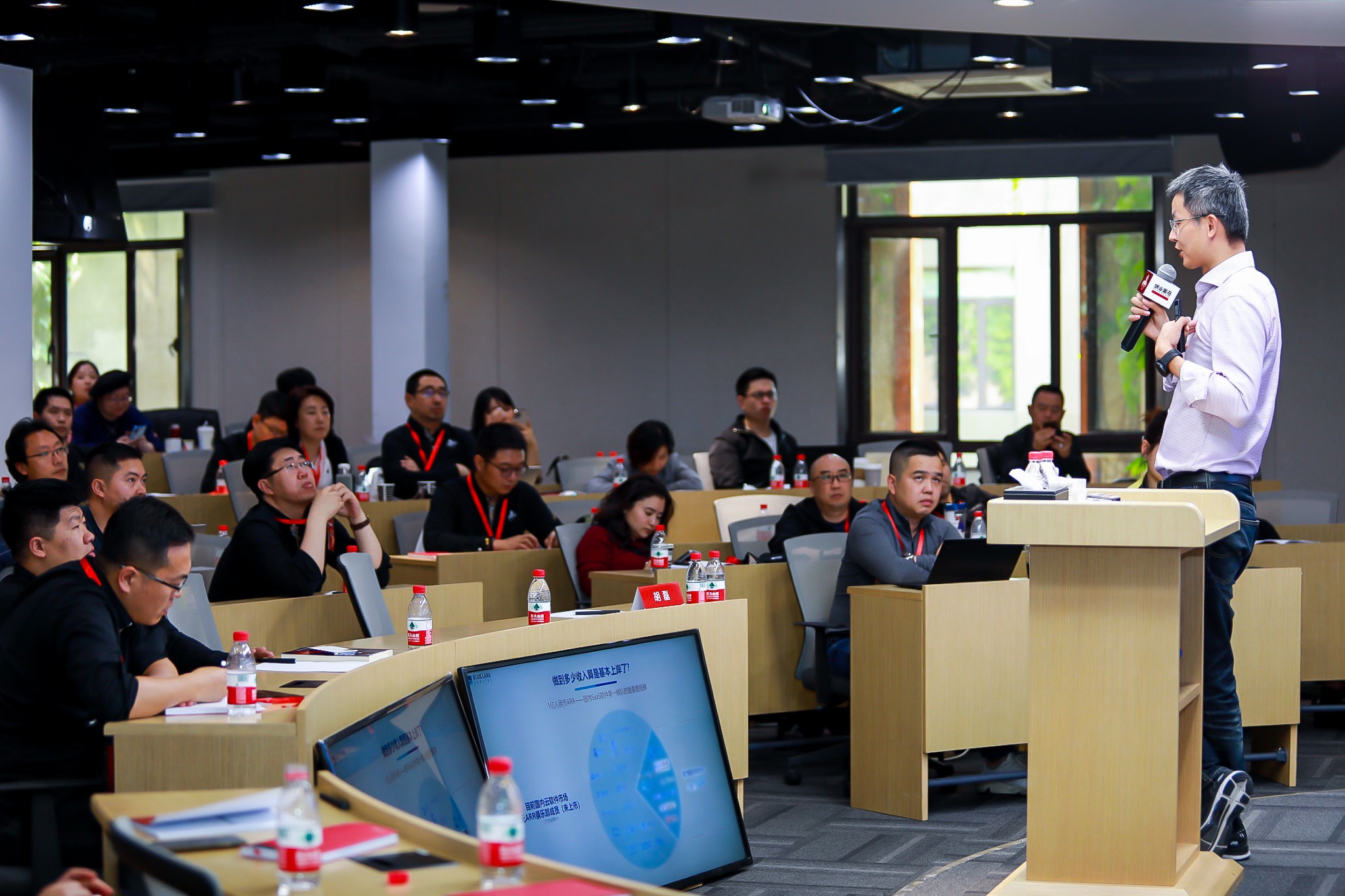 As an investor, it is very important to look at sector-specific opportunities and start-ups from an industrial perspective. One increasingly important industry is information technology, which has become the crucial infrastructure for even traditional sectors.
So, how should aspiring entrepreneurs go about starting their own software business? According to Blue Lake Capital's investment playbook for the software industry, there are two options: developing business solutions for SMEs (small and medium enterprises), a process that involves zooming in on particular verticals, identifying common pain points, addressing these pain points, and eventually developing vertical-specific products; Or, developing modules for big companies by examining the needs of various LOBs (lines of business) and producing industry-agnostic software such as HR, finance, accounting, and procurement solutions.
Two Common Misconceptions about SaaS Startups
Misconceptions toward SaaS start-ups and the industry as a whole are not uncommon even now in China. Many investors believe that the software market is small and those software companies grow only slowly, while in fact, SaaS software is driving a digital transformation in many companies. According to Blue Lake's industry analysis, China's software industry shows just as much potential as the software industry in the US.
To begin with, 20%-70% of software for various sectors worldwide are cloud-based. This number will climb to 60%-90% in the next 10 years. China's cloud migration progress is where the world was in 2016. That means China's software market scale only lags behind the global market by 5 years—not as far behind as we thought.
The software market in China is riding an unprecedented wave of mobility based on AI and cloud migration. All this is transforming the industry from inside out. A plethora of products with these core competences has mushroomed, making China a heaven for investors. US investors were not as fortunate the US software market didn't grow in the same way.
Second, over the past few years, the market cap of US SaaS companies has expanded eight-fold, while the NASDAQ Index only saw three-fold returns. During 2008 to 2020, the market cap of the top 5 US SaaS companies combined surged over 40 fold. All this shows how quickly the SaaS industry is expanding.
Non-US SaaS companies are equally impressive. We selected about two dozen SSE/HKSE-listed software companies that are leading the cloud transformation, weighted the share prices and compiled the Blue Lake China SaaS Index. A comparison of the SaaS Index with the A Share Index showed that the market cap of these companies grew five-fold over the past 5 years. Kingsoft Cloud (one of the leading cloud computing companies in China) and Ming Yuan Cloud (a China-based ERP and SaaS company primarily serving real estate companies), in particular, have had an impressive run since they went public.
Looking at the numbers, we can conclude that the software industry is a high margin, high growth, and big volume sector, with SaaS companies being the front runner, and that makes SaaS software a compelling racetrack for start-ups.
Four Changes in Customer Demand
Why is there an increasing number of companies purchasing SaaS software in China? It is because the demand side is shifting.
First, customers are more demanding. In the past, traditional software companies would pour hundreds of millions of RMB into developing a new product, sometimes to no avail. Companies were often disappointed and got impatient with R&D. As a result, customers were generally unhappy with the products. But these days software companies have been working on improving their cost structure and efficiency. Products are constantly iterated so customers are happier with the products and more willing to renew their subscriptions.
Second, customers have a growing demand for cost optimization. Traditional software companies used to be project-based before the advent of SaaS software. They would identify customer needs, provide a cost estimate and develop the product accordingly. These were typically multi-million RMB contracts and the money would have to be paid upfront. These days, the process is completely reversed—an SaaS company develops a product first and looks for customers later. A customer only pays hundreds of thousands of RMB for a single order. Of course, they are happier.
Third, B2B end-users expect the optimized, fool-proof user experience they've grown accustomed to with B2C software. When procuring enterprise software, customers care a lot about whether the product is user-friendly and efficient. We call this "consumerization of enterprise software". Take booking a flight as an example. Doing T&E reimbursement on Helios (a Blue Lake Capital holding which has become the top expense management and business travel service provider in China)is just as hassle-free as on B2C platforms like Ctrip. This was simply unimaginable in the past when users would have to grapple with complicated OA software.
Finally, SaaS software does not need deployment or maintenance, resulting in enhanced security and a shorter deployment process. All these fuels the long-term development of SaaS software. For any enterprise software to be adopted in the past, the CIO would have to look at the entire IT architecture, budget, compatibility, interface, and available resources before he made the final decision. It used to be a complicated process. These days, all it takes is for the marketing and HR departments to pick the right product and launch it across the company. This explains why SaaS software is gaining traction among companies.
The Growth Path and Opportunities for the SaaS Sector
1. On Sectoral and Start-up Opportunities
Over the years, Blue Lake Capital has accumulated a wealth of experience and knowledge about investing in SaaS start-ups.
The first thing we learned is that neither entrepreneurs nor investors should underestimate the growth potential of the market. Right now, several leading software developers have been growing a lot faster than people thought they would. In fact, explosive growth is possible with increasing customer stickiness. But this kind of growth should not be taken as a given in the early stages of any company. So don't jump to conclusions about when and where a software company might hit the ceiling.
Next, the demand side for general purpose software has changed, which presents challenges to traditional software developers, but also creates opportunities for start-ups. In the past, SAP and Oracle dominated the general-purpose software market. But today, as customers are more segmented, traditional software companies will not be able to meet changing needs with their existing product mix. Digital transformation is no longer a corporate-wide project, but broad-based adjustment that extends to the entire supply chain. Customers expect the software to interface with companies all along the supply chain. This is a challenge to traditional software companies, but it's an opportunity for SaaS companies.
Meanwhile, the development of the software industry has constantly stretched the limits of our knowledge as investors. In the past, we thought that management software migrating to the cloud would be a tall order. Now it is made easy with technological leaps. There are over 200 software companies being traded in the Shanghai Stock Exchange with a total market cap of over 3 trillion RMB. But most of these companies are still traditional, project-based companies. All their previous projects can get a do-over in the future. On the supply-side, it is increasingly important to be product-centric. Product depth and expertise are key.
Chinese entrepreneurs who wish to explore opportunities in SaaS should look at how their US counterparts did it, and then decide what products they should or should not do in China's market. But they cannot simply copy to China whatever products work in the US because Chinese companies are not quite the same as US companies. For example, SFA (Sales Force Automation, software that works like CRM for sales) products developed by SaaS companies in the US might not work seamlessly here given the different sales management styles and philosophies of Chinese companies. In fact, so far, SFA products from the US do not work so well for Chinese companies. Marketing these products in China hasn't been easy, and so US developers operating in China usually face two possibilities—either rebuilding a product with a ton of customization or bracing themselves for roadblocks in sales.
So it is very important for a Chinese SaaS start-up to take a deep dive into the local market and identify real customer demands. This step can be a turning point for a company helping to realize robust growth within the next 3-5 years. It is something that SaaS entrepreneurs need to figure out from the get-go.
Today, a company would have to pay 200 USD per year for every employee that uses American or Japanese T&E reimbursement software, but the cost would go down to 200RMB per year per employee using systems developed by Chinese SaaS companies. My confidence in Chinese software companies only grows over time as I witness how they have flourished with technical expertise, great product quality and fast iteration. No doubt they stand a chance in overseas markets and they can be a force to be reckoned with.
2. On Customer Recognition
There are two things SaaS companies need to keep in mind in order to gain customer recognition.
One, lower cost and boost efficiency for key accounts. These are the pressing needs in light of their complicated organizational structures. Forget about helping your key accounts increase revenue as they have multiple product lines and even more factors that affect revenue.
That brings me to my second point: do help SMEs boost revenue. SMEs have fewer employees and relatively simple organizational structures, and boosting revenue is their pressing need.
3. Advice for Starting a SaaS Business.
Blue Lake Capital offers the following pieces of advice on starting a SaaS company.
First, be patient when just starting out. Note that SaaS companies in the US that went public in 2020 have been around for 10 years on average. So, do not expect a SaaS start-up to grow several folds in a year and go public within three years. When choosing investors for your start-up, you have to manage investor expectations by giving them a realistic and reasonable ROI.
Second, you need a disproportionally large sales force. Pay them generously and keep them motivated.
Third, keep iterating your products, even if it brings only a 1-2% improvement with each iteration. Think of the edge you are going to have with 50 iterations.
Fourth, find like-minded investors. SaaS entrepreneurs should look for investors with domain knowledge, as start-ups benefit from the industrial perspective and domain-specific advice that experienced investors can offer.
Three characteristics of a Startup Mastermind
Excellent start-up entrepreneurs have three things in common.
One, they know how to do the math. How much does it cost to acquire a customer? How much commission do I pay to my sales people? How much inventory do I have? Numbers are what keep you grounded when delivering your products.
Two, they are persistent and patient. The first 30 customers of a SaaS start-up are important because these customers help you shape the product and get it right. Keep them happy. Think about it, how can you possibly serve 300 customers if you can't even serve 30? Don't overstretch the company within the first two years.
Three, always put customer satisfaction first. Given the nature of 2B business, 1/3 of a software company's success can be attributed to its relationship with customers, old and new, and 2/3 to the quality of its products and services. SaaS companies that always keep customer satisfaction in mind will not fare badly in the long run.