Blue Lake Capital Awarded FOFWEEKLY "TOP20 Investment Firms in Enterprise Services that are Most Focused by LPs in 2021"
On June 6, Blue Lake Capital received the certificate of the "TOP 20 Investment Firms in Enterprise Services that are Most Focused by LPs in 2021." made by FOFWEEKLY on the first day of returning to office work after the Shanghai lockdown.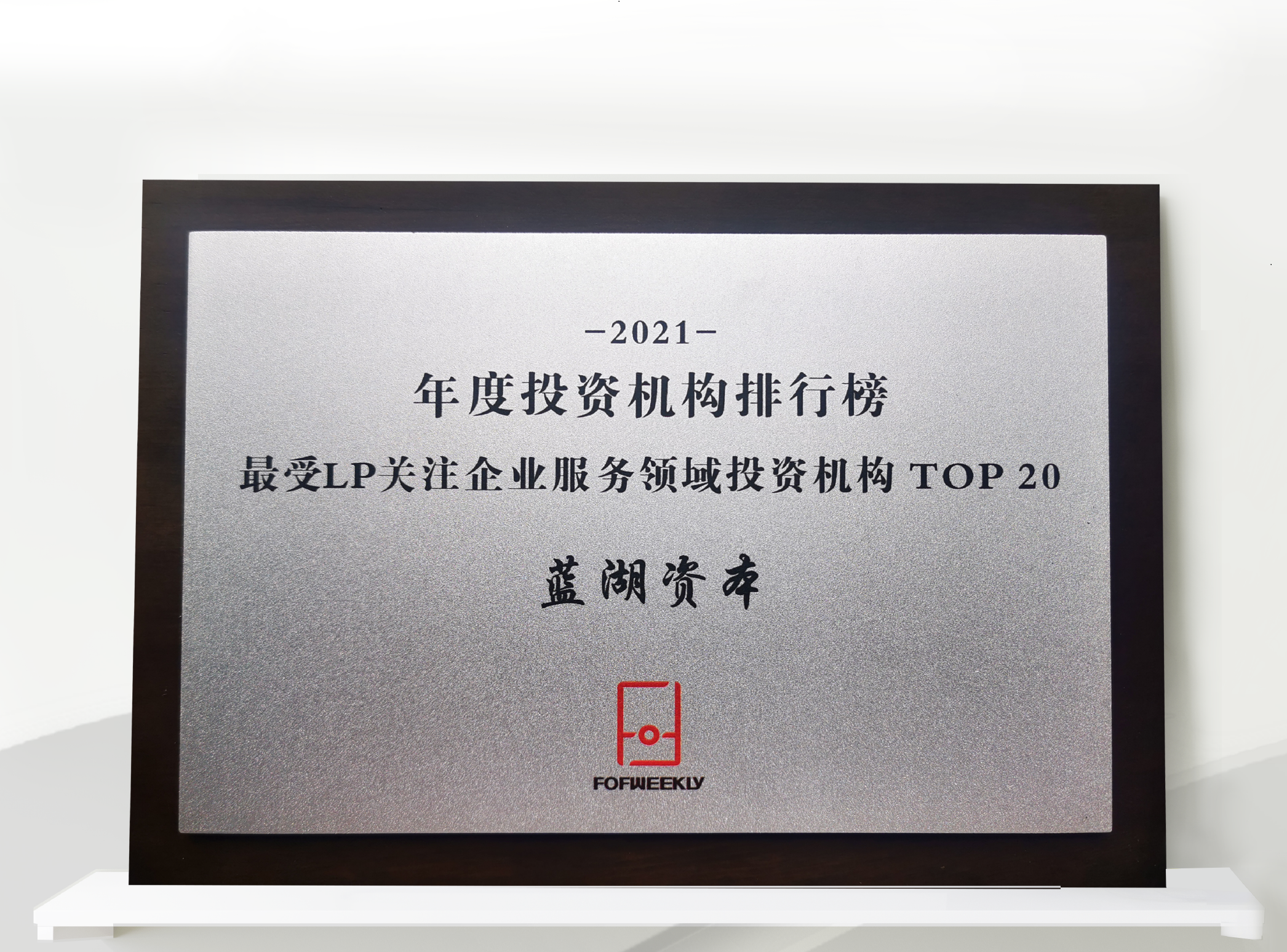 After exploring the ways of building a core driving force for the GPs that are surviving and thriving in the new cycle of global economic development environment and local market development stage, FOFWEEKLY has put forward a relevant evaluation system and found many active firms including LP and LP-recognized GP.
Based on the above principles, FOFWEEKLY compiled a FOFWEEKLY "2021 Annual Investment Firm Ranking List" through its research on China's equity investment industry. This listfocuses on leading firms with the most sustainable development in the new ecological environment. Important indicators include length and prosperity of Firm, continuous return on investment, and social responsibility. In addition, it publicly recognizes the leading investment Firms that play an exemplary role in advancing social development.
As a new generation of research-driven venture capital funds, Blue Lake Capital has been closely following tech innovators in China's digital transformation. Upgrades and enterprise services have been the key areas that Blue Lake Capital has focused on. With years of extensive and in-depth communication and engagement with entrepreneurs, the Blue Lake team has accumulated a broad base of know-how in the field of enterprise services. A multi-dimensional analysis mechanism has been established from products, implementation, sales, competitors, and cash flow, as well as administering a post-investment service system with unique Blue Lake characteristics. This was accomplished by creating a Blue Lake enterprise service ecosystem and integrating post-investment resources. In recent years, Blue Lake has invested in many industry-leading projects including JST, Zaihui, HELIOS, Momenta, and Moka.
Moving forward, Blue Lake Capital will continue to seek investment opportunities in the field of enterprise services and cooperate with outstanding entrepreneurs to create value for Chinese enterprises.