Staying True to Enterprise Value Creation Amidst the Correction in the SaaS Valuation System
In a recent online talk organized by Blue Lake Capital, SaaS operators of the Blue Lake portfolio had a discussion on topics of common concern to SaaS entrepreneurs, such as the investment and financing environment under the new cycle, improving company management and HR efficiency during the pandemic, and post-pandemic era business layout and sales management.
Ray Hu, Founder & Managing Partner of Blue Lake Capital, shared his views on the SaaS Valuation Environment in 2022 and the Pace of Investment and Financing in VC Circles:
SaaS remains the most popular business model today;
Revenue growth remains robust in high-quality companies despite a sharp correction in SaaS valuations over the past six months;
There has been a slowdown in the pace of investment and financing in the primary market at home;
After corrections, the valuation system may achieve a new equilibrium. Meanwhile, it is necessary to make realistic, prolonged efforts to maintain self-sustaining profitability.
Below are condensed and edited shareable highlights:
The changing market environment instigated this valuation correction.
Bessemer's SaaS index in the US outperformed the stock market by a wide margin until November 2021 because of two substantial reasons. First, unlike traditional businesses hit by the pandemic, the software sector had been buoyed by the storm to a certain extent. Some SaaS enterprises reported positive changes in their fundamental secondary markets. Second, amid the high-risk environment, investors preferred assets with high certainty, such as SaaS products featuring recurring revenue and visibly compelling business. As a result, tech growth stocks, especially SaaS stocks, had attracted considerable attention since 2020.
However, the market turned around considerably after November 2021.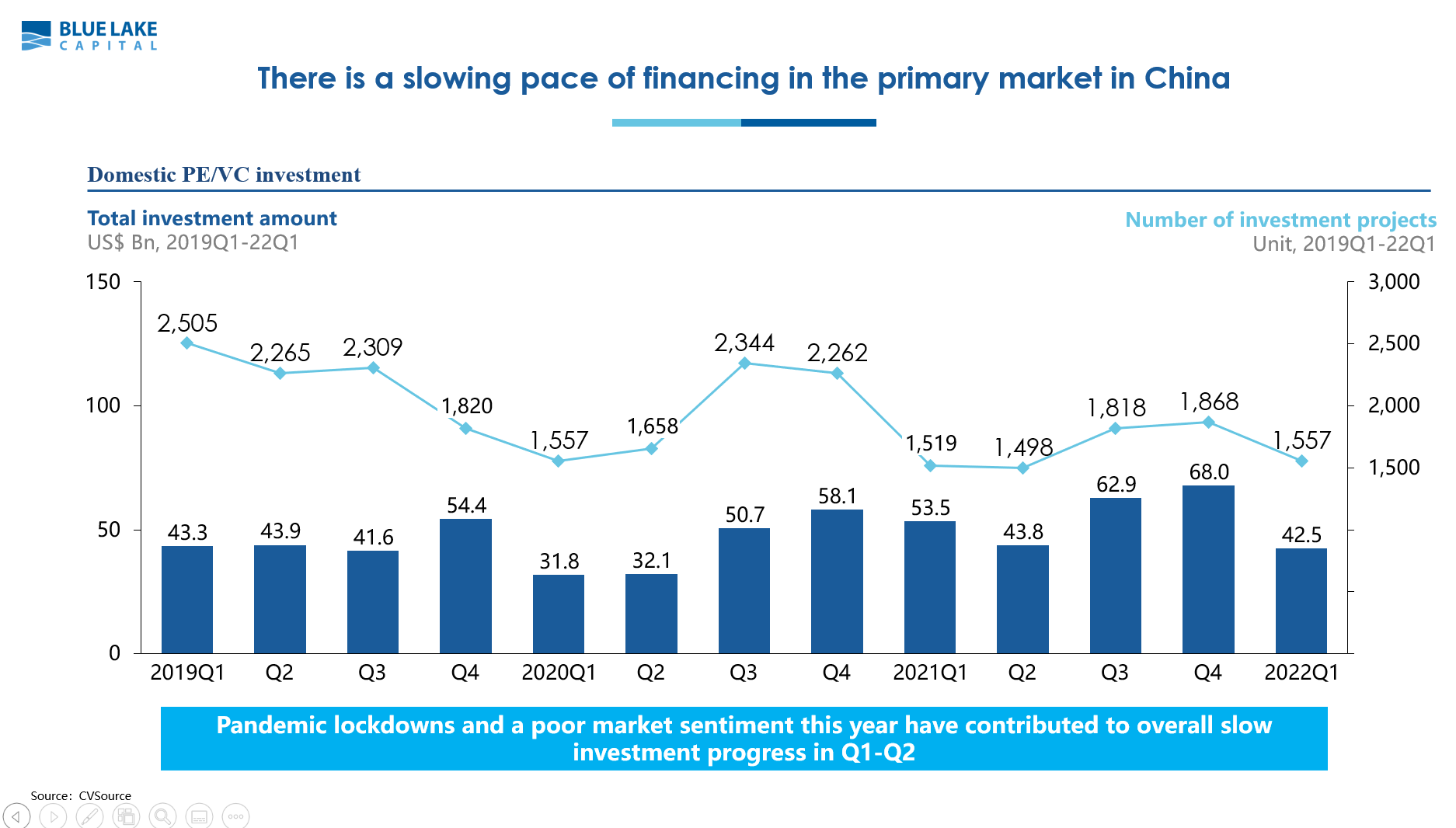 As the pandemic alleviates, traditional businesses become less uncertain and show high PS, thus regaining distribution from growth stocks. Therefore, without much correction in the general index, SaaS companies 'stocks have retreated.
A further driver is the correction in valuation multiples for these SaaS companies. SaaS entrepreneurs seeking funding this year are more likely to suffer from the effects of the secondary market. There has recently been a sharp retracement in valuation multiples for SaaS companies overseas. According to Meritech, the average EV/NTM Revenue has fallen from over 30x to 11x, and the median has fallen from nearly 20x to 7x.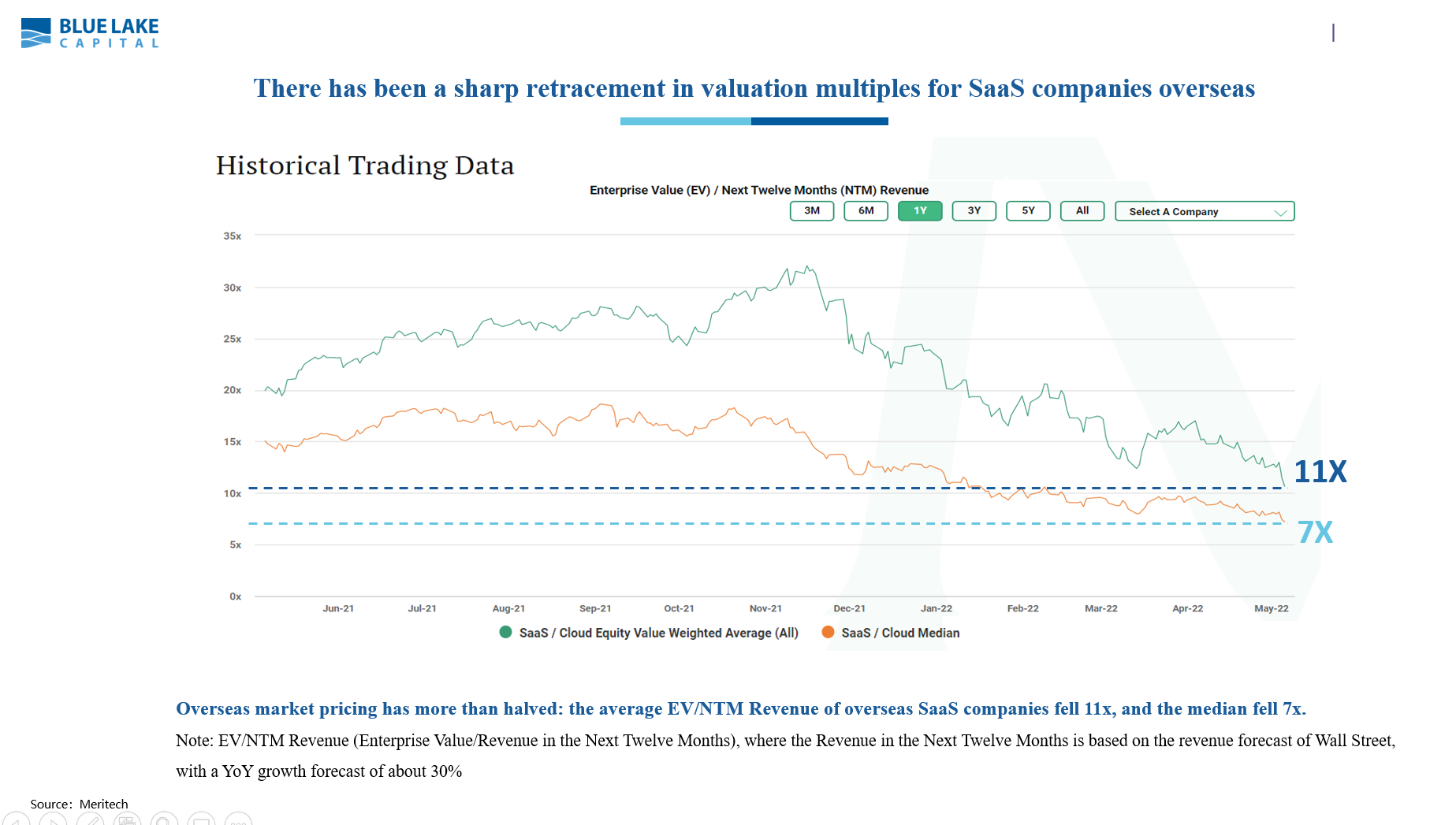 If there is no major rebound by the end of this year, mid- to late-stage investors will generally anchor SaaS companies at around 10x PS. Of course, higher valuation multiples are available if the company grows at a rate of 70-80%, and even higher if over 100%. Take the US market as an example. US-listed SaaS companies generate a median revenue of $500 million. Under such a scale, these companies maintain a YoY growth of nearly 30% on average, and those with faster revenue growth have naturally obtained a higher PS premium (about 20x).
I believe that halving valuation multiples from last year will become the market norm. If a company has closed a round of funding in 2021 at a valuation of 25-30x PS, during its next round this year, the valuation amount will not differ greatly from last year, even if revenues have increased by 80-100%.
At this point, management needs to timely adjust their mindset. In the case of relatively abundant funds, the financing window can be adjusted for the first half of next year with a more optimistic macro environment. The process is certainly subject to uncertainty. Or, with expected valuation cuts this year, we raise money at the expense of diluting more shares.
Liquidity in the primary market has tightened
The liquidity of the primary market faces an even more severe situation than the valuation. There was a significant QoQ decline in both the number of investment projects and the funding amount over the first quarter of 2022. When communicating with some of our peers, we noticed that this year, institutions focusing on early-stage and growth projects invested in less than 1/3 of the number of projects in the same period in the previous year, and the investment pace of the whole market is going to be very slow. This is partly due to the macro environment (like the pandemic) and partly because some software companies with mediocre performance, or that were packaged as SaaS companies, also got financed last year. And when their performance this year falls short of expectations, investors will react against the attitude of the whole industry.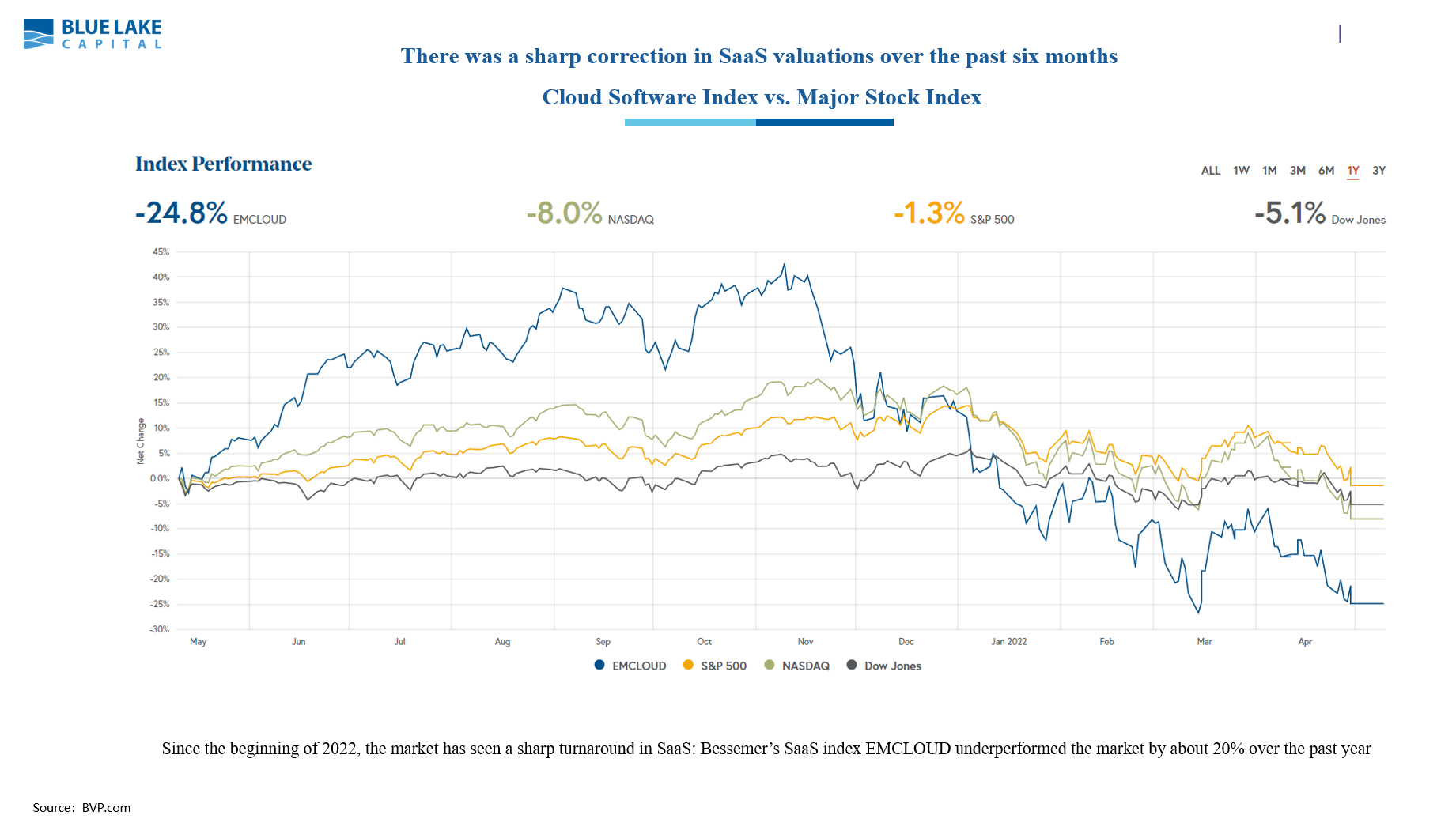 In addition, the delisting risk of Chinese concept stocks from the US stock market also has a negative impact on the macro environment of the primary market. Especially for mid- to late-stage investors, a potential for delisting was not previously taken as the main risk—the business itself was. When this factor became a risk item, as it is today, institutional investors' willingness to invest was further affected. This should be defused by valuation reduction.
Therefore, we do not have an optimistic financing environment this year. From a quantitative perspective, the valuation multiple is estimated to be only half of last year, and the number of projects expected to be closed in the market is 1/3 to 1/4 of last year.
Be realistic and return to focus on long-term profitability.
Earlier, I shared that the US market has also seen a drop in SaaS valuations and a slowdown in the pace of investment, which is being hotly discussed in Silicon Valley. Here are the tweeted opinions of Bill Gurley, the managing partner of Benchmark and a well-known American investor, who has been involved in venture capital for nearly 25 years and who has gone through several cycles. His advice is objective and to the point:
Opinion 1: Forget last year's market madness.
The market price throughout last year was very unreasonable, and we must learn to forget the institutional offers of last year.
Opinion 2: Lower expectations for valuations.
If you stick to a measure of company valuation, 10x PS is ideal.
Opinion 3: Focus on cash flow and profitability.
Tech companies will ultimately return to focus on cash flow and profitability. Facebook has a YoY rise of 23% in revenue but only 14x PE.
Opinion 4: Ultimately, return to revenue and profitability.
Always keep in mind that the revenue and long-term profitability of the company remain the priority in the end.
Despite the recent gloom in capital markets, we are fortunate to be in a very appealing industry today. SaaS business is attractive to investors for its distinctive highlights, such as sustainable revenue, high gross margin, high growth, etc. Once the competitive landscape of the software market is established, there are usually only 2-3 top companies left in the end. If one becomes the market leader, they will enjoy a higher dominance and market share. SaaS businesses can generate strong operating cash flow after growth stabilizes.
From an investment perspective, SaaS business has a big competitive edge and high entry threshold and deserves long-term bullishness.
Amidst the overall market slowdown in investment pace this year, investors are expected to continue focusing on software projects in the technology sector, and in frontier technology, such as semiconductor and unmanned technology. The company's management simply needs to adjust valuation expectations.
Despite the wave of dramatic changes the world has undergone in the past two years, the digitalization trend has not changed. Whereas digitalization was previously just a way to improve the business of some enterprises, today it is necessary for survival.
It was supposed to take 30 to 50 years to go digital, but now the process has been greatly accelerated as a result of the pandemic. Amid all the uncertainties ahead of us, digitalization remains the most certain and the biggest opportunity.